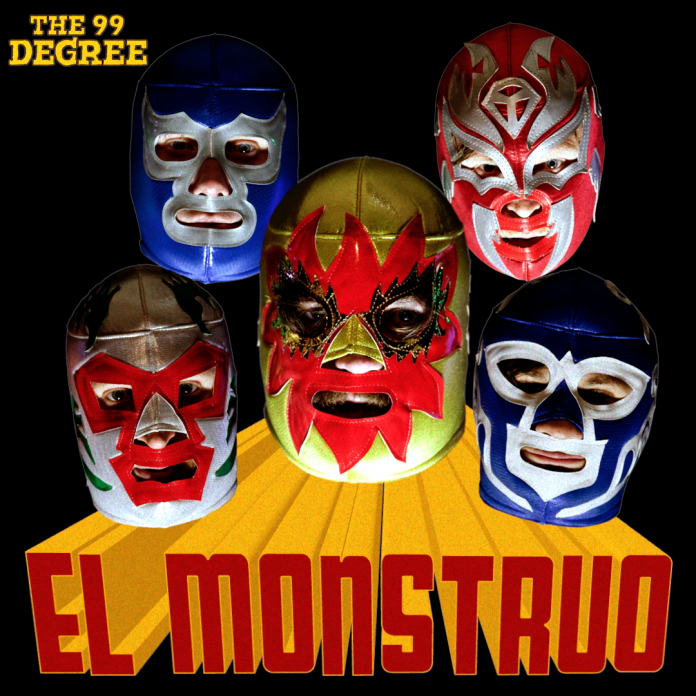 It's been a while since I've seen or heard anything of The 99 Degree. I accept that this is my fault, they've played gigs and I've not been. News of an EP release was a very good thing. And somewhere in the far too long a time between the time I last saw them live and now they've acquired a new member – who plays guitar and trumpet.
For those of you that haven't heard of The 99 Degree before, you should know you've been missing out people, they play kinda mutant surf and/or kinda psychobilly. You probably should know that they sort of remind me at times of The Cramps, they don't copy them it's just a feel, a hint, an influence; and it's the same with that Nick Cave and The Bad Seeds sound you get sometimes.. Although they have a tendency to take off into things that sound sort of like themes to great Westerns at times.
The EP opener 'John The Killer' is one of those 'mutant surf and/or kinda psychobilly' tracks. It takes a long time to start, there's a long instrumental intro before it bursts into raucous life. It's wonderfully raw and ragged. It's perfect in it's imperfection. Vocals come at you from all sides, guitar stabs out fantastically. This reminds me of The 99 Degree I loved, that live experience.
'Flatline' is less frantic, you might almost describe it as a slowie. This really shows that surf/psychobilly thing. Although to be honest there hints of all sorts of things in this song. There are some frankly wonderful guitars in this track.
We are in something that has a feel of a Western theme with 'Young Flame'. It sounds somewhat less frantic than the previous tracks but it's still great. That Western theme sound continues with 'Dead Or Alive' which throws in a kinda of Theatre of Hate feel – it's that 'Westworld' thing. And it is here that Stu, the new member, bursts into trumpet life. So brilliant, so good.
The final track is a version of 'Young Flame' that is just way way slower, more wonderfully raucous and ragged. And crucially much longer.
The 99 Degree make music like nothing I've heard in a long time. The 99 Degree sit in a niche, a genre, of their own. It's so much of their own that my descriptions are probably inadequate – I've tried, honest I have. This is music that, as I've already said, is perfect in it's imperfection. That is wonderfully raw, raucous and ragged, and crucially sleazy as fuck. Yet wonderfully played, there's some real musical skill there.
Look, listen to this right now, do it right now, don't delay.
The info
The 99 Degree are:
Joe Sartini: Vocals
Phil Turner: Vocals, Guitar and Stylophone
Stu Sharples: Vocals, Guitar and Trumpet
Paul Fetherstone: Bass Guitar
Craig Trickett: Drums and Percussion
Facebook: www.facebook.com/the99degree
Instagram: @the99degree
Twitter: @the99degree