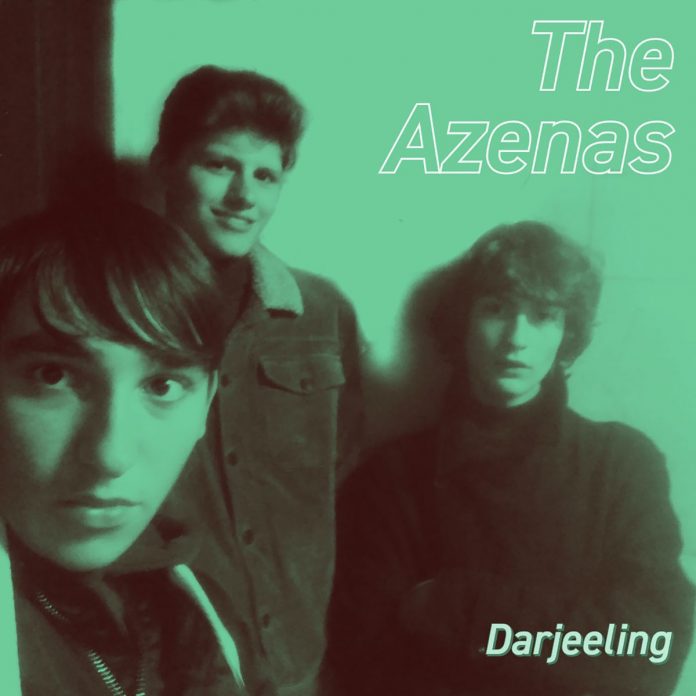 I wasn't sure what I expected to hear when I listened to The Azenas EP for the first time but it wasn't what I heard. Describing yourself as alternative pop doesn't really prepare the listener for the songs on this EP at all. The full listing of instruments on it might lead you to expect the unexpected – for the record these are the usual guitars, bass and drums with ukulele, harmonica, maracas, tambourine, wurlitzer, vibraphone, piano, rotary organ, timpani, clavichord and spoons!
EP opener 'Play It Again, Sam' starts with a ukulele but then goes into a full blown what I can only describe as a 50s' or 60s' ballad. It has, and I assume this comes from their parents' extensive record collections, sometime of a Beatles feel to the lead and backing vocals. I'm not sure that the Beatles ever used a ukulele though (I may, and probably am, probably wrong about that). That ukulele adds something of a twenties feel to the track. It's a lovely thing, I've basically fallen head over heels musically in love with this.
'Darjeeling' is something I find hard to pin down musically. There are elements of Stevie Winwood – there's organ – in there, there are elements of 60s' pop, there is a bizarre guitar break that's weirdly DIY rock sounding, there's even something of a psychedelic pop thing going on. This sounds like an unholy mess, it isn't.
We are back at 60s' pop ballad feel for 'And So Why Should I Pretend?', including a rather fab high pitched lead vocal.
'Sooner Or Later' sounds, and I hesitate, to say this somewhat Roy Harper, folk rock and strangely remind me of some acoustic led Yes tracks to start off. But it kinda explodes into something louder before going back to that acoustic led thing. It is weirdly alternative rock – it does that quiet/loud thing but the loud bits are revved up RnBish, and the quiet bits feature acoustic, strangely classical piano, lovely massed vocals, you get the picture. Again you're going to be saying 'But Frank this sounds like something that shouldn't work at all'. The thing is it does, it's rather beautiful and crucially has to be heard to be believed.
Does this sound like alternative pop to you? Sure it's poppy in the main – 'Sooner Or Later' isn't but that's the exception. It sounds rather retro I guess, and some of the sounds and feels are, but then again it isn't. This wouldn't work if the members of The Azenas couldn't play exceptionally well or arrange these songs with skill and craft – that's a big yes to both of these as you may have assumed.
What The Azenas have done is make a set of songs that are compelling, musically brilliant and inventive. Something that doesn't fit into any genre niche – and I love music that doesn't fit into a niche – beyond that of wonderful music. This is beautiful stuff.
The info
The Azenas are a three-piece, alternative pop band from Sheffield. Having dabbled in a spot of DIY ethic recording and released their own material on Bandcamp, Merry-Go-Round magazine commented they "sound like they're having a blast and are inspired by nothing more than a love of music" whilst Tonic Grain described them as "an exceptional band/with some really contagious tunes".
Their Bandcamp bio – which is a thing of loveliness – says 'What happens when three mates delve into their parents extensive and varied record collections, find some random instruments lying around, then decide to dabble in a spot of DIY recording? The result is The Azenas'.
Archie Noble (Vocals, guitar, harmonica, ukulele)
Tom Stewart (Vocals, bass, drums, guitar)
Edward Simons (Piano, organ, backing vocals, percussion)
Bandcamp https://theazenas.bandcamp.com/
YouTube https://www.youtube.com/watch?v=lBqcEYOBaTI
Facebook The Azenas