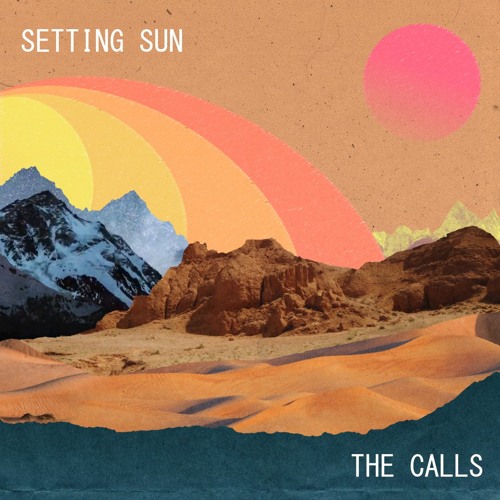 It has been a while (quite a long while really) since I reviewed anything from The Calls; so much so that I had almost forgotten how fabulous their music is. The EP has six tracks of loveliness to immerse yourself in, let's dive in.
Easing us in is 'Until It's Time' a slightly psyche, slightly dreamy 'Manchester Sound' song that somehow seems to fit that rock pop ballad form as well. Well, look this is no blast your ears rock song, instead it mesmerises with the dreamy sound and lazy rhythm. This is all about the lush layers of sound. The almost drawled vocals, a bass so prominent it's a lead instrument, that mellow guitar.
Next up is the sweet pop beauty of 'Out Of Reach'. A tune that's going to lodge itself in your head permanently, a vocal that enchants. In a way it kinda reminds me of the classic pop moments of The Monkees except they didn't do that wobbly dreamy psychedelic guitar. Gorgeous stuff. Continuing with this theme 'Into The Day' adds in what I'm going to call a wonkiness, a lovely touch of off-kilter sound. This features some guitar that's so good it brought a tear to my eye.
Our trip into the groovy takes a big step along the path with 'Everything's Alright', a track that musically in some ways reminds me of Spirit or even Love. What I'm saying here is that this has major psychedelic rock influences. It starts as a wonderful pop track but then takes an extended step into the 'wow maann that's far out'.
'Way Far Out' is, and I hope you'll forgive me for this, far out. |You'll get a hint of what's to come at the beginning, only to be dropped onto a psych-pop song. And then… well it freaks out; swirling sounds, distant vocal chants, guitar that feels oddly out of time. Lush and glorious.
And all too soon we are at the closing track 'Setting Sun'. Mesmerising, hypnotic, huge, epic. It sounds like a track that Primal Scream would have loved to write. Is it a blissed out pop song, a prime piece of psychedelia, a (slow) dance song? In truth it's all of these and more.
The one word I have avoided so far is Indie. So I'm going to address that now. The Calls have identified themselves as an Indie band and sure you'll hear some sort of Indie feel in their songs. But they've taken that and stretched it so far the envelope is well and truly burst. I've mentioned some bands I hear in their music but I could add Dukes of the Stratosphere, Strawberry Alarm Clock, the more extreme Peter Green material (both with Fleetwood Mac and solo), and I could go on. But then again I can equally as well hear things that are of the now. It is music that is of the present but draws from the past.
This is an astounding EP. The songs have great tunes that are going to haunt your day. Musically it's so good it hurts; you can hear it in the individual instruments, you can hear it in the way the band play together. You can hear it in the way they take a song and stretch it out, take it to a beautiful otherworldly place.
This is an EP to be treasured. It's beautiful