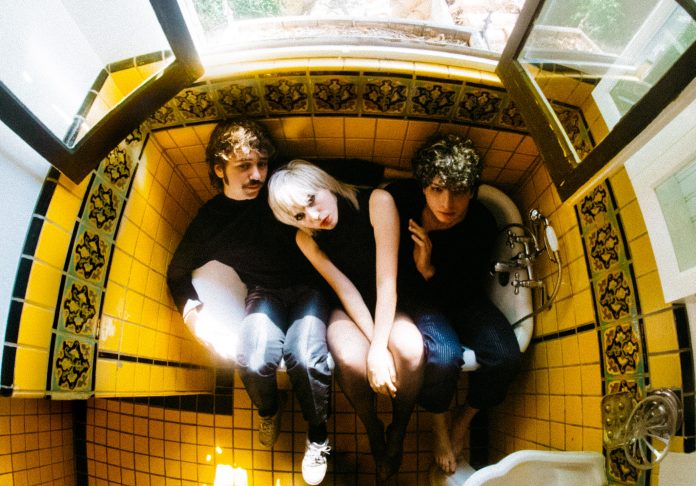 New York Trio SUNFLOWER BEAN (Julia Cumming, Jacob Faber, Nick Kivlen) announce a new EP entitled 'King Of The Dudes' (Listen/Watch/Pre-order).
To celebrate the announcement, they share the first single 'Come For Me' (Listen/Watch/Pre-order).
Julia explains, "This song was inspired by inner strength, power, and sexual freedom. In 2018 there is no time to waste and no time for shame. This song is a declaration of that. Do you really want to come for me? Do you really want to waste my time? The song is a dare, a threat, and a beckoning."
The EP, produced by Justin Raisen (Sky Ferreira, Charlie XCX, Angel Olsen) and released on January 25th, 2019, through Lucky Number, follows on from the release of their second album Twentytwo in Blue earlier this year.
The band add, "This EP does not give a fuck, it's reactionary, and a sharpened response to our times. Death, birth, aggression, addiction, and power. Twentytwo In Blue allowed us to find our strength and on King Of The Dudes we use it, no holds barred."
Following the release of Twentytwo in Blue, the trio completed a month long UK and European tour with performances at Reading & Leeds and End of the Road festivals, as well as supporting Interpol in arenas across the US. In November they return to the UK to play a further 12 shows, including their largest headline show to-date at London's newest venue EartH, the 1,500 capacity Hackney Arts Centre. The band will also open for Interpol once more throughout the US in early 2019. See below to find a show near you and get your tickets HERE.
Tour dates 2018
19/11 – Cardiff, Wales @ The Globe
20/11 – Leeds, England @ The Church
21/11 – Brighton, England @ The Old Market
22/11 – London, England @ Hackney Arts Centre
23/11 – Leicester, England @ Dryden Street Social
25/11 – Oxford, England @ The Bullingdon
26/11 – Glasgow, Scotland @ The Art School
27/11 – Manchester, England @ Academy
28/11 – Portsmouth, England @ Wedgewood Rooms
29/11 – Bristol, England @ SWX
30/11 – Cambridge, England @ The Junction
01/12 – Birmingham, England @ Castle & Falcon