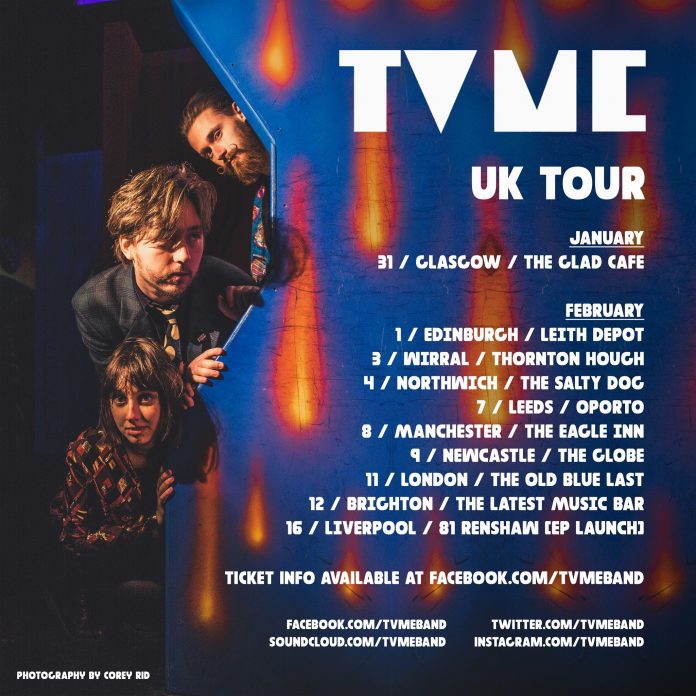 Liverpool based 3-piece pop project TV ME have recently announced the release of their newest EP 'A Broadcast From TV ME', a 4-track experimental fusion of psych, art pop and dream pop.
Led by Thomas McConnell, the songwriter of the band – who toured as a solo artist supporting Mercury-nominee, C Duncan, before taking time to hone his writing skills and further explore the incorporation of psych and electronica into a new project – TV ME formed in early 2017 with their debut single gaining instant airplay with BBC Introducing and Amazing Radio, and a signing with Deltasonic Records for their early releases. Offering harmonic vocals teamed with classic song-writing and engaging textures, the newest release from the trio – their first self released project – presents an EP ranging in style from psych-folk to cinematic instrumentals and dance pop whilst still retaining a fresh sound.
The lead single 'Stitches' was written in sections by Tom himself over the duration of 15 years, with the beginning piano piece written at the age of 14, the ending written age 10 and middle section 'stitching' the piece together two years ago in 2016. Taking inspiration from old videos of Laurel & Hardy, Pinky & Perky and A Hard Day's Night for sound and lyrics, 60's and 70's influences can be clearly heard in both the vocals and guitar track.
Since their formation last year, the trio have landed some notable support slots with the likes of Cat's Eyes, Flyte and Childhood and have recently embarked on their first UK headline tour in support of their EP release on Friday 16th February, with plans to release their debut album later in 2018.
LIVE DATES:
FEB 08TH THE EAGLE INN, MANCHESTER
FEB 09TH THE GLOBE, NEWCASTLE
FEB 11TH THE OLD BLUE LAST, LONDON
FEB 12TH LATEST MUSIC BAR, BRIGHTON
FEB 16TH EP LAUNCH – 81 RENSHAW (EP LAUNCH), LIVERPOOL
MAR 30TH YOUR CITY FESTIVAL, STOKE
APR 26TH ALEXANDERS, CHESTER