Jeff Wootton's CV reads like a dream. He's collaborated heavily with Damon Albarn, becoming Gorillaz' lead guitarist in 2010 aged just 23, and playing alongside two of my heroes – The Clash's Mick Jones and Paul Simonon – as the band embarked on their first world tour. Wootton also played on Albarn's solo album and, in 2013, joined him, Brian Eno, Nick Zinner, and several other notable musicians and producers on a trip to Mali to record as part of Africa Express.
In a sweet twist to the Jeff's story, one of LSF's esteemed writers, Leon The Canteen put on Wootton's first ever gig with his band The Black Marquee. He's got an eye for talent, has our Leon.
Wootton recently released his debut solo album and, for a fortunate few, there's the chance to own a limited edition version, complete with a suite of one-off Damien Hirst artwork, tailored to each track.
'The Way The Light' was recorded between Wootton's home town of Manchester and Topanga, California, where – inspired by Brian Eno – Wootton and engineer Mark Howard (Bob Dylan, Neil Young, U2) constructed in-house studio installations, recording for a few weeks before dismantling the set-up to move on to the next.
A multi-instrumentalist, Wootton plays everything on the album besides the drums; supplied ably by Mark Heaney. As you might expect from such a well-respected musician (Jeff has collaborated with Massive Attack, Noel Gallagher, Liam Gallagher, and Can frontman Damo Suzuki), the musicianship throughout 'The Way The Light' is outstanding. Sonically, it's an exploratory and experimental experience, with a clever delivery of melody.
Producer Mark Howard – the man credited with Neil Young's 'new' guitar sound on Le Noise – has crafted an amazing sounding album, as Jeff explains: "Mark Howard is a big influence on the record. Every record he has made has stood the test of time. He was very much involved in working on Dylan's Time Out of Mind and No Mercy, so to have his vibe on the production is great. The intention was to push a different sound. The aim of this one was to freak people out!"
Recounting the formation of the album, Jeff tells me: "The slower stuff was written on acoustic guitar, with the heavier stuff jammed out on electric. I did some gigs with Simon Jones from The Verve early in my career and they used to work like that – record jams and chop up sections. You pick up stuff from everyone you work with. When you play 'free form' you come up with music that you never would if you were thinking about it, which is the beauty of writing like that. I learnt a lot about melody from working with Damon as he's got an amazing gift for it. This record has got all that."
I ask about the meaning of the album for Wootton: "'The Way The Light' is about how much light you can have on your life; how much you let in or shine on you. The slower songs have more sentiment and more meaning, and are more personal than the faster ones."
Although Wootton is primarily known as a guitarist – and this is largely a guitar-driven album – his lyrics are considered and he is evidently an accomplished vocalist. So who are his literary heroes?
"Lyrically, I learnt everything I know from songwriters, with Dylan being 'the man'! I like abstract stuff. You can't go wrong if you start with Dylan. Then you move on to Hendrix , who is also abstract and massively underrated as a lyricist."
And so to the gig… I am curious to see how the sound of the album transfers to a live performance. Manchester's Night and Day Café is packed for its home-town hero's pre-tour gig and the atmosphere bristles with electric anticipation.
In support is Nev Cottee, an established Manc singer songwriter who plays us songs, so heavy with Mancunian atmosphere you can almost taste the drizzle. The tunes – from his new album, 'Strange News From The Sun' – come to life with folky pizzazz, accompanied by double bass and reverberating harmonica.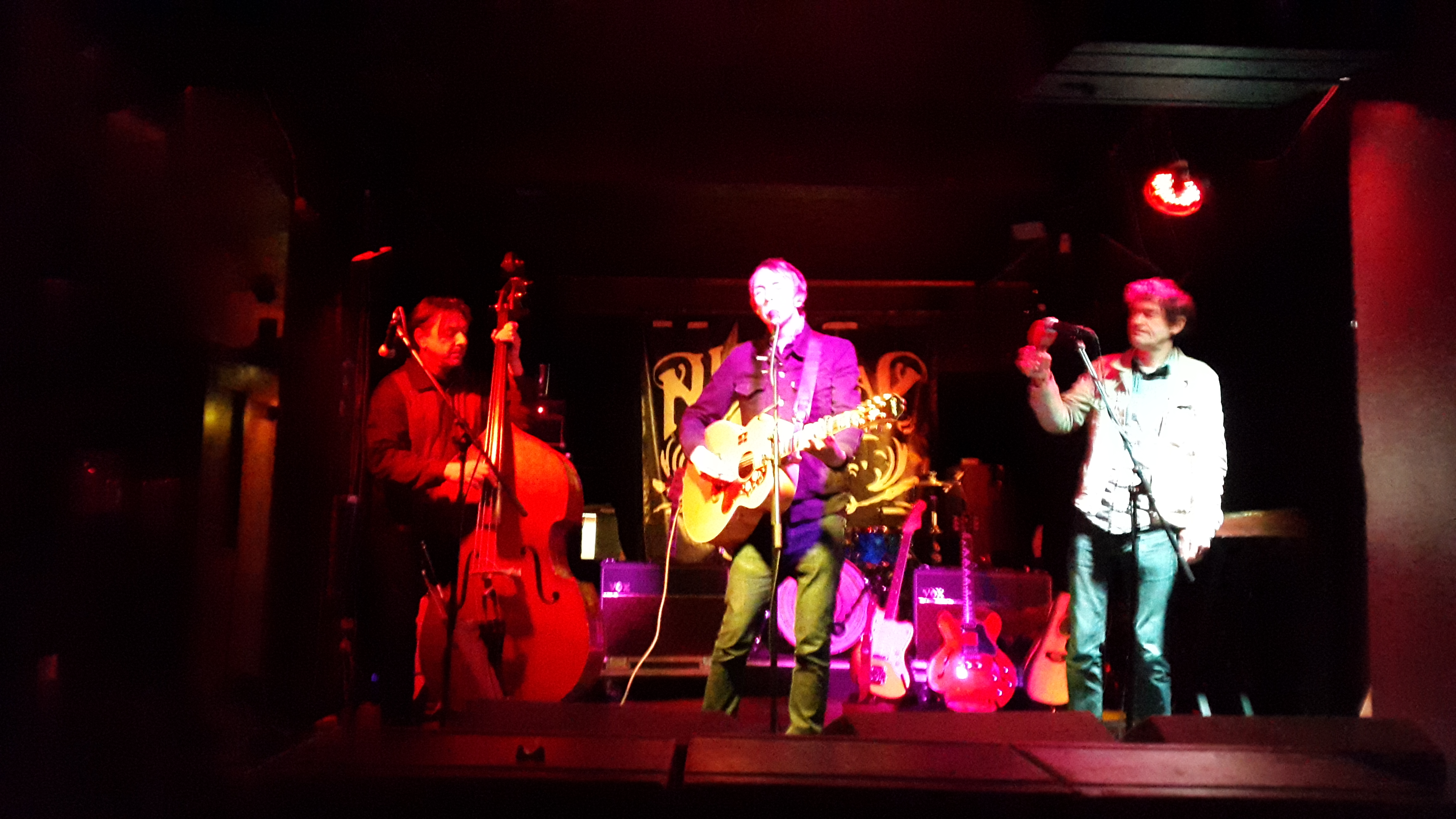 Despite being hampered by technical issues, Wootton's set is energetic, enthralling and fun. Amidst structural changes and additional musicians, tracks are thoughtfully composed into a set that makes you want to dance! The influences of Wootton's celebrated past collaborators are evident but less subtle, live. There's a Gallagher-esque vocal delivery, and an atmospheric 'caress' that Massive Attack would be proud of; however, this is original, inclusive and exciting music. It would certainly be suited to a much larger stage. In fact, you can imagine being in a wide open, starlit festival field when the last notes of 'Sonik Drips' ring out and the band exits the stage.
So what does the future hold for Jeff Wootton?
"I'm still not where I want to be. I've done the band thing and now I want to create records that push boundaries, stand out, and stand the test of time. If you listen to 'Are You Experienced?' or records by Joy Division, or The Roses they take their influences and push forward with it. Every classic band has an element of the past but puts something of future in it. I have a lot of records in me; I want to make art and be fearless with it."
If this is the 'chrysalis' stage for Jeff's music, we can't wait to see what his next beautiful creation will be. 'The Way The Light' is undoubtedly a bright beginning.