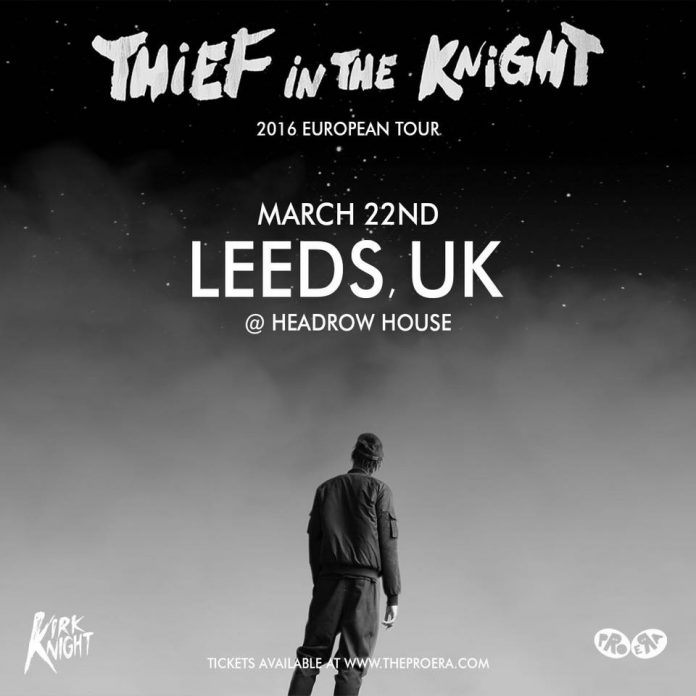 American hip hop label, Pro Era, has once again brought the UK new and original hip hop artists from across the seas, following on from the success of Joey Bada$$.
Kirk Knight left his home town Brooklyn, New York, to join his many UK fans on his first European headline tour. Knight was joined by local Leeds rapper Denmarc Creary.
Creary has already developed a significant fan base here in Leeds – since attending Leeds College of Music; his existing confidence, combined with his passion to create accessible and creative music, made his supporting set one not to miss.
The crowd were ready and more than willing to get involved and show their support for the music they so evidently enjoy. The excited vibes in the room were pulsing even before Creary entered the stage and when he dropped his first beat the crowd instantly felt it.
Creary demonstrated his own talent and played a set worthy of a much bigger crowd whilst constantly showing his support for Kirk Knight, the genre and his audience. His spoken word hits much deeper than the surface, with lyrics that are personal to him and clearly related to by the crowd.
With the crowd soundly warmed up and inspired by Denmarc's lyrics and passion, Creary hit us with one last track; his newest single 'Dido'. The tempo came down a notch for this final song, and, although not as upbeat and forceful as his previous tracks, Dido had a steady beat all the way through and a repetitive chorus that made it easy for the crowd to connect with for the first time.
Creary gracefully handed over the stage to Kirk Knight for the headline set. The small venue created the perfect space for the crowd to come together in unison for Knight and made sure the music could be felt as well as heard, as vibrations bounced off the surrounding walls.
The set started fast as Knight was eager to get the crowd riled up and ready for an hour of varying beats. The audience responded to Kirk with as much passion as he gave out as he constantly encouraged his fans to enjoy his performance, and he atmosphere was heightened thanks to Knight's genuine enjoyment and gratitude to be able to play for us. Every Individual in the crowd appeared to be connected through their love of hip hop yet singularly enjoying the set in their own way.
Overall the rigid structure of your average gig (which strictly follows a set list and allocates a set amount of time to audience interaction) was thrown out of the window on that night . The tone between Kirk Knight and his audience was generally conversational and the gratitude flowed both ways.
The set was filled with numerous surprises to keep the crowd on their feet. Towards the end of the set,Knight declared that he was a producer and for the first time would like to make a beat live on stage for us. The hype died down and everyone looked on, interested to see how this would go. Kirk Knight declared that this was his first try making a beat during a set and if things go wrong, he told us, you've just got to be able to laugh at yourself.
The experiment however went decidedly well and members of the crowd were itching to get on stage and lay some lyrics over the top of it… so Knight invited them to. This part of the gig seemed to sum up the whole experience. as well as Knight's music – exciting, original, inspirational and something you definitely didn't want to miss out on.
Knight followed Creary's lead and left us with a new track;although short, and rough around the edges, the reception it received showed that Kirk Knights fans would appreciate his music until the end.