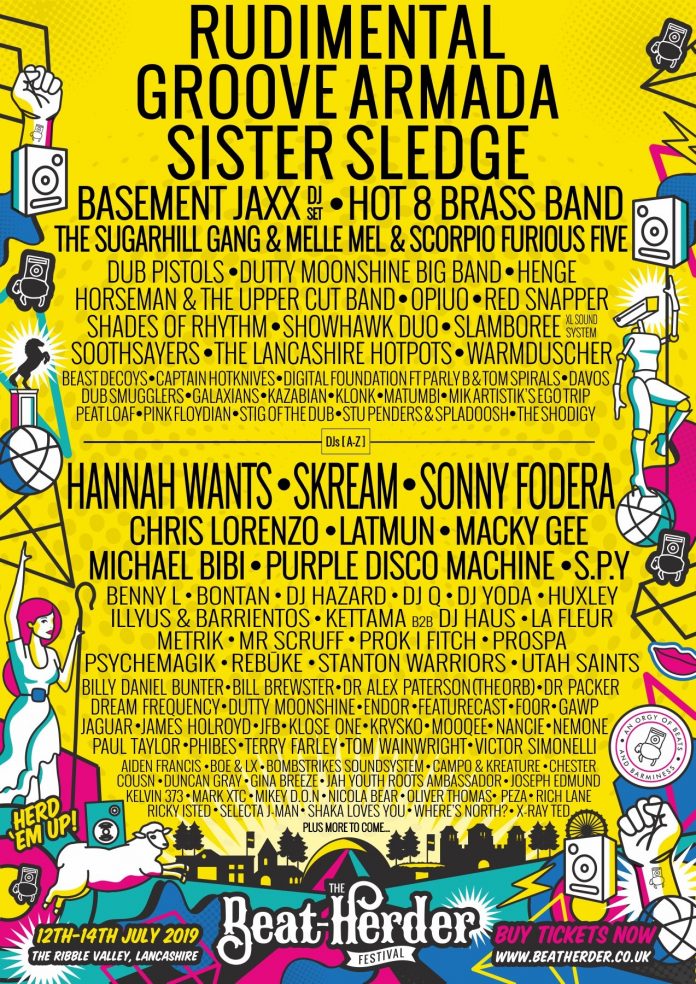 Beat-Herder, the weirdest, wildest and most wonderful party in the UK festival calendar, announces its final names for 2019, running from 12th – 14th July. After selling out of tickets in record time in 2018 and on track for another sell-out success, Beat-Herder will once again transform Lancashire's Ribble Valley into a technicolour party and escapist's utopia, with an array of 20+ whimsical stages, world-class DJs, live acts & comedians, and surprises aplenty.
SISTER SLEDGE
RED SNAPPER
GALAXIANS
JAMES HOLROYD
PEZA
GRINNY GRANDAD | FATHER FUNK | ADORED | DEFINITELY MIGHTBE
THE MOODS | FOSSA | CODEX | SUCK IT AND SPIN | MISTA BUMP | ALTITUDE DJ VINYL STYLE | D'OINK | CHESTER | PETE LE FREQ | TOSH | NOSEBLEED ANDY PYETT | 3XRCST | SEAS OF MIRTH | PANCAKE STEEL BAND
BEAR GROWLS | LIOHNESS | MATTY ROBBO | TIM TAN UNDERWOOD
GYPSY FINGERZ | ANDY BUCHAN | DJ NORX | MINDEX
LORD RYAN & THE TOPS | THE ORANGE CIRCUS BAND
COMEDY LINE UP ANNOUNCED:
ANGELOS EPITHEMIOU
PAUL SMITH
RACHEL FAIRBURN
DAVID STANIER
JAMIE HUTCHINSON
ROB MULHOLLAND
SAM GORE
DANNY SUTCLIFFE
Joining previously announced headliners Rudimental, Groove Armada and Basement Jaxx (DJ set) will be none other than the legendary Sister Sledge. Forming in Philadelphia in the early 70s, the siblings became a household name after working with Chic towards the end of the decade. With seminal anthems like Thinking Of You, We Are Family and He's The Greatest Dancer, the powerhouse icons have well and truly earned their place in the disco hall of fame and are certain to set the Beat-Herder main stage alight as they play the final set on Sunday night.
As ever, Beat-Herder will continue to join the dots between a multitude of genres across the electronic music spectrum.
Notable for their pioneering mix of acoustic and electronic musical styles, Red Snapper join the line up at The Factory, a split-level arena in which you can clock in, but never clock out. Taking cues from classic disco and house music, Leeds locals Galaxians will bring the boogie to their hotly-tipped live show over at Trash Manor, the eclectic, electric courtyard of chaos.
Original Bugged Out native, long-term Back to Basics resident, Chemical Brothers tour DJ and household name of the Manchester & Leeds club scenes, James Holroyd will be warming up for the legendary Groove Armada on the main stage, and also will make his mark over in the Toil Trees, known for it's majestic woodland setting, and the beating heart of Beat-Herder. Joining them is Wolverhampton's Peza, whose recent tracks have been supported by the likes of Andrew Weatherall and Horse Meat Disco.
Also announced today is Beat-Herder's comedy line up, which this year features headline talents including Hot Water Comedy Club resident Paul Smith. Known for his affable stand-up style and quick wit, Smith recently sold out Liverpool's Echo Arena and has been awarded Liverpool's New Comedian of the Year. Joining him is Angelos Epithemiou, a character of actor and comedy writer Dan Renton Skinner. Skinner won Best Comedy Breakthrough at the British Comedy Awards, as well being nominated for a Perrier award at Edinburgh Fringe Festival.
Also performing on the comedy line up are Rachel Fairburn of the serial killer podcast All Killa No Filla; the unconventionally daft David Stanier; and award-winning Manchester comedian Jamie Hutchinson.
Music is just part of the experience at Beat-Herder. Entirely handmade from scratch, the stages stand out as something truly different in the increasingly cookie cutter festival landscape. That attention to detail creates an immersive world full of beguiling and intriguing creative concepts.
What other festivals give you the opportunity to explore underground tunnels, dance to drum and bass in a chapel or get inked in the functioning tattoo parlour? And if the hedonism gets a little too much, guests can slow the pace by lounging in the heated hidden swimming pool, sitting by the huge fire in the stone circle or enjoy some retro entertainment at the site's very own working men's club.
And it's not just the site which yields bonkers results from a meticulous attention to detail. Every year, Beat-Herder sets a fancy dress theme, with guests bringing their A-game when it comes to original interpretations and masterful costumes. This year, the fancy dress theme has been announced as 'the letter R'.
Beat-Herder continues to exist as it did back when it started as a free DIY party in 1998: uncompromising, unwavering and distinguished by an overwhelming sense of community. Its reputation as one of the friendliest festivals around can be attributed to its loyal followers – friends, couples and families who create new memories to cherish in a bold and barmy atmosphere each summer.
Tier 4 tickets are now available for £165 + booking fee from https://tickets.beatherder.co.uk/. Glamping options are also available. The Beat-Herder Bombassador programme is also open, allowing loyal fans the chance to get free tickets and money-can't-buy experiences.