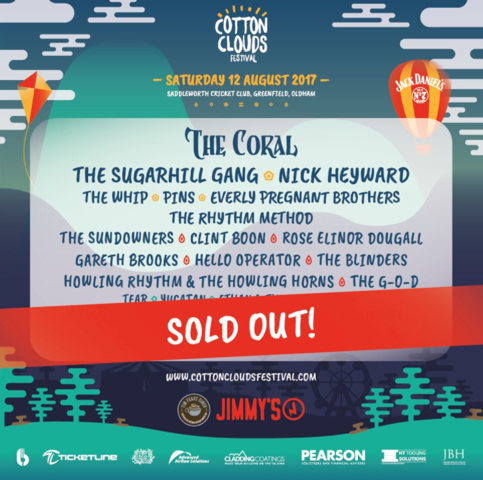 Eclipsing all expectations – all tickets for the first ever Cotton Clouds Festival is now completely sold out.
COTTON CLOUDS FESTIVAL 2017 STAGE TIMES
Main Stage
21.15 – 22.00 The Sugarhill Gang
20.30 – 21.15 Gareth Brooks (DJ)
19.30 – 20.30 The Coral
19.00 – 19.30 Clint Boon (DJ)
18.15 – 19.00 Nick Heyward
17.45 – 18.15 Clint Boon (DJ)
17.00 – 17.45 The Whip
16.00 – 16.30 The Everly Pregnant Brothers
15.00 – 15.30 Rogue Emperor
14.00 – 14.30 Gardenback
13.00 – 13.30 Stillia
Tim Peaks Diner
20.30 – 21.15 The Rhythm Method
19.00 – 19.30 Yucatan
17.45 – 18.15 The G-O-D
16.30 – 17.00 Tear
15.30 – 16.00 The Sundowners
14.30 – 15.00 Nev Cottee
13.30 – 14.00 Colour Me Wednesday
12.30 – 13.00 Proletariat
Jimmy's Stage
20.30 – 21.15 PINS
19.00 – 19.30 Howling Rhythm & The Howling Horns
17.45 – 18.15 The Blinders
16.30 – 17.00 Hello Operator
15.30 – 16.00 Rose Elinor Dougall
14.30 – 15.00 Ethan & The Reformation
13.30 – 14.00 Darling Club
12.30 – 13.00 Shadow Palace
* Set times may still be subject to minor change
NEW LINE UP ADDITION: ROGUE EMPEROR
Cotton Clouds is delighted to announce new additions – ROGUE EMPEROR – will be joining the line up gathered on the Main Stage. The emerging Manchester supergroup comprise a dazzling collaboration between former Elbow drummer Richard Jupp and Doves keyboardist Martin Rebelski. The pair are joined by 1,2,3,4's guitarist Mike TV – who can often be found backing Badly Drawn Boy – and renowned session bassist Ollie Collins.
Speaking on Rogue Emperor's soaring atmospheric sound, Jupp expands:
"Make no mistake, this is dance music. It's designed for the dancefloor – its electronic but with our own take on it. It's a seriously big sound and we can't wait to play it live to an audience."
Rogue Emperor's debut single is called Holy Ghost, mixed by Doves guitarist/producer Jez Williams, is available from www.rogueemperor.com
FOOD & DRINK – A TASTER
Specially selected street food stalls, pop up bars and a real ale tent will be augmenting your experience, serving all manner of tantalising tastes and delectable drinks sure to cater to your every fancy…
Did someone say drinks? We'll have you covered with our fully stocked bar & the addition of a special Prosecco bar courtesy of Prosecco At Tiffany's!
Tim Peaks Diner has proved a real festival favourite over the past 6 years. We are honoured to welcome Tim Burgess' legendary diner to the very first Cotton Clouds Festival. From damn fine coffee to mind-blowing secret sets. You never know who you might bump into!
We're also looking forward to being joined by Grandpa Greene's Luxury Ice Cream – it doesn't get much better than sunshine, music and ice-cream! There'll be plenty of banger for your buck at the Grandad's Sausages stand, whilst for those conscientious consumers ISpice will be bringing their delicious fresh vegan street food to Cotton Clouds!
EVERY CLOUD HAS A SILVER LINING: SUPPORTED CHARITIES
Committed to creating a festival "we can all be proud of", our Cotton Clouds organisers have pledged to donate funds to the Manchester Arena Bombing appeal, as well as the British Tinnitus Association, in memory of Greenfield based Craig Gill, former drummer with the Inspiral Carpets.
FAMILY FUN!
Offering something for all the family, there'll also be loads to keep the kids occupied at Cotton Clouds Festival 2017. Whether you get stuck in with our sensational "sand art" from Kids Bee Happy, go for a fantastical new look at our face painting tent or make your own special memento for the first ever festival at our brilliant badge making classes from Opag Oldham, there'll be plenty on hand for all ages to enjoy.
COTTON CLOUDS 2017: INTRODUCING THE LINE UP
With over two decades of timeless songwriting and 8 celebrated albums now to their name – Cotton Clouds is delighted to announce – THE CORAL – will honour the Main Stage as festival headliners in 2017. Currently touring with the wispy psychedelia of their critically-acclaimed latest long-player "Distance Inbetween", and with a back catalogue teeming with balmy and beatific indie pop hits such as "Dreaming of You", "In The Morning", "Pass It On", "Jacqueline" and more, the wondrous Wirralers are in prime position to put you on cloud 9 this August.
With hopes-up for a red sky on the night, there'll most certainly be Rappers Delight as US hip hop supremos – THE SUGARHILL GANG – bring their ground-breaking 1979 hit and a host of other treats to the main stage earlier in the evening. Plus a man who knows all the hallmarks of a Fantastic Day when he sees one from his years captaining Beckenham new-wave faves Haircut 100, – NICK HEYWARD – will be encouraging all to don their Favourite Shirts and join him for a sing-along through his time-tested Top 10 singles and highlights from his illustrious pop career.
Elsewhere on site, there's a whirl of home-spun talent from the Northwest to be found with some dancefloor domination compliments of THE WHIP, eclectic and esoteric ukulele escapades with the EVERLY PREGNANT BROTHERS, plus full throttle rulebook-ripping outings from rockers THE BLINDERS, plus many, many more across three stages (full line up above).
LOCATION
Situated in the old, industrial textile powerhouse of Saddleworth and set against the breathtaking vista of the stunning Peak District National Park, Cotton Clouds Festival is just a short 30 minute trip by car or train east of Manchester.
By Car / Foot: – Address: Saddleworth Cricket Club, Well-I-Hole Rd, Greenfield, Oldham OL3 7HY
Car Parking passes are now available from: http://www.cottoncloudsfestival.com/
By Rail: – Nearest train station: Greenfield Station, OL3 7JZ
FOOTWEAR AND CLOTHING
The Cotton Clouds team would like to remind all attending the festival to bring sensible clothing & footwear. The festival takes place on a cricket pitch (which is not covered) so if it rains the day before or during the event it will be wet underfoot.
On the flip side, if it's a glorious day – you'll need to bring adequate sun protection as there will be limited cover on site. Keep an eye on the weather forecast in the run up to the event.
FOR MORE INFORMATION
w/ http://www.cottoncloudsfestival.com/
f/ https://www.facebook.com/cottoncloudsfestival/
t/ https://twitter.com/cottoncfest
i/ https://www.instagram.com/cottoncloudsfestival/