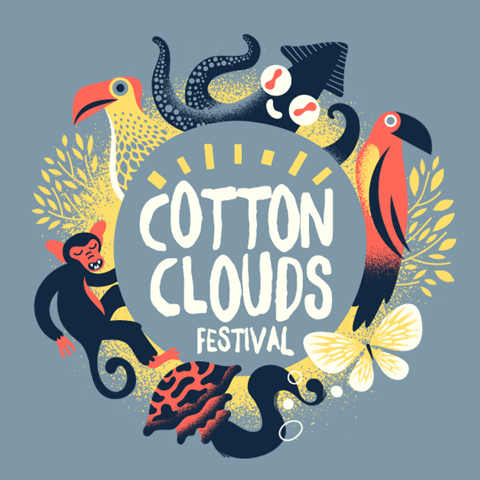 Taking place across two days – 16th-17th August 2019 – at the height of the British Summer, the festival is raising its game again to bring you a lofty line-up bursting with premiere pop picks, tantalising foodie treats, a magnificent new makers market, carnival curios, raving robots, and much, much more…
Cotton Clouds 2019 will bring you performances from:
THE WAILERS // PETER HOOK & THE LIGHT // REVEREND & THE MAKERS // ASH // ALABAMA 3 // SHE DREW THE GUN // TIM BURGESS // THE HOUSE & GARAGE ORCHESTRA // OH MY GOD! IT'S THE CHURCH // THE MOUSE OUTFIT // SAYTR PLAY // THE FERNWEH // HEY BULLDOG // MARK RADCLIFFE'S UNE //
+ SPECIAL GUESTS
And many more… Read on!
THE LINE UP
For its third instalment, Cotton Clouds will be curating an eclectic mix of sounds just ripe for 2019 summer fun, and for the very first time the festival will be running back-to-back music across all three of its stages during both days of the event.
From established artists brimming with pop pedigree to the freshest sounds hovering on the horizon.
FRIDAY 16th AUGUST
Venturing into brave pastures new with the addition of a second day last year, the overwhelming response from revellers has only inspired Cotton Clouds to bring you even more for its 2019 edition.
This year's Friday night will be given a stratospheric launch by Northern rock royalty: PETER HOOK & THE LIGHT. As a founding member of not just one, but two, of the most influential bands of all time, Hooky has the hit-strewn back-catalogues of both New Order and Joy Division in his artillery. Marvel as he and his trusty band The Light dazzle in the dusk with a set list brimful of all-time classics, from "Love Will Tear Us Apart" to "Blue Monday", "The Perfect Kiss" to "True Faith" and beyond…
Getting you suitably warmed-up for the headline hits-fest, ASH will be giving Hooky & Co a run for their money as they unearth treasures from nearly thirty years of solid gold singles. Much like their ebullient and eternally youthful frontman Tim Wheeler, the Northern Irish power-pop band's music has remained ageless, fizzy and fun throughout their career. From flying-v guitars to "Girl From Mars", reacquaint yourself with the timeless tunes of your misspent youth, delivered with a "Kung Fu"-kicking live show to boot.
Dusting the Friday with some gangster-approved grooves, the endless legions of ALABAMA 3 will be mobbing the main stage in the afternoon. Perhaps best known for soundtracking the criminally-cool opening credits to The Sopranos with their sublime "Woke Up This Morning", the cult-collective have been making what they self-describe as "Sweet Pretty Muthaf***in Country Acid House Music" since 1995, and who are we to disagree? Recently hailed by The Guardian as "the best live band in the country", prepare to be caught red-handed losing-it to the beats of these Brixton bad boys.
THE MOUSE OUTFIT will be keeping the hip-hop heads happy with their infectious blend of jazz influenced boom-bap; part hip hop production team / part live band / part ever growing collective of musicians and vocalists released their acclaimed third album 'Jagged Tooth Crook' last year.
Louisa Roach will be serving up some literate, lush and darkly ornate psych-pop from Liverpool as she brings her SHE DREW THE GUN outfit to the party. Political and impassioned, SDTG released the critically acclaimed 'Revolution Of Mind' LP last year, an album that staked its place as one of BBC6 Music's Albums Of The Year in the process.
Elsewhere on the bill, a raft of proudly Mancunian talent will guide you through a what promises to be an opening day to remember. With sets from inventive indie-rockers SAYTR PLAY, exuberant Afro-Rock-Funk-Psych 11-piece AGBEKO, gritty garage rock gents THE MAITLANDS, plus the wily sounds of CALLOW YOUTH, there's plenty on hand to suit all tastes and tendencies.
SATURDAY 17th AUGUST
Cotton Clouds' almighty Saturday headliners: THE WAILERS. Recognisable as the unequivocal daddies of the reggae genre, for over 50 years the Jamaican outfit have been inspiring audiences and promoting harmony the world over with their uplifting, conscientious and powerful anthems. "No Woman No Cry", "Buffalo Soldier", "Is This Love", "Jamming", "No Woman No Cry", "Exodus", "Could You Be Loved" – the list of classics in their canon is endless.
Getting the audience more than suitably warmed up, longstanding "Heavyweight Champions" of the Sheffield scene REVEREND AND THE MAKERS will be sparring the audience with a set of their high-energy indie-electronica. Fronted as ever by the irrepressible Jon "The Reverend" McClure, Jon & Co will be airing hits from a back catalogue boasting five Top 20 hit albums including chart-slaying recent album 'The Death Of A King'.
Everyone knows there's three key ingredients to getting the perfect party started: House, Garage, and… an Orchestra? If the third seems something of a curveball, just leave it to this choice Cotton Clouds booking: THE HOUSE & GARAGE ORCHESTRA to put your mind firmly at ease. Since 2015, this talented collective have been re-imagining the iconic sounds of UK club music's golden eras. Performing with a full live band, guest vocalists and expanded Brass & String sections, prepare to hear totemic dance anthems like you've never heard them before…
A man who's spiritual presence has been felt at Cotton Clouds right since the very beginning thanks to his delectable Tim Peaks Diner pop up; in 2019, the festival is delighted to welcome the head-honcho himself to the bill. Yes, he of The Charlatans fame: TIM BURGESS, will be taking a break from the day-job to perform a set of his magnificent solo material, including picks from his star-studded recent release 'As I Was Now', out now on Tim's own O Genesis label. Watch out for other O Genesis label highlights across the Cotton Clouds line up too.
For anyone praying for something utterly divine at the festival this year, OH MY GOD! IT'S THE CHURCH could be the miracle you've been waiting for. A live act that, perhaps unlike the Holy Father, truly need to be seen to be believed, this gang put on a Church service where party is officially the new praising. An eye-popping, high-octane spectacle led by the revved-up Reverend Michael Alabama Jackson, this is one sermon that is sure to convert even the most curmudgeonly doubting Thomas on site…
Elsewhere on the bill Derbyshire trio PATAWA will be getting fresh and funky with a set of their disco-tinged, Saturday-primed bangers; whilst fresh from supporting Jorja Smith on tour, rising Mancunian hip-hop star JORDAN MAX will be dropping some prime cuts from his future-facing new EP: 'Tales of Us'.
Signees of James Skelley's Skeleton Key Records, THE FERNWEH will be unlocking some of the psychedelic-folk secrets of their beautiful 2018 s/t debut; BIG SOCIETY are back bigger, badder and sleazier with a clutch of tasty new sounds to air; plus after a spate of dates with Sleaford Mods throughout 2019 Manchester scene favourites LIINES will be heading to Cotton Clouds to deliver a set of their thrilling post-punk.
BBC 6 Music & Radio 2 DJ legend, author, musician and all-round gentleman: Mark Radcliffe will hit the festival for the first time accompanied by electronica tech-head compadre Paul Langley (Robs Records/Yeti-MusicMan/BMG). The pair will debut their experimental new electronic project: MARK RADCLIFFE'S UNE.
And it would be remiss not to mention the specially curated bill of emerging talent at Cotton Clouds 2019, who are poised and ready to take tomorrow by storm….
Expect dream-pop lushness from SECLUDED SEA; ambient, reverb washed vibes from THE SILVER FIELD; taut indie pop from THE FLATLINE; roof-raising riffage from rising stars of the Manchester rock circuit with THE C33S, HEY BULLDOG, DIRTY LACES, THE PEOPLE, STEREOHAZE and LA MODE battling it out to be crowned your favourite; and stunning sets from solo talents including Oldham's own COBY FLETCHER and West Yorkshire's SAM McGURK.
And if that wasn't enough to whet your appetites, there will also be a set from some very SPECIAL GUESTS to be announced in due course… but Mum's the word for now. Expect special secret sets in the VIP bandstand too – see VIP packages for your chance to get in on the action.
THE KIDS ARE ALRIGHT TOO…
With a friendly, family vibe part-and-parcel of our festival experience, Cotton Clouds 2019 will of course be making sure there's plenty to keep the nippers occupied.
Expect awesome ARTS & CRAFTS, an exhilarating EVENING CARNIVAL, and a takeover by our very techno-Terminators, the MUSICAL ROBOTS. Plus showing the grown-ups how it's done, 2019 will see the debut of the Cotton Clouds' KIDDIES RAVE, expect only the very best kind of pandemonium to break out on this dancefloor.
LOCATION
Situated in the old, industrial textile powerhouse of Saddleworth and set against the breathtaking vista of the stunning Peak District National Park, Cotton Clouds Festival is just a short 30 minute trip by car or train east of Manchester.
Cotton Clouds Festival takes place at:
Saddleworth Cricket Club
Well-I-Hole Rd
Greenfield
Oldham
OL3 7HY
By Car / Foot: – Address: Saddleworth Cricket Club, Well-I-Hole Rd, Greenfield, Oldham OL3 7HY
By Rail: – Nearest train station: Greenfield Station, OL3 7JZ
OPENING TIMES
Cotton Clouds Festival 2019 will run from:
5pm – 10pm – on Friday 16th August 2019.
12noon – 10pm – on Saturday 17th August 2019.
TICKET DETAILS
Adult Weekend Passes:
Allowing entry for both days of Cotton Clouds 2019 – Friday 16th – Saturday 17th August – are available at 9AM on 1st MARCH 2019 and are priced at: £75.00 + BF.
Individual Adult Day Tickets:
FRIDAY TICKETS – are priced at £33.00 + BF.
SATURDAY TICKETS – are priced at £52.25 + BF.
VIP Packages + Children 6-13 Year old Passes are also available.
Infants Under the Age of 5 are Free.
Get yours at The Cotton Clouds Official Website:
http://www.cottoncloudsfestival.com/buy-tickets/
AGE RESTRICTIONS
All ages welcome across both Friday and Saturday.
Anyone under the age of 18 must be accompanied by an adult over 21. Maximum of four under 18s per adult. ID required.
Line-up
FRIDAY
Peter Hook & The Light
Ash
Alabama 3
The Mouse Outfit
She Drew The Gun
Saytr Play
Agbeko
The Maitlands
Callow Youth
SATURDAY
The Wailers
Reverend & The Makers
The House & Garage Orchestra
Tim Burgess (The Charlatans)
Oh My God It's The Church
Special Guests
Patawawa
Jordan Max
The Fernweh
Big Society
Liines
Secluded Sea
The Silver Field
Mark Radcliffe's UNE
The C33s
Hey Bulldog
Coby Fletcher
La Mode
Dirty Laces
The People
Sam McGurk
Stereohaze
The Flatline
FOR MORE INFORMATION
w/ http://www.cottoncloudsfestival.com/
f/ https://www.facebook.com/cottoncloudsfestival/
t/ https://twitter.com/cottoncfest
i/ https://www.instagram.com/cottoncloudsfestival/