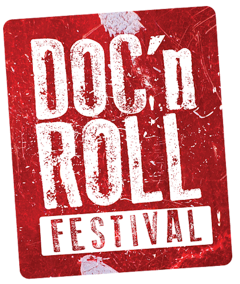 The UK's Music Documentary Festival arrives in Manchester for the very first time from 23rd to 28th May 2018.
Taking over an array of venues in the city including the HOME arts complex, Gullivers, 3MT and Plant Noma – the festival will be bringing a programme of eleven premiere films to the city throughout the week.
A huge local draw for the Doc'n Roll Film Festival Manchester edition this year is surely the World premiere of a music documentary about one of the city's most beloved talents: Badly Drawn Boy. About A Badly Drawn Boy tells the story of the Mercury prize-winning album that would take him to stardom: The Hour Of Bewilderbeast. (26 May @ HOME).
A city renowned for its supreme heritage of dance music, Mancunian audiences will also be rewarded with a film celebrating exactly that, as the Doc N Roll Festival presents the city's premiere of Manchester Keeps On Dancing. After the screening, director Javi Senz will be accompanied by DJ royalty Krysko, Ruud Whiting (Metrodome/Levelz) and host Dave Haslam for a Q&A to truly take viewers behind the scenes of the film plus an after-party at Gorilla. (26 May @ HOME)
As part As part of the festivities, Doc'n Roll will be showcasing a series of sublime films focusing on subjects from: fierce pioneers of American grunge punk L7; the extraordinary Ella Fitzgerald; the bubbling underground Techno scene of Iran; a highly topical insight into the lack of female representation in the music industry; a unflinching insight into the world of troubled post-punk songwriter Adrian Borland & The Sound; the twisting tale of unsung Merseybeat heroes The Big Three; a long overdue exposé on the originators of extreme metal: DEATH; a visceral, immersive dive into the hazy black hole of Doom rock (featuring Black Sabbath); plus a celebration of the infamous Ealing Club in London, a venue dubbed "the Cradle of British Rock".
Tickets on sale from 18 April 2018 via http://www.docnrollfestival.com/films/
Film and listings information
Walking In The Opposite Direction: Adrian Borland & The Sound
19:00 WEDNESDAY 23RD MAY – 3MT – 39 Oldham St, M1 1JG
** Manchester Premiere **
Director Marc Waltman, Netherlands, 2016, 96 mins
This is a tale of headstrong talent and dark despair: English singer-songwriter Adrian Borland, whose poetic lyrics, passionate vocals and compelling guitar work fuelled the critically lauded, Stooges – and Joy Division-hued post-punk band The Sound, battled mental illness before taking his own life in 1999. This haunting music documentary, by turns troubling and tender, was made in the Netherlands where Borland found his greatest acclaim. Via insights from those who knew him best, it turns an unsparing eye on an artist's fierce creative vision and fearless determination to pursue his muse, even at the cost of his peace of mind.
L7: Pretend We're Dead
18:30 THURSDAY 24TH MAY – HOME
** Manchester Premiere **
Dir. Sarah Price US, 2016, 82 mins
Fierce pioneers of American grunge punk, L7: Pretend We're Dead is an engrossing time capsule told from the perspective of L7, these true insiders who brought their signature blend of grunge punk to the masses. Culled from over 100 hours of vintage home movies taken by the band, never-before-seen performance footage, and candid interviews, it takes viewers on an all access journey into the 1990's grunge movement that took the world by storm. Charged with lyrics that had political bite and humour which proved irresistible to the disenfranchised, the marginalised, and the punk, they helped define grunge as the genre of a generation.
Chronicling the early days of the band's formation in 1985 to their height as the 'queens of grunge,' the film is a roller coaster ride through L7's triumphs and failures – a classic tale of rags to riches to rags. Featuring exclusive interviews with Exene Cervenka (X), Krist Novoselic (Nirvana), Shirley Manson (Garbage), Louise Post (Veruca Salt), Joan Jett and many more.
Some Other Guys – The Story of the Big Three
19:00 THURSDAY 24TH MAY – GULLIVERS
** Manchester Premiere *
Dir. Todd Kipp, Canada, 2017, 100mins
A look back at Liverpool's vibrant music scene in the 1960s, centred around the rise and fall of The Big Three. How did the Beatles rocket to stardom when their rivals The Big Three vanished from the music scene just as the British Invasion was beginning? Just like the Beatles, The Big Three were part of the exploding music scene in the North of England in the '60s, they spent their early days playing at Liverpool's Cavern Club, and they shared the manager who made the Beatles stars, Brian Epstein. Where they differed, however, was The Big Three's loud, raucous live shows, their penchant for drinking, and their refusal to sell out. Although they enjoyed a brief period in the spotlight, the band cut ties with Epstein and ended their careers in a legendary fist fight. Through in-depth on-location interviews with many of the movers and shakers of the time, Some Other Guys looks into many never heard before behind the scenes stories as well as the myths and legends that have evolved into lore. Starring Brian "Griff" Griffiths, Johnny "Gus" Gustafson, Johnny "Hutch" Hutchinson and many others from the early days of British rock and roll!
Raving Iran
18:30 FRIDAY 25TH MAY – PLANT NOMA – Dantzic St, M60 0AB
** Manchester Premiere **
Dir. Susanne Regina Meures, 2016, Switzerland, 84mins
Anoosh and Arash are at the centre of Tehran's underground techno scene. Tired of hiding from the police and their stagnating career, they organise one last manic techno rave in the desert, under dangerous circumstances. Back in Tehran they try their luck selling their illegally manufactured album. When Anoosh is arrested, there seems to be no hope left. But then they receive a phone call from the biggest techno festival in the world. Arriving in Switzerland, they are overwhelmed by the realisation of their own dream. The response from radio and newspaper interviews and the acclaim of millions of ravers and other DJs catapult them into another sphere.
Play Your Gender + Q&A
18:15 FRIDAY 25TH MAY – HOME
** Manchester Premiere **
Dir. Stephanie Clattenburg, Canada, 2017, 80mins
Q&A (music industry panelists TBA)
Just 5% of music producers are women, even though many of the most bankable pop stars are female. In the entire history of the Grammys, only six women have been nominated for the Producer of the Year award, and no woman has ever won. In Play Your Gender, Juno Award-winning producer Kinnie Starr embarks on a quest to find out why this disparity exists by speaking to music industry stars and veterans about the realities of being a woman in the recording studio. The documentary features interviews with Sara Quinn of Tegan & Sara, Melissa Auf der Maur of Smashing Pumpkins and Hole, Patty Schemel of Hole, Chantal Kreviazuk, and many more of the music industry's most talented women.
About A Badly Drawn Boy + Q&A
15:30 SATURDAY 26TH MAY – HOME
*** World Premiere ***
Dir. THE MITCHAM SUBMARINE, 2018, UK, 72mins
Q&A with the director
An in-depth feature film all about the boy himself Damon Gough and the legacy of his Mercury Prize winning album The Hour of Bewilderbeast, eighteen years after its original release in 2000. Damon talks about his musical upbringing, the mix tape cassettes his mother made him, the first record he bought and the first concert he attended. The story continues with Damon meeting his future creative collaborator and business partner Andy Votel and how together they founded the Twisted Nerve record label in Manchester in the late 1990's. We hear of the influences Damon brought to the recording of the album, the songwriting process and stories behind the songs, musicians, producers and album artwork.
The film features exclusive new interviews with Damon and acoustic performances of songs from the album filmed in the Gough family print factory in Bolton and his home in Manchester, alongside previously unseen archive footage and photographs, animation and lots more. Includes contributions from Andy Votel, musicians Jane Weaver, Ian Smith (Alfie), Jimi Goodwin (Doves), Guy Garvey (Elbow) and Ghostpoet. Damon's big brother Simon Gough, producer and member of Mum and Dad Joe Robinson, Grammy award winning producer Ken Nelson, XL Recordings Richard Russell, film director Garth Jennings, journalist Luke Bainbridge, radio DJ Pete Mitchell, 2000 Mercury Music Prize judge Fleur Sarfaty, Square One Studio's Bob Little and Artist Joe Simpson.
Manchester Keeps On Dancing + Q&A, plus After-Party
18:00 SATURDAY 26TH MAY – HOME
** Manchester Premiere **
Dir. Javi Senz, 2017, UK, 90mins
Q&A with the director, DJ Krysko, Ruud Whiting (Metrodome/Levelz), hosted by Dave Haslam
A new feature film that documents – in exceptional detail – the arrival of House music in Manchester from Chicago in the 1980s, through to the Acid House explosion of 1988 and a further 30 years of its phenomenal impact. It is a truly remarkable social study of a subculture that helped put Manchester on the worldwide music map. Digging deeper than the story of the famed Haçienda club, this documentary presents archive footage that has never been seen on film, alongside in-depth interviews with local and international DJs, to explore how House music arrived in the city and take viewers on a journey through its memorable stories. The timeline begins pre-Haçienda and features contributions from each ensuing decade's most respected DJs, producers, promoters and social commentators including Greg Wilson, Mike Pickering, Dave Haslam, Andrew Weatherall, Marshal Jefferson, Carl Craig, Eats Everything, Krysko, Laurent Garnier, Todd Terry, Seth Troxler and many more.
The after party at Gorilla is to show case the current rave scene in Manchester, with ones to watch for the next 30 years, featuring a host of DJs and producers from Bad Dun DJs, Gina Breeze, Bitzer Maloney (Bakk-Heia), Cervo (Banana Hill), as well as Warehouse Project residents Krysko and Greg Lord and Zutekh.
This will be a free party from 11pm-4am with a suggested £5 on the door as a donation for local charity, Thirty Pound Gentleman, who deliver music production masterclasses for young aspiring music producers in the City.
Suburban Steps to Rockland: The Story of The Ealing Club
14:30 SUNDAY 27TH MAY – GULLIVERS
** Manchester Premiere **
Dir. Giorgio Guernier, 2017, UK, 89mins
Inspired by American touring blues acts such as Muddy Waters and Sister Rosetta Tharpe, and with the help of a 19-year-old student from Tehran, in 1962 guitarist Alexis Korner and harmonica player Cyril Davies opened the Ealing Club, London's (and Britain's) first rhythm and blues venue. Soon young music fans from all over the country began attending Alexis and Cyril's shows and sit in during their sets. The list of those who learned the blues at the Ealing Club includes Jack Bruce, Ginger Baker, Paul Jones, Brian Jones, Mick Jagger, Keith Richards, Dick Taylor, Jeff Beck and Eric Burdon, to name just a few.
The Ealing Club, "the cradle of British rock" (Mojo magazine), was a dingy and smoky concrete-floored basement barely mentioned in music history books, and it would last only three years. However, its pivotal role in fostering a golden generation of classic rock musicians and kick-starting the British blues movement remains undeniable.
The Doom Doc
17:00 SUNDAY 27TH MAY – GULLIVERS
Manchester Premiere
Dir. Connor Matheson, UK, 2017, 90mins
Made on a crowdfunded shoestring budget, The Doom Doc is a visceral, immersive dive into the hazy black hole that lies at one extreme of the musical spectrum. Doom, whose foundations were laid on Black Sabbath's debut album in 1970, is a genre of heavy metal that is all about crushing riffs played at sluggish tempos through huge amps. It has experienced a resurgence in popularity of late, and in this documentary, Sheffield filmmaker Connor Matheson follows the story of Holy Spider Promotions, a DIY collective in his city who battle to put on doom gigs, vying for space and attention on behalf of an extreme and polarising form of music. Using the lens of doom, Matheson explores issues such as drug use, mental health and gentrification, and speaks with scene luminaries including Bill Ward, Black Sabbath's original drummer, and members of Conan, Crowbar and Primitive Man.
DEATH by Metal
19:30 SUNDAY 27TH MAY – GULLIVERS
** Manchester Premiere **
Dir. Felipe Belalcazar, 2016, Canada, 109mins
DEATH were an American death metal band founded in 1983 by guitarist and vocalist Chuck Schuldiner. They were one of the most influential groups in heavy metal and a pioneering force in their genre. Their debut album Scream Bloody Gore is widely regarded as the first death metal record, while Schuldiner, the band's driving force, is acknowledged as the originator of extreme metal. DEATH's burning speed and ferocity was only matched by their leader's unbending determination to bash out the most boundary-crushing interpretation of heavy metal. Presenting exclusive interviews and archive footage, this epic documentary brings the story of Schuldiner and his work and legacy to film for the first time.
Pure Love: The Voice of Ella Fitzgerald
16:00 MONDAY 28 MAY – HOME
** Manchester Premiere **
Dir. Katja Duregger, 2017, Germany, 52mins
Focusing on the phenomenon of her extraordinary voice, this film pays tribute to The First Lady of Song – Ella Fitzgerald – on what would have been her 100th birthday on 25 April 2017. Fitzgerald's voice is a phenomenon and unrivalled to this day. With absolute pitch and perfect intonation, her voice spanned three octaves, her phrasing seemed effortless, and the odd moments in her nearly 60-year career when she sang off-key were few and far between. There is almost no style of music in which she did not excel, and her numerous – now legendary – recordings of the Great American Songbook with pieces by US composers such as George and Ira Gershwin, Harold Arlen, Cole Porter and Duke Ellington remained a benchmark for the interpretation of those songs for generations of singers. Ira Gershwin is rumoured to have said: "I didn't realise how good our songs were until Ella sang them." Duregger unravels the secret of Fitzgerald's voice via insights from singers Dianne Reeves and Dee Dee Bridgewater, jazz drummer and producer Terri Lyne Carrington, jazz violinist Regina Carter, author Tad Hershorn and the eminent jazz critic Will Friedwald, among others. They describe the impact her voice had and continues to have on their lives.