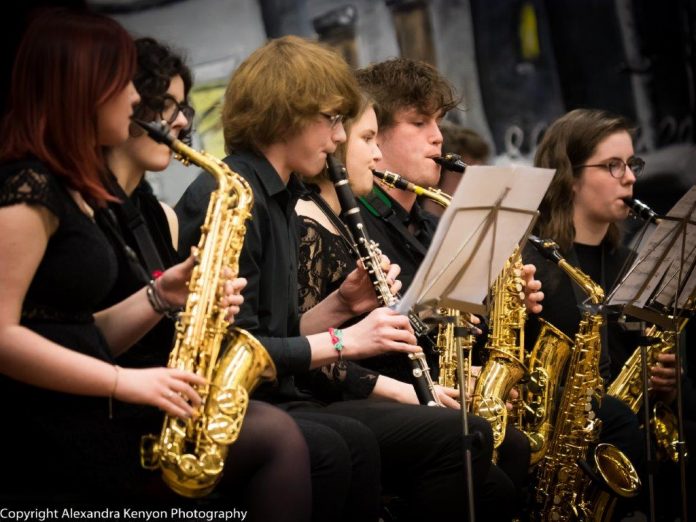 Unsuspecting commuters will be treated to two early-morning jazz gigs at Huddersfield railway station on Friday 6 October to kick off the 26th Marsden Jazz Festival.
Location: Huddersfield railway station, St George's Square, Huddersfield HD1 1JB
Date: Friday 6 October
Time: 7.30am – 9.30am
The Jeremy Platt Trio will perform at the station from 7.30am using a piano which has been donated to the station for passengers to play while they wait for their trains.
The 20-piece Greenhead College Big Band will then take over from 8.30am, helping to lift commuters' spirits on their way into work.
The gigs will launch this year's Marsden Jazz Festival which will see more than 150 hours of live music take place at 24 venues this weekend, including more than 70 free gigs.
A performance inside Britain's longest canal tunnel and a gig featuring a Mercury Prize 2017 nominee are among the highlights.
Chas Ball, Chair of Trustees at Marsden Jazz Festival, said:
"We're delighted we're able to kick off this year's festival with two gigs at the station, and it will be great to see the piano we've donated getting used by professional musicians.
"We're encouraging people to use public transport to get to the festival, and our free jazz bus to get around while they're there, so I hope festival-goers will try out the piano while they wait for their trains.
"It's a really family friendly festival and I'd definitely encourage anyone who hasn't been before to give it a go as the whole village comes alive with the sound of live jazz throughout the weekend."
Andrew Croughan, Station Manager at TransPennine Express, said:
"It is great to be able to have a piano for public use as a new positive facility at the station. We are always looking for new ways to bring life to Huddersfield station beyond that of simply a place that people go through on their way to and from work."
Kirklees Green councillor Andrew Cooper, who helped to arrange the donation of the piano to Huddersfield railway station, said:
"I've seen pianos for use by commuters being played at Sheffield, Leeds and London St Pancras stations and I was impressed by how they gave a showcase for local talent and entertained people on their way to and from work or holidays.
"Having a piano in one of the busiest railway stations in Yorkshire will provide entertainment to thousands of travellers and be a new element to the musical culture of our town."
This year's Marsden Jazz Festival, which is being supported by Arts Council England, Yorkshire Water, Charlesworth Estates Ltd and Kirklees Council, will include a one-off performance by Norwegian cellist and composer Maja Bugge inside the three-mile long Standedge canal tunnel.
Other highlights include a gig by Mercury Prize 2017 nominee Dinosaur, a world premier from Jazz Instrumentalist of the Year Arun Ghosh, and a performance by three world-renowned trombone players – including two-time Grammy award winner Michael Dease.
The festival will also include a Saturday street parade, featuring a nine-piece rock influenced brass band supported by children playing plastic trombones and trumpets, as well as an artisan market in Marsden's Victorian park.
Performances will take place in the village's pubs, clubs and other buildings as well as on four outdoor stages including the Grand Central Rail Marquee on the Bridge, overlooking the River Colne. The venue will host seven free gigs featuring youth and community bands during the festival weekend.
The festival's New Stream gigs will also showcase new and experimental artists and include a three-hour mini festival at Marsden's Royal British Legion on Saturday night. The gig will feature a triple bill of bands from the UK, Belgium and France in partnership with Match&Fuse.
Tickets for this year's Marsden Jazz Festival are on sale now and can booked online at www.marsdenjazzfestival.com, by calling 0800 6125 649 or at the Mechanics Hall in Marsden throughout the festival weekend.
The full line-up of over 90 gigs is also available to view at www.marsdenjazzfestival.com/whats-on.