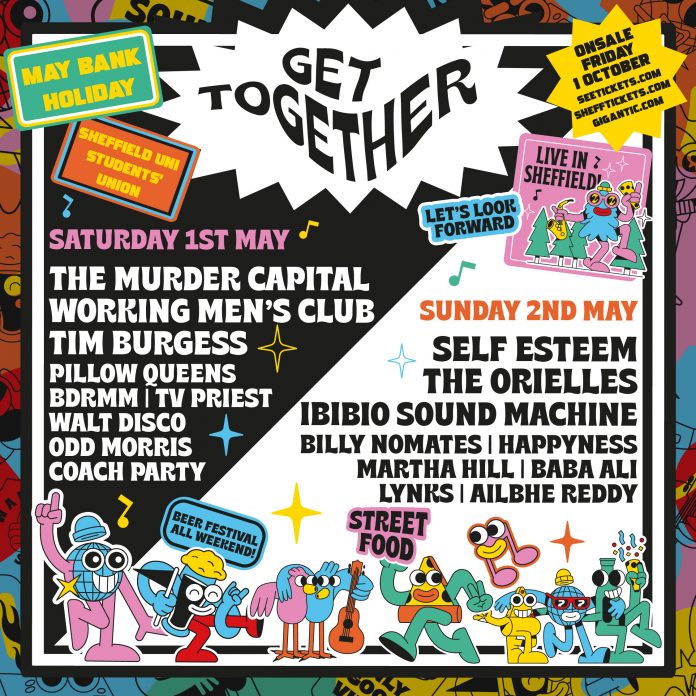 Taking place at The Sheffield University Students' Union, GET TOGETHER is a new festival that celebrates the best in music, food and drink over the course of the first May bank holiday in 2021.
In a year that has forced us to stay apart, and the majority of venues and festivals have had to shut their doors, GET TOGETHER, a new festival in Sheffield, looks forward to a time when music fans are once again able to share the joy of being in the same space and sharing the excitement of live music.
GET TOGETHER is proud to announce the first artists performing over the weekend, including The Murder Capital, Self Esteem, Working Men's Club, The Orielles, Tim Burgess, Ibibio Sound Machine and many more.
FIRST ARTISTS REVEALED
SATURDAY 1 MAY 2021:
THE MURDER CAPITAL
WORKING MEN'S CLUB
TIM BURGESS
PILLOW QUEENS
BDRMM
TV PRIEST
ODD MORRIS
WALT DISCO
COACH PARTY
SUNDAY 2 MAY 2021:
SELF ESTEEM
THE ORIELLES
IBIBIO SOUND MACHINE
BILLY NOMATES
HAPPYNESS
MARTHA HILL
BABA ALI
AILBHE REDDY
LYNKS
Plus many more to be announced
Saturday 1st May sees the return of one of Ireland's most exciting bands – THE MURDER CAPITAL. Having last played Sheffield just before lockdown, their return offers a glimmer of hope that we will get back to a more familiar way of life. And their music couldn't be more perfect for the occasion. While loud and striking, their songs are also an extreme vision of tenderness and beauty which has gained them fans amongst music lovers and critics alike.
Closing GET TOGETHER on Sunday 2nd May is one of Sheffield's most outstanding artists. Having played in every venue across the city and toured the world with Slow Club, SELF ESTEEM (aka Rebecca Taylor) unveiled her debut album 'Compliments Please' in 2019 and unleashed huge pop tracks that any self-respecting star would kill to claim as their own. She joins the festival with the promise of new music, dancing and anthemic tunes to see the festival out.
WORKING MEN'S CLUB release their highly anticipated debut album on Friday 2 October. The band featuring members from Todmorden, Manchester and Sheffield have quickly risen up as one of the most important and thrilling new bands around. They first gained attention with their post-punk drenched debut single 'Bad Blood'. Follow up singles like 'Teeth' and 'Valleys' saw a new line up and a more electronic demanding sound, which in turn saw their live shows rapidly sell out and grow a reputation unrivalled levels of energy.
Charlatan's front man, record shop expert and hero of Twitter lockdown TIM BURGESS also joins the line-up. Tim's latest solo record 'I Love The New Sky' came out on Bella Union during lockdown, and alongside his Twitter Listening Parties, Tim's constant positive vibes are a shining beacon of optimism. Having not being able to play live yet, this will be one of the first opportunities to hear the record in the flesh.
THE ORIELLES released their second album 'Disco Volador' into the stratosphere in February. Cosmic, warped disco singles like 'Bobbi's Second World' which channels Talking Heads at their funkiest, as well as the disco bopping 'Space Samba (Disco Volador Theme)' which positioned the band as one of the most danceable bands to emerge in recent years.
And no band knows more about dancing than IBIBIO SOUND MACHINE. With their jubilant mix of disco and '80s electro, as well as mixing Ibibio (the Nigerian language where they take part of their name) and English lyrics, IBIBIO SOUND MACHINE are driven by hypnotic percussion, groove and a whole lot of fun. They prove music is a universal language and can bring people together, which is exactly what GET TOGETHER is all about.
Each day, these ground-breaking artists will joined by a whole host of outstanding new artists, including BILLY NOMATES, MARTHA HILL, BABA ALI, PILLOW QUEENS, HAPPYNESS, ODD MORRIS plus many more to be announced.
On top of an abundance of brilliant music, there will also be the annual beer & cider festival situated within the grounds of the garden of the Students' Union, which brings together an eclectic host of craft beers, real ales, pilsners, cider & gin to the weekend.
Alongside this will also be a vast array of the best independent street food traders offering a wide selection of food from across the world with vendors being announced nearer to the event.
TICKETS ON SALE FRIDAY 2 OCTOBER, 10AM
Available from SEETICKETS.COM / SHEFFTICKETS.COM / LUNATICKETS.CO.UK
https://www.lunatickets.co.uk/event/get-together-2021/the-foundry/1629543