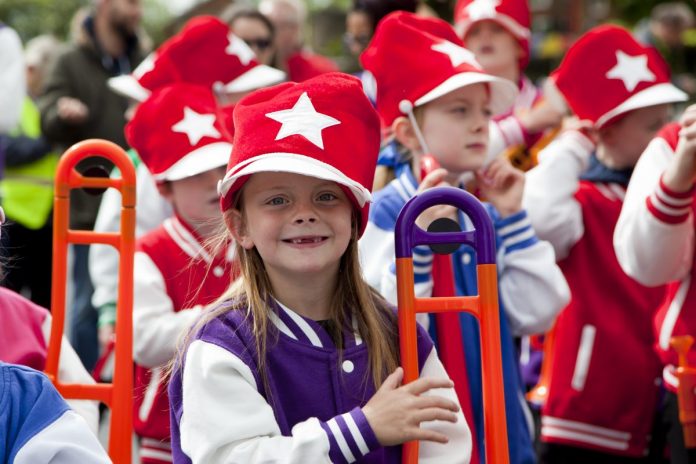 More than 40 child-friendly gigs are taking place at this year's Marsden Jazz Festival, including a street parade, live jazz in the woods, and a jazz duck race. The festival takes place between Friday 6th and Sunday 8th October.
The street parade will take place at 12.30pm on Saturday 7 October and feature nine-piece rock influenced brass band Young Pilgrims, who have previously entertained audiences everywhere from the Glasgow Commonwealth Games to the Paris Jazz Festival.
The band will be supported by The Incredible Plastic Street Band – a group of children from Mossley in Saddleworth, who compose and perform their own music on plastic trombones and trumpets.
There will also be two children's gigs in the woods by the canal towpath between Marsden railway station and Standedge Tunnel on Saturday 7 October, where children will be able to enjoy live jazz in the woods and make their own woodland creatures.
And a live band will accompany this year's Marsden Jazz Festival Duck Race at 4pm on Sunday 8 October. Marsden's very own jazz band, Marsden Swing, will perform as 1,000 plastic yellow ducks make their way down the River Colne, with a first prize of four first class return tickets on Grand Central Rail.
Barney Stevenson, Artistic Director at Marsden Jazz Festival, said: "Our Saturday street parade is always the centrepiece of the festival and it'll be great to have the young musicians of The Incredible Plastic Street Band adding to the atmosphere this year.
"We've also teamed up with local forest school Be More Outdoors for the two children's gigs in the woods with a live jazz band, and think they're going to be really special.
"And the duck race on Sunday – accompanied by a live jazz band – is a great way of bringing the festival to a close."
A Jazz Fox story telling event will take place at 10am on Saturday 7 October and weave its way through the trees, accompanied by a four-piece band. Children will then be able to make their very own 'jazz fox' or just sit and relax to the sound of jazz in the woods.
A Twist in the Tale will also be held in the same woods at 2pm on Saturday 7 October and feature storytelling as well as the chance to make creatures, wands and musical instruments to take away.
Both woodland gigs costs £5 per person, are suitable for families with children of all ages and include drinks and snacks.
More than 70 free gigs will also take place across Marsden in a wide range of venues, including on four outdoor stages. Over nine hours of live music will be performed in the bandstand next to the children's play area in Marsden's Victorian park, where there will also be an artisan market.
Tickets for the Jazz Fox and A Twist in the Tale gigs are on sale now at www.marsdenjazzfestival.com, by calling 0800 6125 649 or at the jazz festival office in the library at the Mechanics Hall (10am-4pm, Monday-Friday).
Children and teenagers (16 and under) can also see any of our headliner gigs, which include Mercury Prize 2017 nominee Dinosaur and the National Youth Jazz Orchestra, for half price.