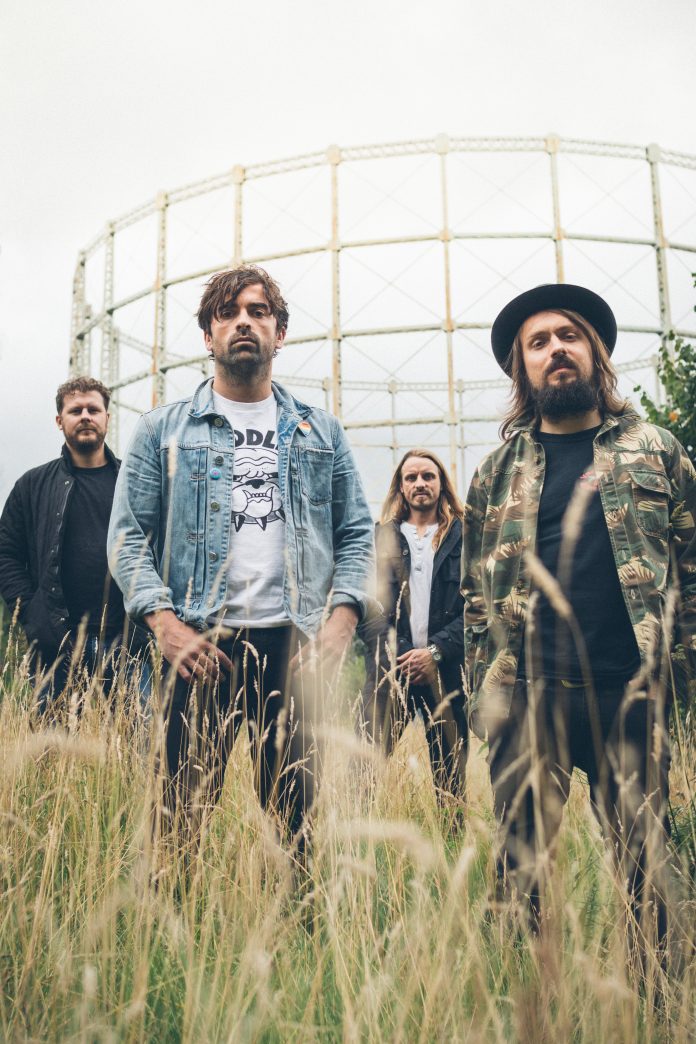 A decade has passed since The Travelling Band's formative 2006 recording sessions in Brooklyn. Those sessions laid the foundations of the band's debut album Under the Pavement and set the band on the road to creating their own label, Sideways Saloon. To celebrate the landmark, TTB embark on a their first UK headline tour for two years, and will be releasing their first new music since the 2014 album The Big Defreeze.
The Close Your Eyes and Count to Ten tour sees The Travelling Band playing shows all around the UK. Far from being a nostalgic look back at the last ten years, the tour marks a line in the sand after the departure of original guitarist Steve 'Mugger' Mullen, with the band looking forward to the release of their fourth album next year.
2016 has already seen TTB tour all over Europe supporting US country/rock star Lissie, including sold out shows at The Forum as well as huge theatres in Germany and Norway. They have been doubling up as Lissie's live band, playing summer festivals across the continent.
It's also been a landmark year for Sideways Saloon, with the acclaimed release of The Valley of Yessiree, the debut album from Canadian-born, London-resident maverick A. Dyjecinski, who will be special guest on the tour.
Tour dates
Wed 5 Oct – The Continental | PRESTON
Thu 6 Oct – Birnam Institute | PERTH
Fri 7 Oct – The Old Fire Station | CARLISLE
Sat 8 Oct – The Old Cinema Launderette | DURHAM
Sun 9 Oct – The Cluny | NEWCASTLE
Thu 13 Oct – Trades Club | HEBDEN BRIDGE
Fri 14 Oct – The Magnet | LIVERPOOL
Sat 15 Oct – House Concert | YORK
Sun 16 Oct – Words & Music Festival | NANTWICH
Wed 19 Oct – Sunflower Lounge | BIRMINGHAM
Thu 20 Oct – Arlington Arts | NEWBURY
Fri 21 Oct – The Railway Inn | WINCHESTER
Sat 22 Oct – Chapel Arts Centre | BATH
Wed 26 Oct – The Full Moon | CARDIFF
Thu 27 Oct – The Boileroom | GUILDFORD
Fri 28 Oct – The Prince Albert | STROUD
Sat 29 Oct – The Bullingdon | OXFORD
Tickets: http://smarturl.it/ttb10
Links
Facebook: https://www.facebook.com/thetravellingband
Twitter: https://twitter.com/travellingband
Instagram: https://www.instagram.com/thetravellingband
Youtube: http://youtube.com/thetravellingband
Soundcloud: https://soundcloud.com/thetravellingband
Official website: http://thetravellingband.co.uk
Sideways Saloon presents Pinhole Sounds Volume One
SIDE A
The Travelling Band – Wasted Eyes
The Travelling Band – Borrowed & Blue
SIDE B
Jo Rose & Pit Pony – Mustanging
Barbarisms – The Two Most Boring Things
A. Dyjecinski – The Way of the Buffalo
Released: 5th November 2016
Label: Sideways Saloon
Format: 10" vinyl
Cat No. SS010LP
Bands featured on the EP:
The Travelling Band, Jo Rose & Pit Pony, Barbarisms, A. Dyjecinski
In April 2015 I rolled the dice and decided to leave Manchester and head to Nashville for the spring. Inspired by the old stories of Dylan, Cash and the 'Nashville Cats' as well as today's (just as feline) alternative scene in the east side of the city, I wanted to break free from the self-imposed confines of Manchester in search of fresh inspiration.
That Blues Brothers saloon bar sketch and general myth about there being two types of music in the south, and particularly Nashville – "Country AND Western" – was far from a complete picture. Much as they had done in the 60s and 70s, artists and bands spanning various genres are flocking again to 'Music City' to make records, and many are making it their home. Music is in air and the level of musicianship would be intimidating if the place wasn't so friendly. It's a city that feels like a small town and there is a genuine sense of a healthy, collaborative music community.
Amongst a host of legendary venues, I also visited several studios including Sputnik Sound and Welcome to 1979 which both blew my mind and left me drooling at all the vintage gear. Recently established enterprises like Jack White's multipurpose set up Third Man Records showed me a city that is more than just country music and is at the forefront of modern music in America. It wasn't just the hot chicken and purpose built studios that got me hooked on the place either. Analogue project studios built into 19th century craftsman houses, where living rooms are live rooms and bathrooms are vocal booths, made me dream of The Travelling Band having our own place to record back at home.
I returned to Manchester with a renewed sense of optimism about the spirit of collaboration in our own music community in Manchester, and beyond. After the near miss of having our van and gear stolen (and then recovered), The Travelling Band had begun writing new music but our recording equipment was located in our carpet covered rehearsal room sweat box, located above a pole dancing studio in the Northern Quarter and felt like hell compared to what I'd just experienced. Chief engineer Adam Gorman was beginning to lose his mind too, so we decided it was time to find a new room! Pinhole Sound Studio was established in the summer of 2015 in Ancoats, Manchester and from this base we have been recording The Travelling Band's fourth album as well as producing other bands from Manchester and further afield.
Pinhole Sounds Volume One is the first in a series of compilations on Sideways Saloon and marks the celebration of ten years since The Travelling Band's formation on a whimsical recording project in Brooklyn, NY in the autumn of 2006. The mini compilation includes as yet unheard tracks from bands on the Sideways Saloon roster, as well as one-off gems from other bands and artists we love. Side A opens with 'Wasted Eyes' – the first glimpse of The Travelling Band's forthcoming new album – a self reflection on the reckless behaviour of the troubled protagonist. It features a wild fuzz that any 70s dad and/or Charles Manson follower would be proud of. It's followed by a live recording of 'Borrowed and Blue' (from The Grand in Clitheroe in May 2015) that conjures the sentimental last shreds of now departed guitarist Steve 'Mugger' Mullen, in what was his final show for the band. Side B opens with the killer 'Mustanging' from Manchester's Jo Rose & Pit Pony, weaving literary references through scuzzy guitars and feel good riffs and showing that much like Nashville, there is more to Jo Rose than simply country music. Sweden based Barbarisms follow up from their highly rated sophomore album 'Browser' with a new dreamy, harmony drenched ear worm 'The Two Most Boring Things'. Their music was introduced to us by A. Dyjecinski, who closes the EP with what could be the exit music of a yet to be written modern western, with the beautiful 'The Way of the Buffalo'. I first saw him perform this song a cappella around a campfire at End of the Road festival back in 2009 and from that moment I fell in love with his baritone voice and his ability to write songs that transcend the space between darkness and light. His critically acclaimed 2016 debut LP The Valley of Yessiree is out now on Sideways Saloon.
Jo Dudderidge, September 2016
Links
Preorder: http://smarturl.it/ttb-pinhole1
Close Your Eyes and Count to Ten Videos
To celebrate their tenth anniversary, The Travelling Band are filming a series of ten videos featuring covers of songs that have inspired them in each of the years they have been playing together.
YouTube playlist: http://smarturl.it/ttb10-videos
There are four so far, with more to follow leading up to the EP release…
Part 1 – Naked as we came (Iron & Wine cover)
We'd often this beautiful song around campfires and coffee tables when we first started out. Iron & Wine's album 'Our Endless Numbered Days' was a staple for us and the close harmonies and beautiful fingerpicking certainly inspired our early recordings. Sam Beam is an incredible songwriter. Check out his albums if you haven't already, including his recent collaboration with Manchester based artist Jesca Hoop.
Part 2 – New Slang (The Shins cover)
This song blew me away when I first heard it. I love the cryptic lyrics and the way he turns a phrase, almost waiting for the last minute to get the words out. It reminds me of sitting in Adam P. Gorman's flat overlooking the Northern Quarter in 2007, dreaming of getting back to Brooklyn to finish the first album. It was in this period that I wrote 'Desolate Icicle' and looking back you can definitely hear the influence of James Mercer on that song.
Part 3 – Glenn Tipton (Sun Kil Moon cover)
Songs can be saviours. It was the summer of 2008 and i'd just left my old ruckus to follow The Travelling Band, split with my girl and then moved back to the city. A couple of years before i remember Adam P. Gorman had leant me the AC/DC covers record and then I got into Sun Kil Moon's album 'Ghosts of the Great Highway'. This song opens that album, it's such a beautiful trail of thought. I remember sitting in my sisters flat learning it and wondering what was next in life. No one does nostalgia quite like Mark Kozelek. Hope we haven't trashed it…
Part 4 – My My, Hey Hey (Out of the Blue) – Neil Young cover
Not much hasn't been said on the impact that Neil Young has had on generations of musicians and music lovers. He is a legend of the road, a giant of songwriting and the godfather of grunge! As a band we have covered entire albums of his (1974's 'On the Beach') and he is possibly the biggest influence on our early music and he continues to inspire us. We all watched his 2009 Glastonbury Festival (official) performance together and it was a really special moment. We hope you enjoy our version of 'My My, Hey Hey (Out of the blue)' recorded rough and ready at our studio Pinhole Sound Studio. I think we might do this one on the tour!