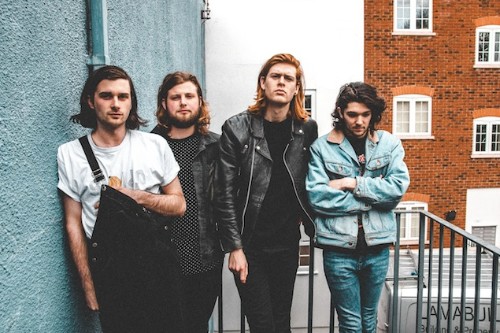 "[The Amazons] are already getting people hot under the collar with their rowdy rock'n'roll."– Beat Magazine
"One of the most exciting outfits on the live circuit" – Drowned in Sound
Ascendant rock quartet The Amazons received a flurry of positivity to their recent Fiction Records track 'Nightdriving', which was premiered by Huw Stephens at Radio 1, championed by Steve Lamacq at 6 Music and picked as Q's Track of the Day. The band build on their growing acclaim by unveiling their new single 'In My Mind' which impacts on October 14th.
Produced by Catherine Marks (Wolf Alice, Foals, The Vaccines), 'In My Mind' captures The Amazons' ability to blend a fiery cocktail of aggressive stop-start dynamics with an anthemic hook and frontman Matt Thomson's powerfully controlled vocal delivery.
"'In My Mind' shows a heavier and darker side to the band," says vocalist/guitarist Thomson. "It gives our fans more of an idea of where the album is going, which is exciting for us to reveal. Lyrically, it's probably one of our most personal and cathartic songs. It's about knowing you're not in the right relationship but stringing it along because you're afraid of being alone. It's the acknowledgement of not being the good guy in the relationship and accepting it."
Inspired by the likes of Queens Of The Stone Age and Arcade Fire, The Amazons – completed by Chris Alderton (guitar), Elliott Briggs (bass) and Joe Emmett (drums) – formed in their hometown of Reading. They first gained traction on the back of their debut EP 'Don't You Wanna?' (particularly its track 'Ultraviolet') and they continued to build their reputation with the follow-up 'Stay With Me' and then 'Nightdriving'.
The Amazons' summer festival touring has already encompassed Truck, Beat Herder, Standon Calling, Y Not and Kendal Calling and continues with the likes of Festival No.6 and Neighbourhood Festival. They'll then embark upon a full UK tour which including their biggest London headline show to date at Oslo in Hackney.
Links
http://theamazons.co.uk/
https://www.facebook.com/theamazonsforever
https://twitter.com/TheAmazons
https://www.youtube.com/user/TheAmazonsVEVO/
https://www.instagram.com/theamazonsforever/
iTunes: http://po.st/TAIMMDL
Amazon: http://po.st/TAIMMAZ
Google Play: http://po.st/TAIMMGP
Spotify: http://po.st/TAIMMSP
Deezer: http://po.st/TAIMMDZ
Apple Music: http://po.st/TAIMMAM
SoundCloud: http://po.st/TAIMMSC
YouTube: http://po.st/TAIMMYT
VEVO: http://po.st/TAIMMVV
Tour dates
SEPTEMBER
3rd – Festival No.6
11th – Always The Sun Festival
30th – Coventry, Kasbah (Kinky club night)
OCTOBER
1st – Southsea Festival
5th – Sheffield, The Rocking Chair (headline show)
6th – Tynemouth, Surf Café (headline show)
7th – Glasgow, The Garage, Attic (headline show)
8th – Neighbourhood Festival
11th – Leeds, Oporto (headline show)
12th – Bristol, Crofters Rights (headline show)
13th – London Oslo (headline show)
14th – Reading, Readipop Studios (headline show)