Ingredients for a wild night of musical entertainment – three bands up for causing a riot, a crowd up for it. This gig had both of them, fuck did it have both. Two of these bands – Distort and Electric Press – were new to me. DeadWax I've been converted to after my initial 'on the fence'-ness. I love seeing new bands and after being invited to the gig by Distort, and seen the buzz about them, I was looking forward to this a lot. I was not disappointed.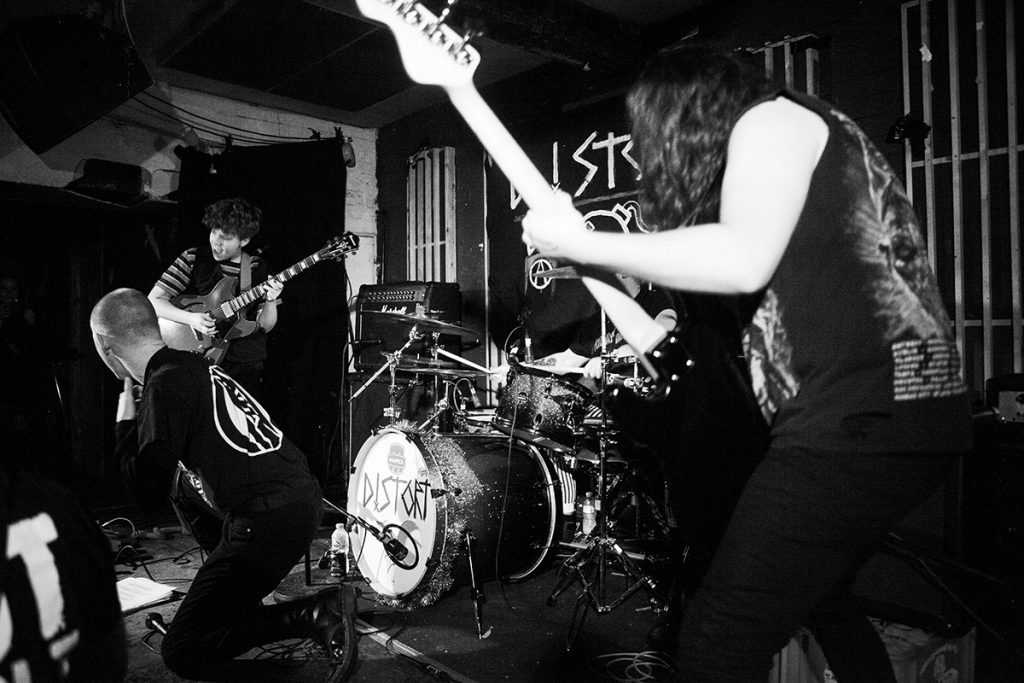 Electric Press (who are from Leeds and shouldn't be confused with any other band who might have the same name as I was when I searched on Facebook. They do have an Instagram profile) play hardcore punk/post-hardcore. And that night, if it's true what was said by DeadWax's singer, was their first gig. They killed it people.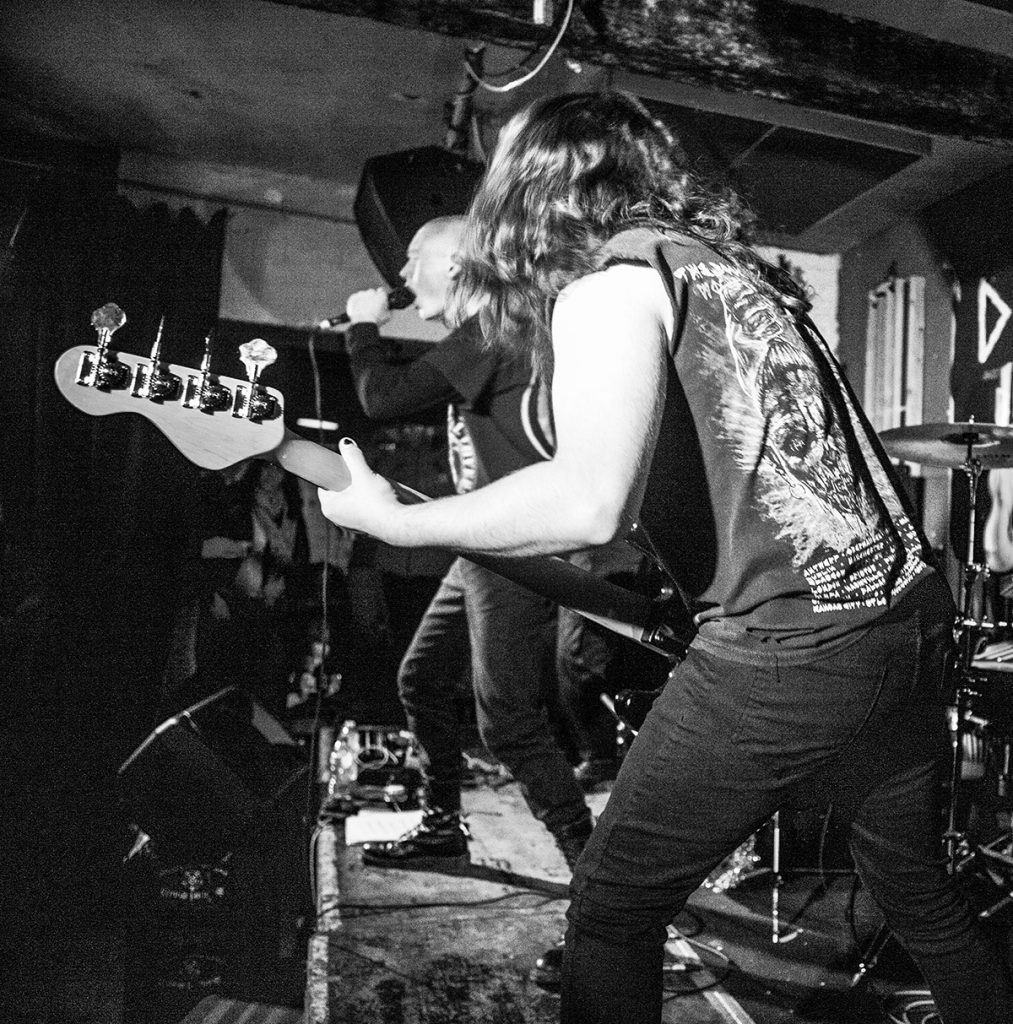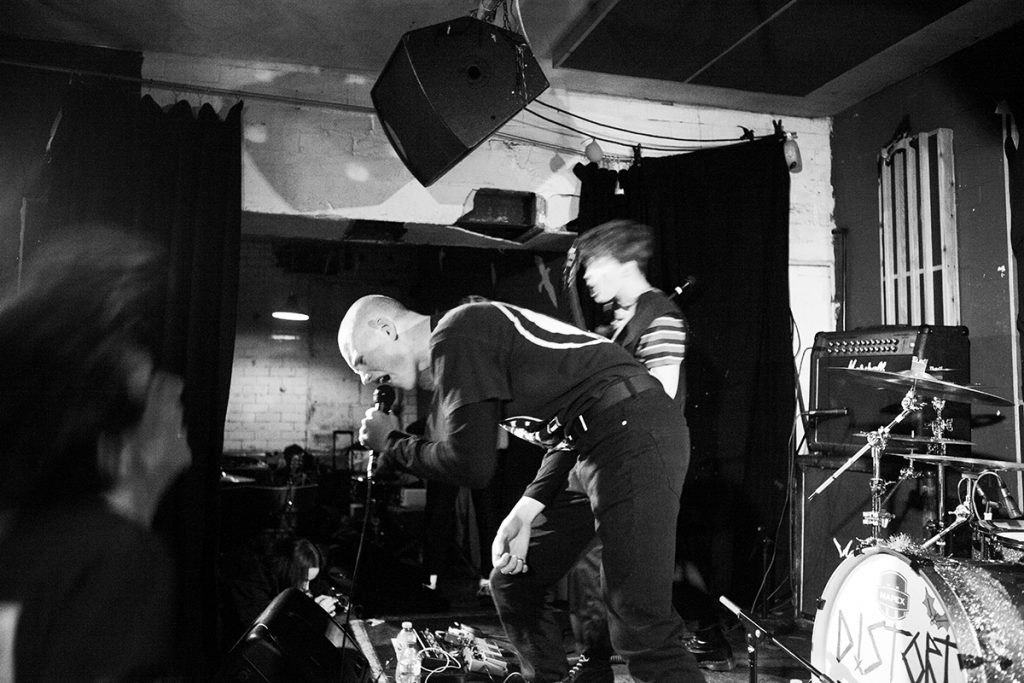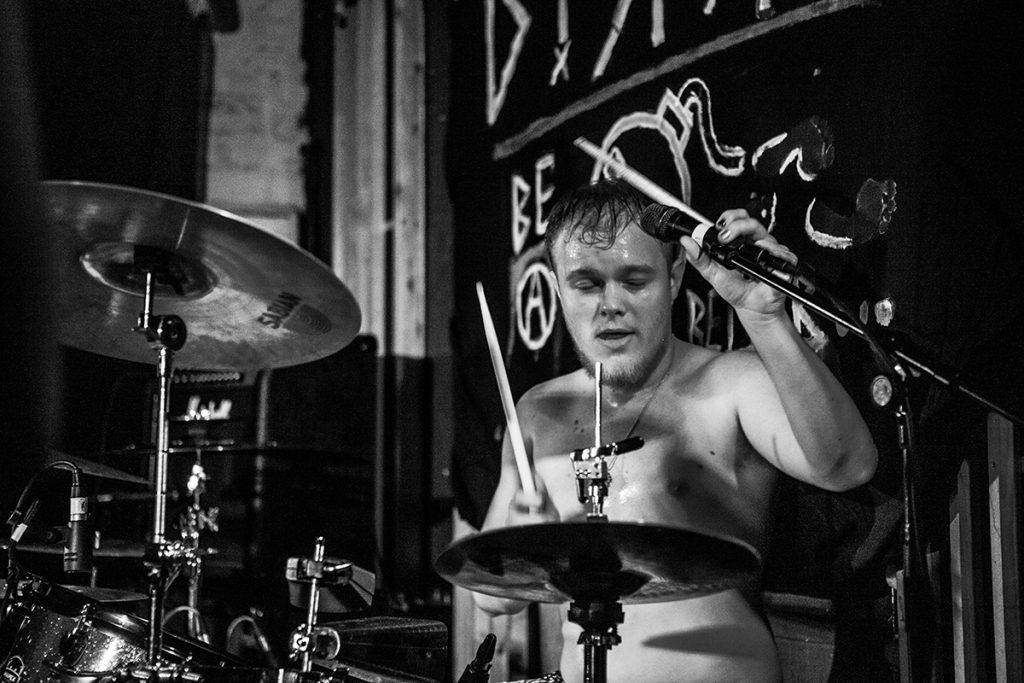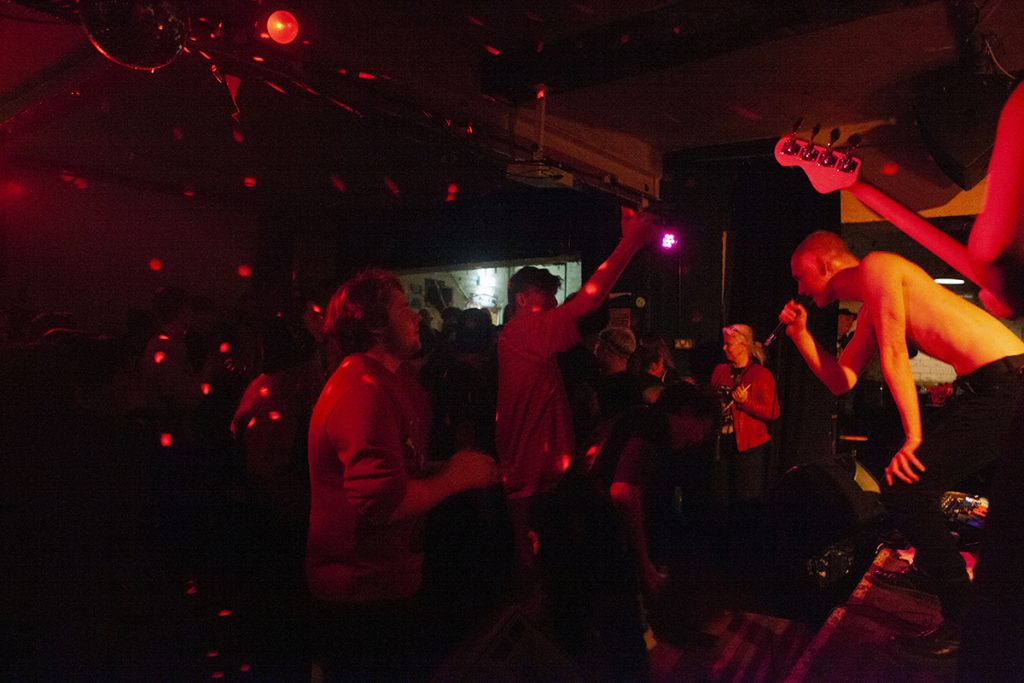 Things I noticed – their singer has a great voice, the guitar was way cool and their drummer rocks, that guy is good people. And they have some great songs – there's variety in what they do. In fact although you can identify some songs as being hardcore punk and some as post-hardcore, some kinda mix the two. Taking notes was impossible in the dim crowded Wharf Chambers so I failed to be able to take any note of the songs I really liked but that would be pointless as I liked all of them. Although I did have a slight thing going on about something I swear their drummer introduced by shouting 'do you wanna hear some jazz' (I may be wrong, in fact I may be completely wrong) right at the end of their set.
And, it's a gig so this is important, they got a really great rapport going with the crowd. It was really surprising that this was their first gig, so accomplished were they. Electric Press are a band to go see, what they do is way cool.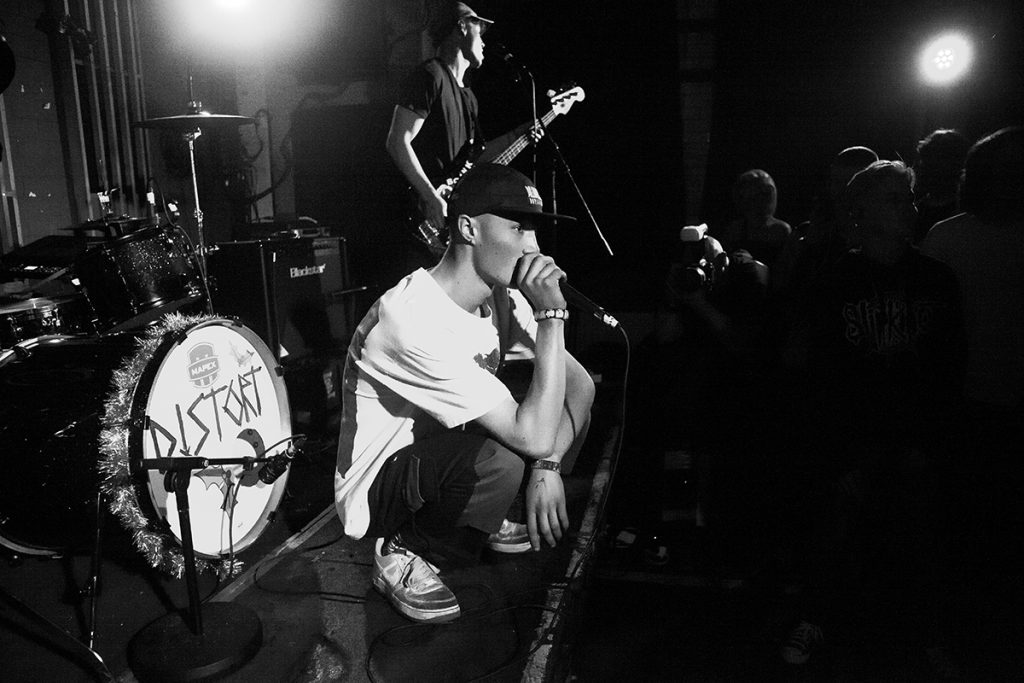 So this is the first time I've seen DeadWax play after their single launch gig at Huddersfield's Northern Quarter had me totally converted to them. So it was the first time I was able to fully immerse myself in what they do. For those of you that don't know, DeadWax ply a mix of rock and rap, although they throw in all sorts of stuff in addition to that – soul, R'n'B, drum and bass, blues rock. It's an intoxicating mix.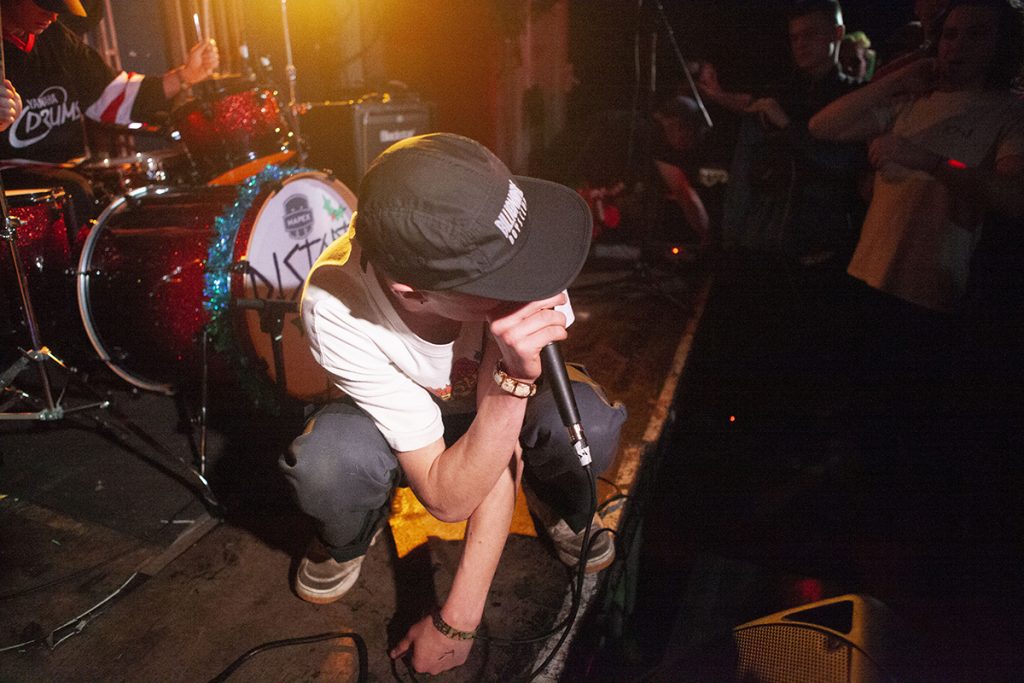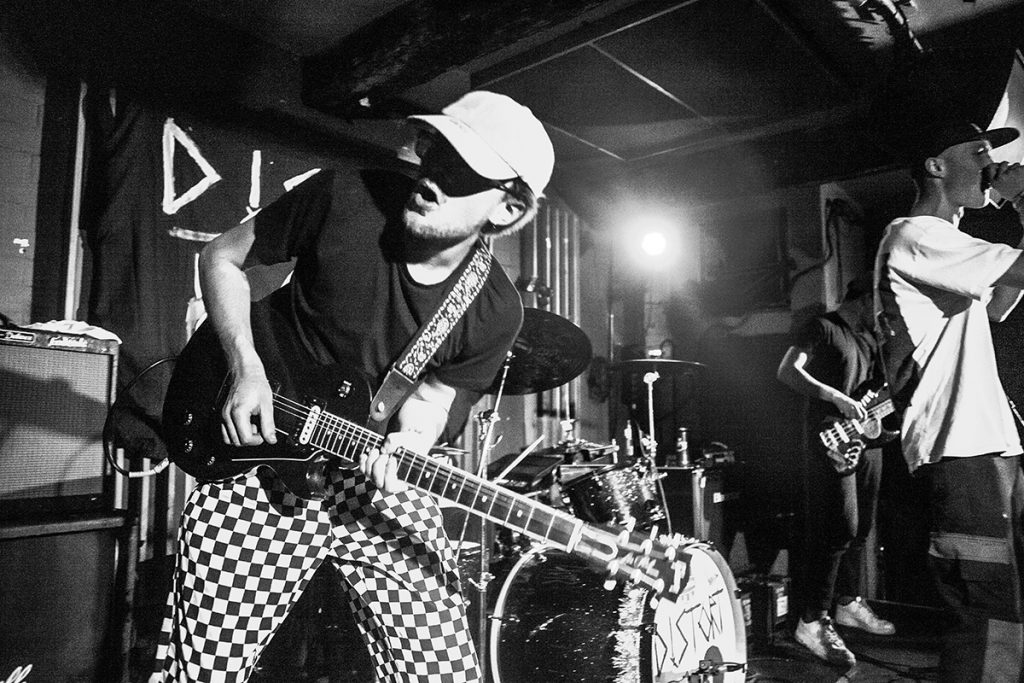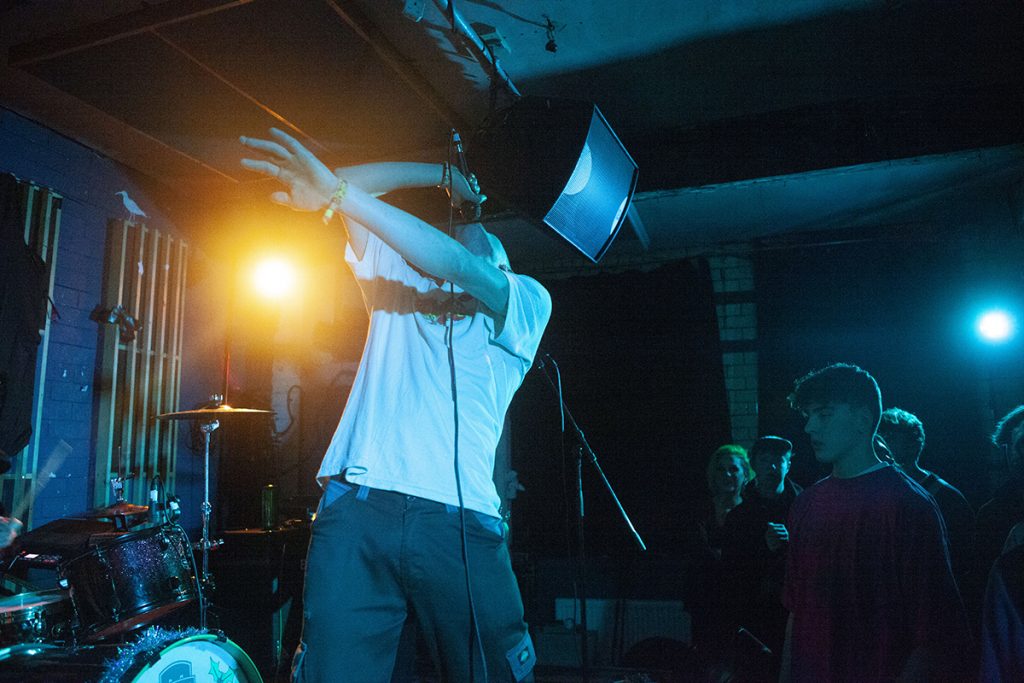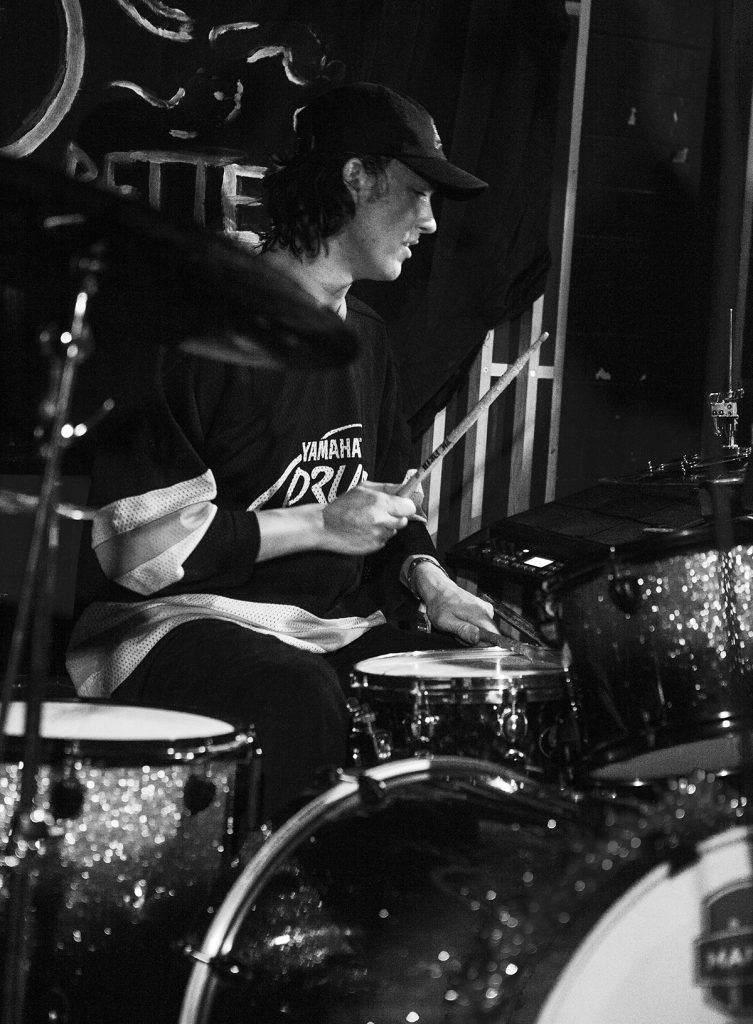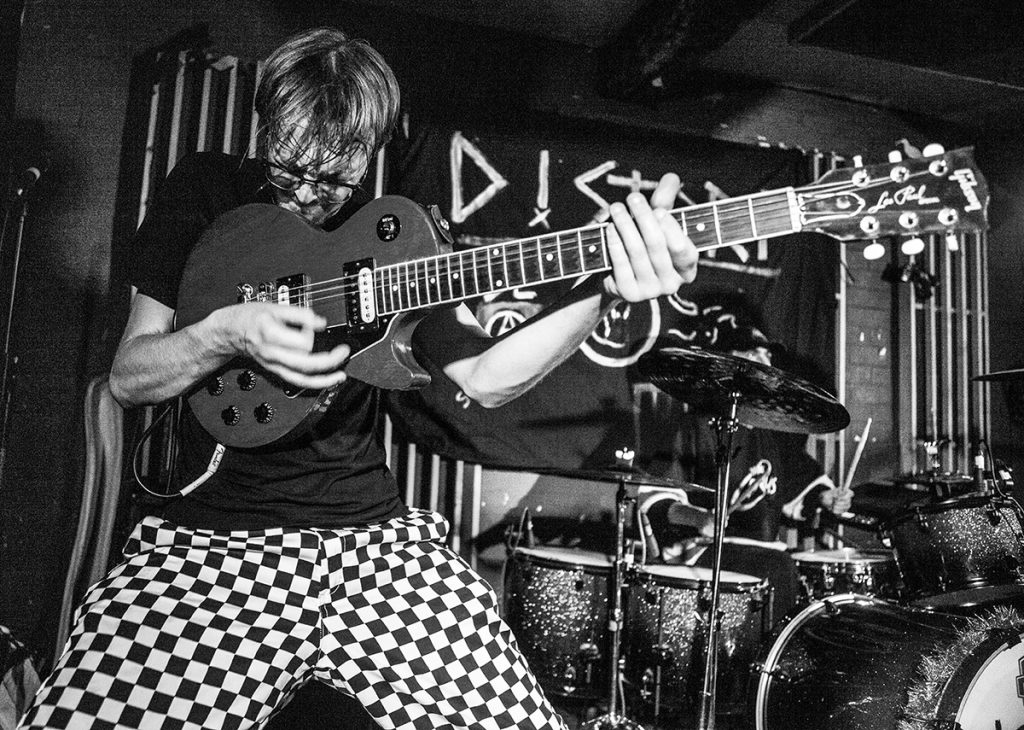 The thing with DeadWax is that not only are they a riot, and provoke riotious crowd reactions, but they can play incredibly well. I'd started appreciating their guitarist at the Huddersfield gig but that night I really got quite how good he is. The range of styles he can play is amazing. And their singer is fantastic. It's that that makes that mix of musical styles work, it wouldn't work if the band couldn't play. And there's no dead spots in their set, there wasn't a point where I got distracted, I spent their whole set with my eyes and ears glued to them. This may be boring and predictable but go see DeadWax.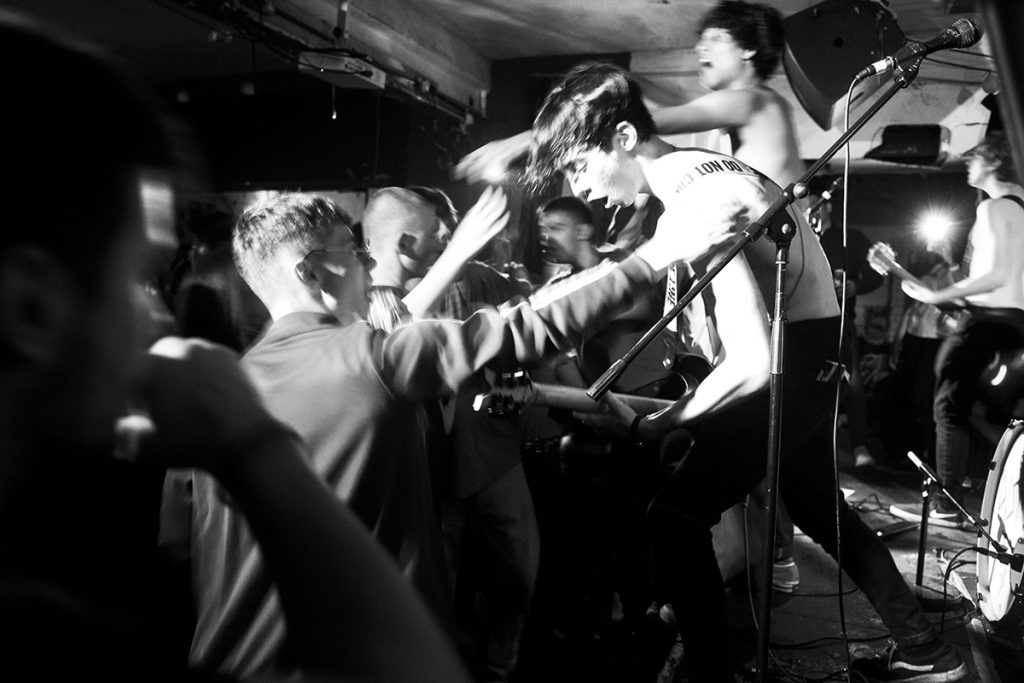 Distort are a punky band from Bingley. Excitement, frenzy was there from the very beginning. They have attitude in spades. Basically I did my 'I was so impressed I just let myself take them in', despite having vowed that I'd try and be a proper music reviewer
Things to be impressed by. This band can play – amid all the noise there is a serious amount of skill there. The fact that their singer is a 'can't your eyes off him' frontperson – not only can he sing but he has a range of, let's call it, dancing that has to be seen to be believed. They do that 'with the crowd' thing that Fudge. do. I really liked that they do dual lead vocals at times.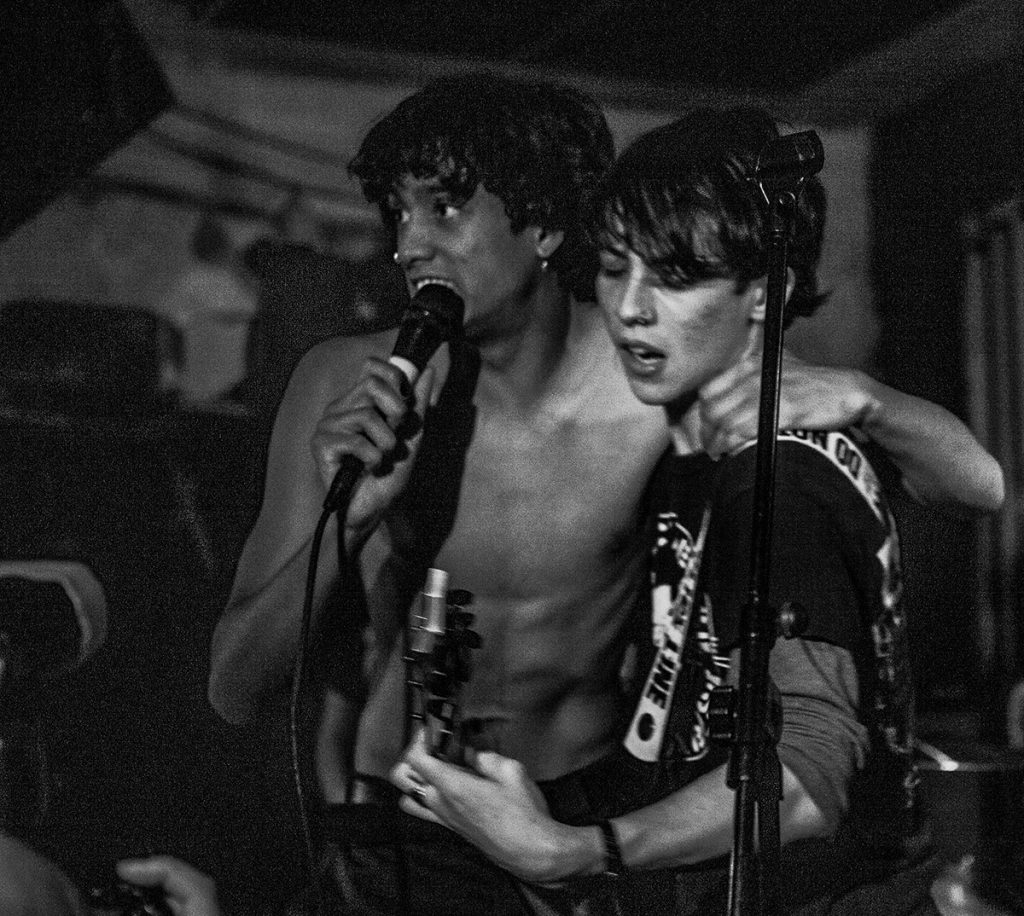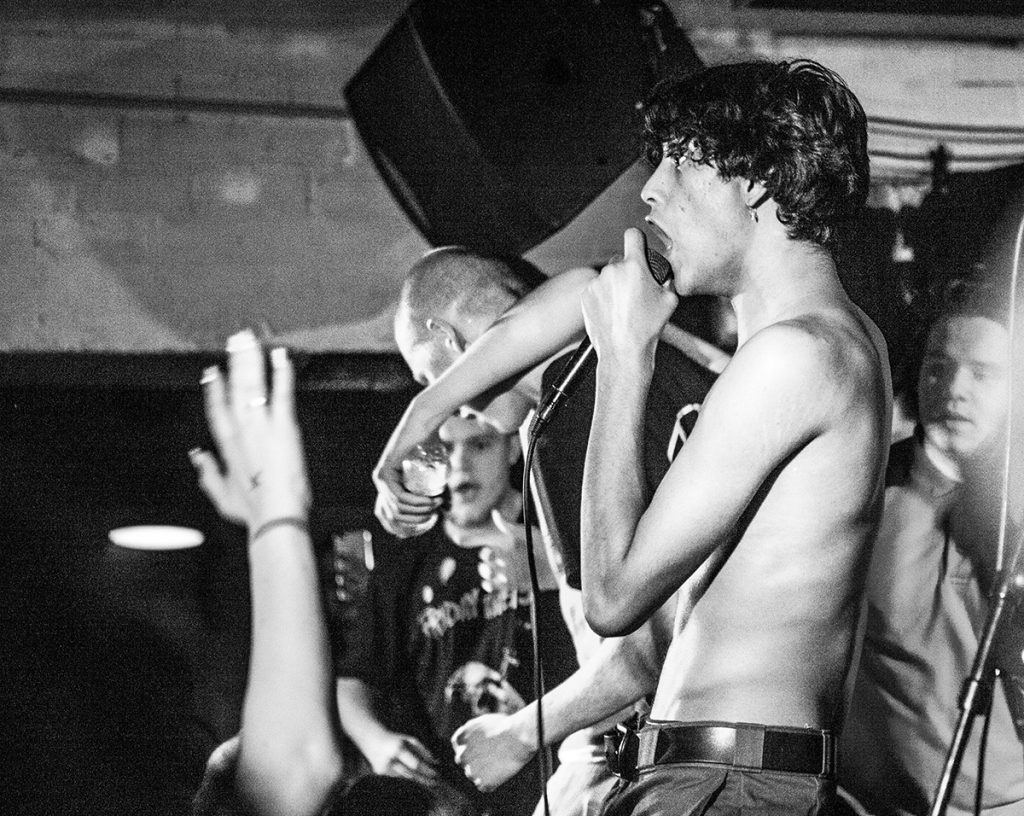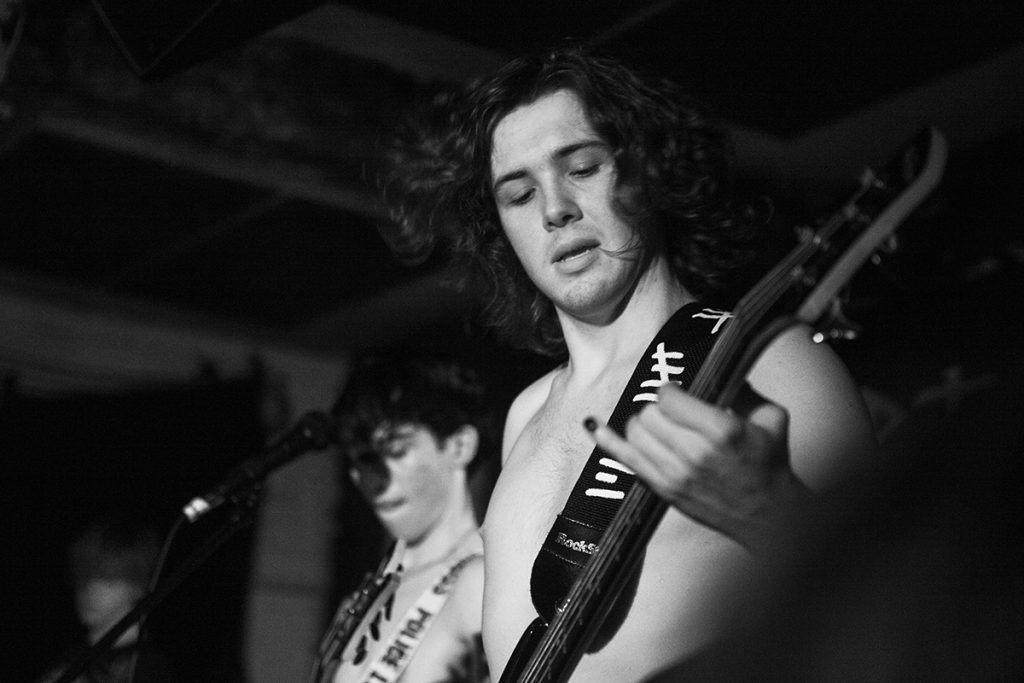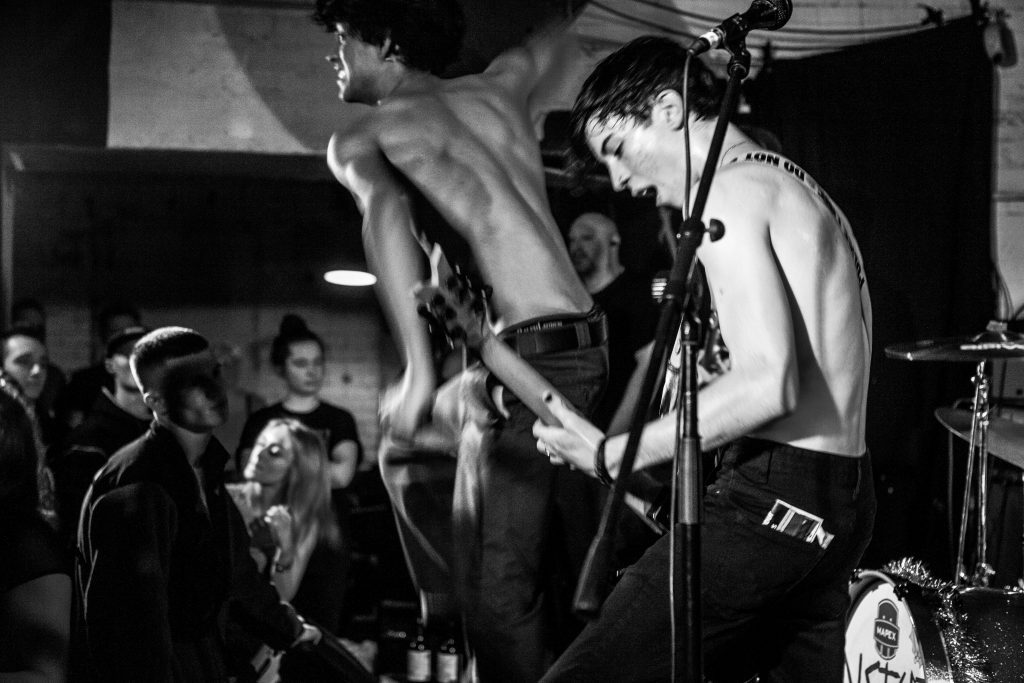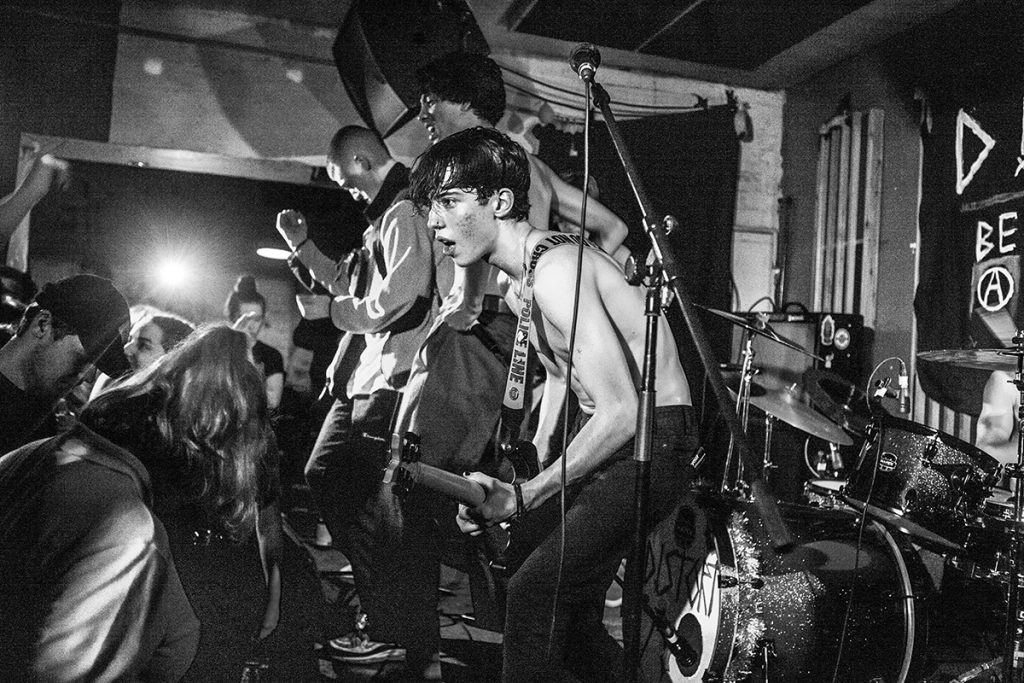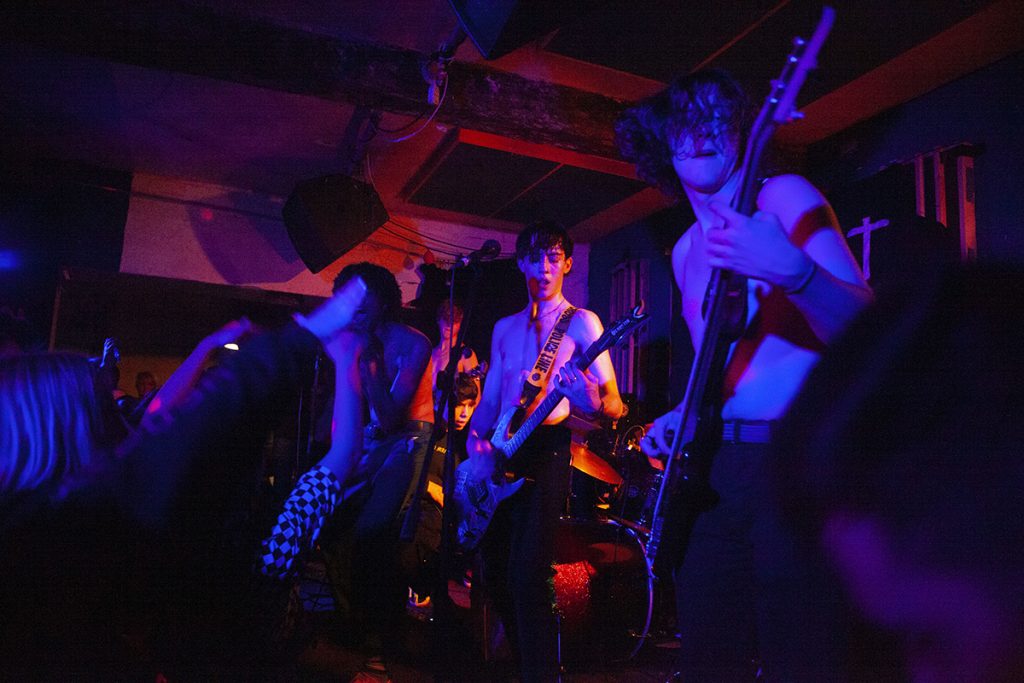 There is a degree of confusion in how Distort are described – they call themselves a punk band, and the description in the gig blurb said that they are punk influenced. I did take that 'reviewer step back' a few times during their set and yep there are some songs that I'd describe as punk and some I'd describe as punk-influenced. But all of that trying to shove them into a niche is ultimately pointless, what Distort are is a noisy, a wonderfully noisy, and riotous band.
Their set passed in a mass of lovely noisy raw raucous rock, in fact it kinda went by much too quickly. I know it's punk to do no encores but I kinda wished they'd encored with the whole of their set again, that's how much I liked them.
You like loud raw raucous punky music with huge amounts of punk attitude, go see Distort.
All photos on this page © Frank Roper Photography – see more on his Facebook Page