It was a privilege to see the first night of Fizzy Blood's first headline tour, and the venue was just the right place. The Soup Kitchen is intimate enough so you really get to see the bands playing properly and the sound is great and you really get to feel the music. Fizzy Blood were on great form and played a blinder. More on them later but first the support acts – Rival Bones and Forever Cult.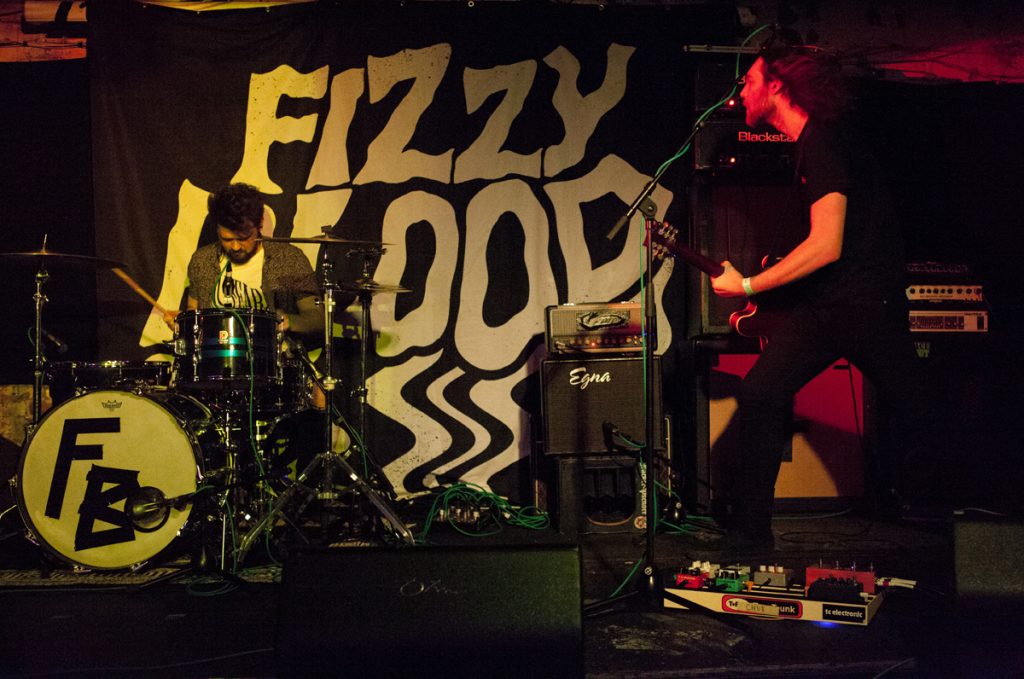 Rival Bones are one of those guitar/drums bands. I get to see a lot of those. So many that in fact they have all began to blur into each other if I'm honest. However Rival Bones bring something of their own to the party. What they bring is blues rock, to the point where I found myself thinking of Led Zeppelin or even rather bizarrely of Whitesnake at one point. And James Whitehouse (vocals/guitar) has a really nice line in an almost blues vocal style at times. OK so sure they do merge that with a more modern rock style but it makes for something rather special. And while they are loud, and boy are they loud, there are tunes and light and shade, it isn't just noise.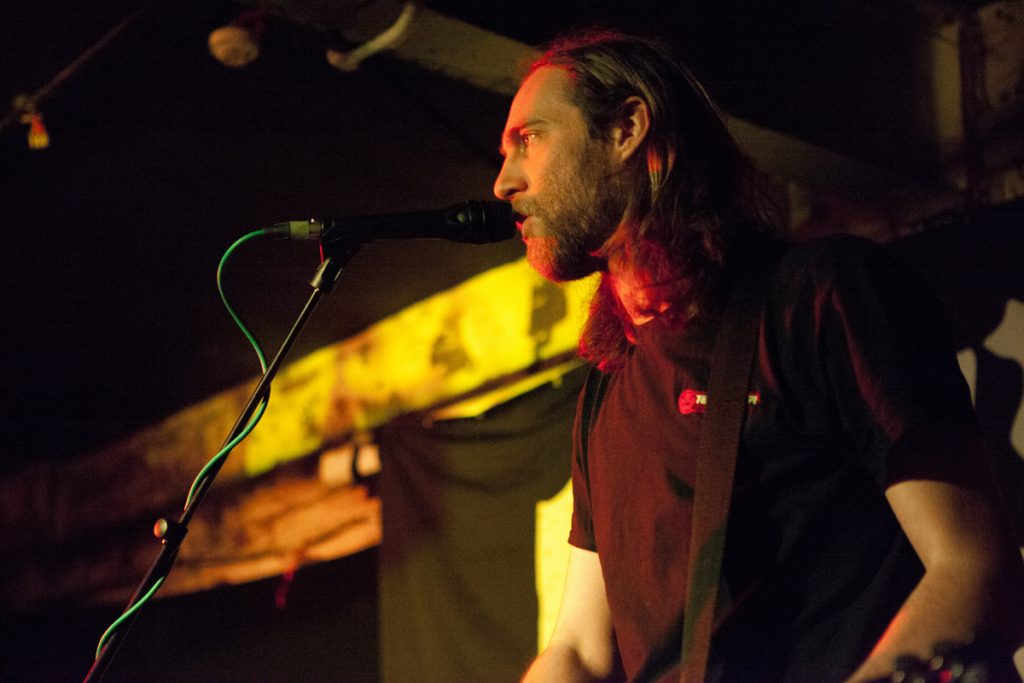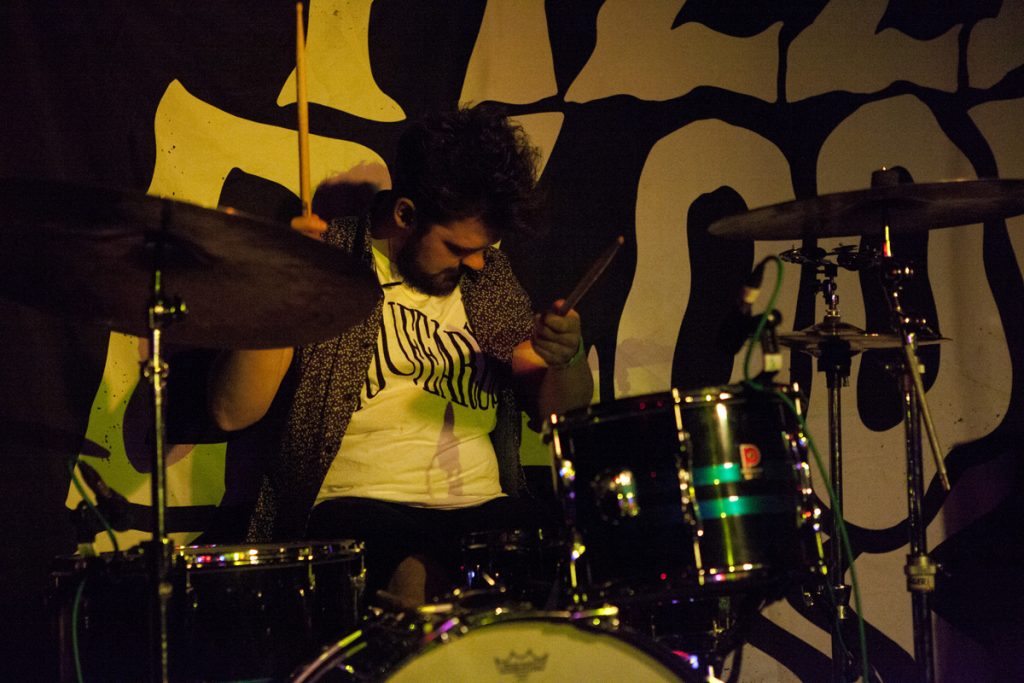 And, and this is a big thing, I didn't actually feel what I quite often feel about guitar/drums bands, namely well this is OK but it could do with say a bass player or a second guitar player. Rival Bones music is dense enough (when it needs to be) that you just don't notice that. Rival Bones impressed me hugely and I've made a mental note to see them again. The band have a new single out in April and if the live performance is anything to go on, this is going to be well worth checking out – blues rocking shading into alt-rock and back again to blues rock, really nice stuff.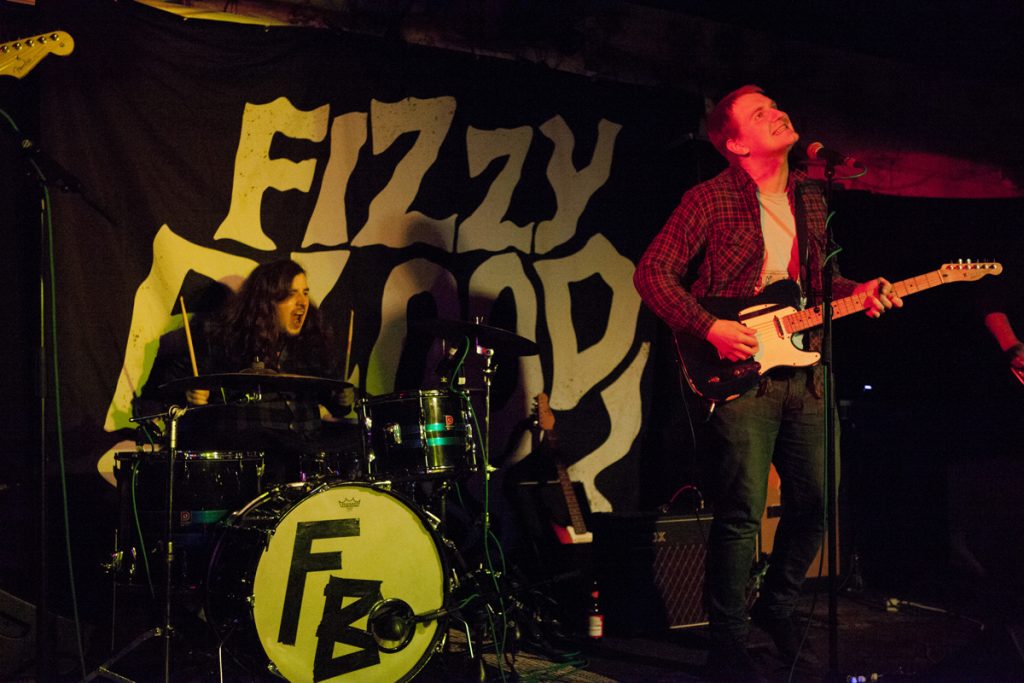 So what can you say about Forever Cult? They make a wonderfully joyous sound without seemingly even trying that hard. It's all very relaxed. There is banter, there is even a point when we are all asked to boo the band.
I had caught them playing the Clue Records Xmas Party in Leeds back in December and what a performance. So I was really looking forward to seeing them play again. The good thing about seeing a band for the second time is that you can really start to focus down on the details. So what suddenly snapped into focus this time was that actually quite a lot of how they sound is punk. So while James deploys way up to date alt-rock guitar, it's Kieran's voice that injects the punk. He growls, he screams, he almost casually drops the lyrics – obviously not all the same time of course.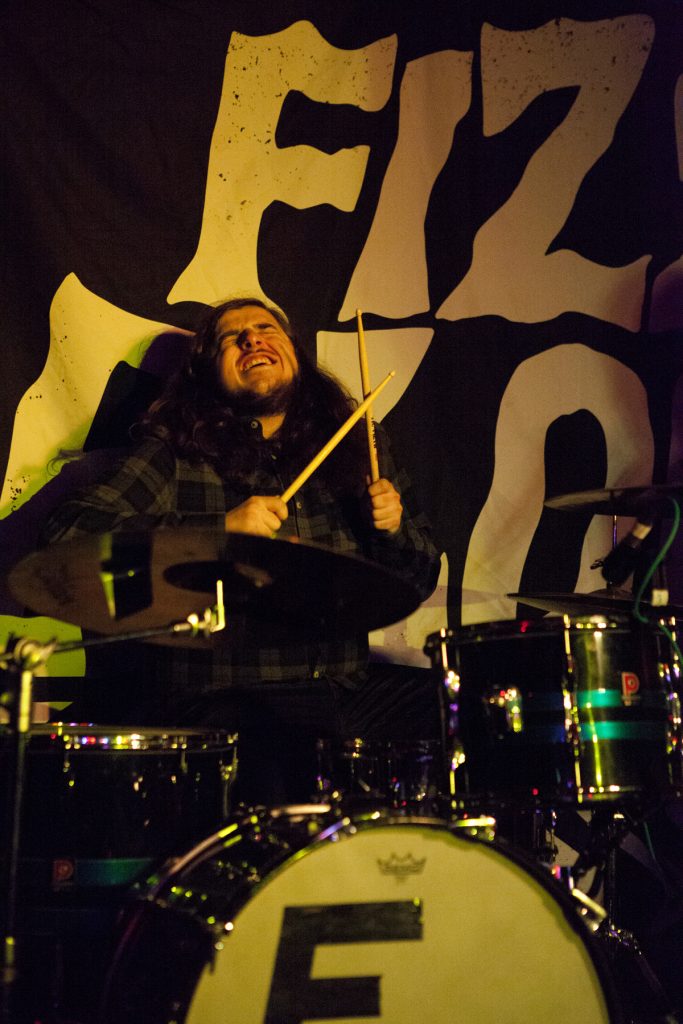 It's this mix of styles that makes them sound so good, so good that I actually stopped making notes. And they are a band that you need to watch, note taking is merely a distraction. Look away for one moment and you'll have missed James throwing the most wonderful shapes as he wrings sounds out of his guitar, you'll have missed Aaron's frankly great facial expressions as he pounds at his drum kit. Get distracted by trying to describe – in a frankly inadequate way – quite what XX song sounded like, and you'll miss say the mesmerising jerkiness of the new single.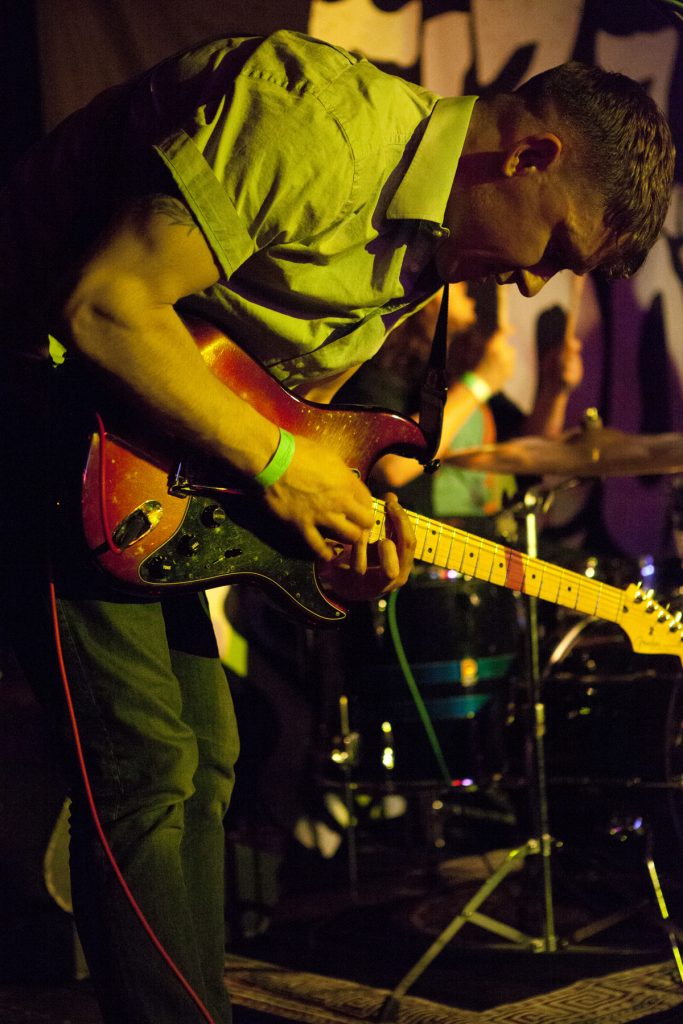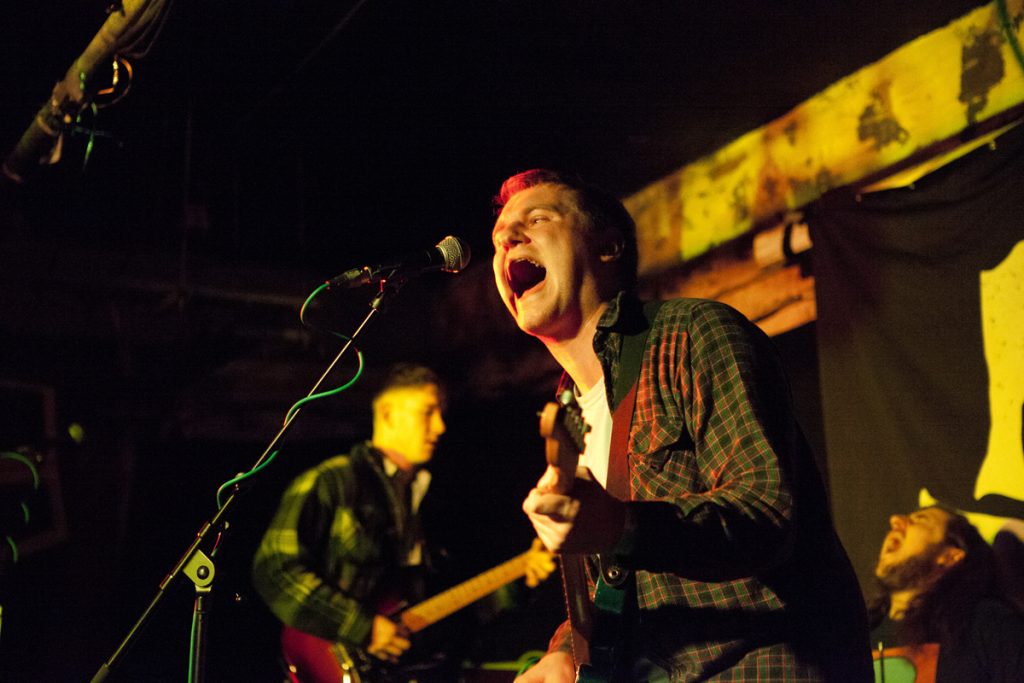 So I can do no better than to say you have to see this band, see them if you like grungey, punky rock, see them if you like bands who put on a performance.
And now to our headliners, say that again, our headliners on their first headlining tour – Fizzy Blood. I was a fan of their last EP so I had some idea of what I was going to see and hear. But that idea was nothing compared to what I witnessed.
This is a band who know they are on to something, a band who can put on a fantastic performance. A band that frankly took me out of my 'reviewer' role and into being a huge fan in the space of their first two songs. That doesn't happen that often, being in that 'reviewing mode' is a weird thing, you are looking out for things 'not to like' as well as things 'to be liked'. A band that can rip that out of your mindset is rare indeed.
Fizzy Blood are a big band, the stage at The Soup Kitchen isn't that small but their bass player – Ciaran (of whom more later) – and – I guess we'd call him – their second guitarist are crammed into one end of it bumping into each other.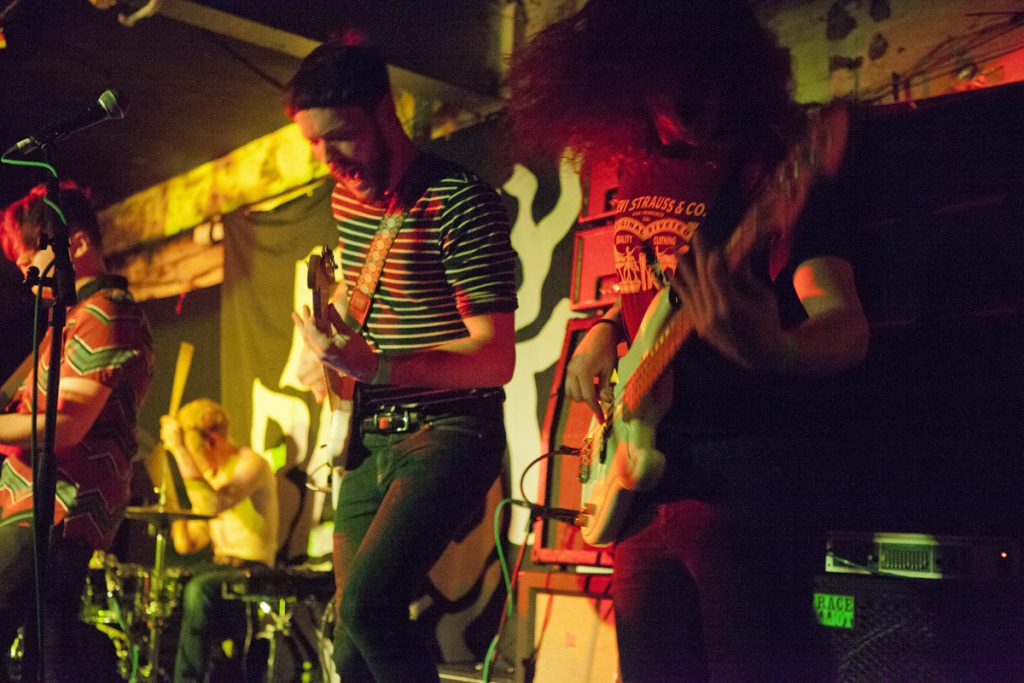 The thing about Fizzy Blood is that they are so fucking funky, under that raucous rock there is the most groovey swing. A lot of this is down to Ciaran who throws down a wonderously funky bass – as well as throwing himself around the stage. I found myself glancing across to see what what he was doing rather more frequently than I should have.
And the music is raucous, it's breakneck. Their set speeds past. And there is no encore. "No encore", I hear you say, well why should there be when what they played was brilliant, it said what needed to be said, an encore would have mere rock traditional.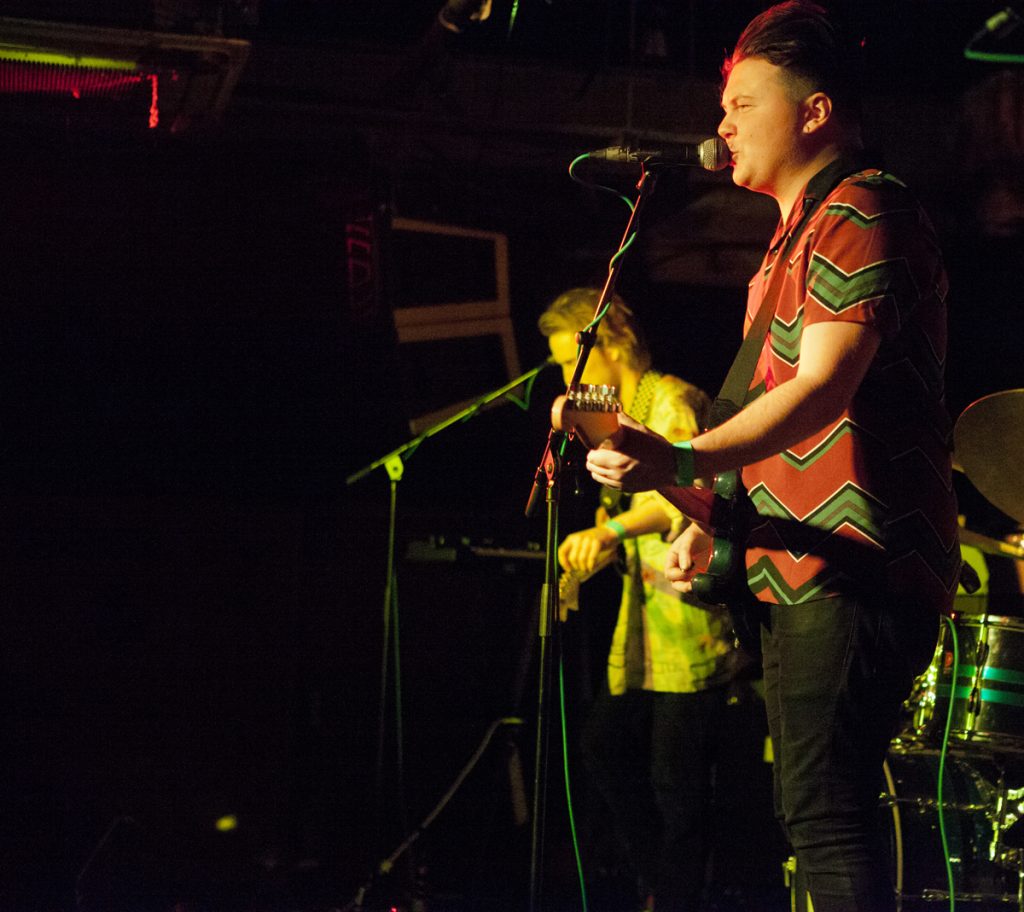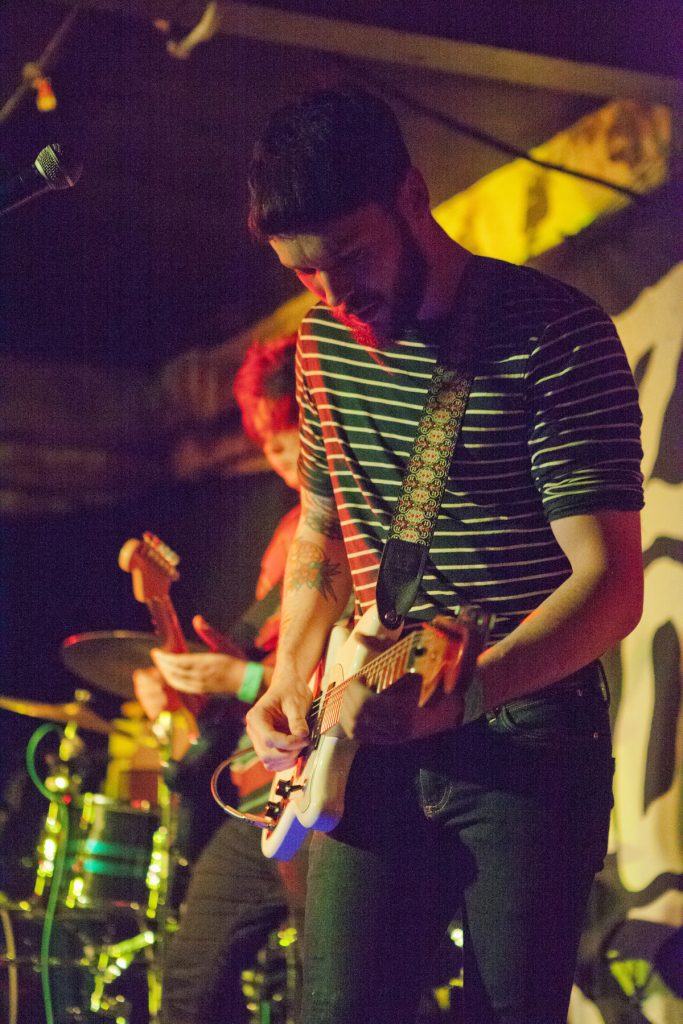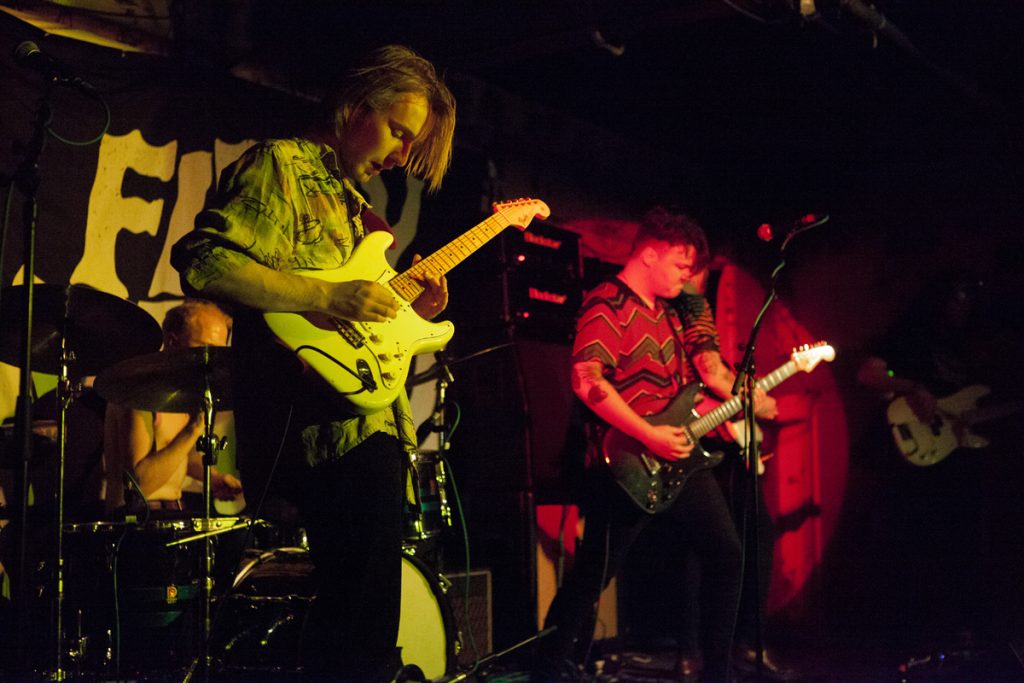 So what do the band sound like? I found their live performance to be different in some ways from their recorded music. This is perhaps more psychy than what I heard them playing live. Live it's still psychy but less so, and more rock and just a bit punky. And I swear – and it may just be me – that I heard something rather Disco at one point. Look I may just have been tripping out by that point, I did become rather giddy.
Benji – the singer – is great. The banter is fab. And that voice just grabs you. Tim on – I'd guess we'd say – lead guitar just produces the most wonderful noise.
Look people, I can do no better than to say what I said in my EP review "Go get some Fizzy Blood in your life" you won't regret it. Go see this band before they get huge, so you can say you were onto them early.
All photos in this review © Frank Roper Photography – more photos from the gig are available here