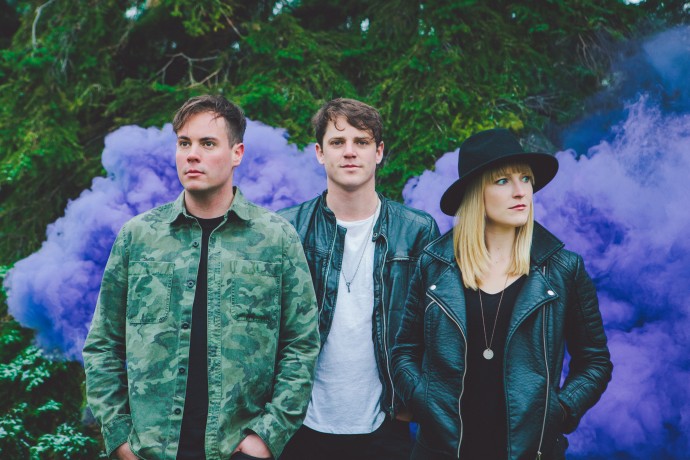 Canadian band PORT CITIES are still bathing in the afterglow of November's Nova Scotia Music Week, where they scooped no less than five awards, including album of the year, digital artist of the year and entertainer of the year.
In light of such accolades then, its only right that the band launch themselves back into the game with their trademark single 'Back To The Bottom,' a heart-racing stomper of a track that only partially disguises much deeper emotional undercurrents. As vocalist Breagh MacKinnon explains, "The song tells the story of a toxic relationship. It's about being stuck in the cycle of coming back to something or someone that isn't good for either person; yet you still can't get out."
Port Cities' music is a perfect balance of Nashville (where much of it was recorded) and Nova Scotia (where the band reside); of the rustic and atmospheric, of indie intimacy and the sort of arena-pop anthems that betray Port Cities' globe-trotting ambitions; 2018 sees the band embark upon their second cross European tour, including a timely stint here in the UK, where their following is building up nicely off the back of 2017's visit, and the hugely successful #PostcardsFromPortCities series of videos.
A port city is a place where cultures and histories collide, where goods and ideas are imported and absorbed into the local bloodstream. Not entirely un-coincidentally, Port Cities the band is the musical equivalent; a melting pot of three of Canada's most creative individual talents, drawn together to make an entity even more outstanding as a group than as its constituent parts.
As with any form of musical collaboration, the magic occurs in the blending of one element with another, but unlike most groups, Port Cities never started out to be a band. Comprised of trio of celebrated Nova Scotian musicians Carleton Stone, Dylan Guthro and Breagh MacKinnon, Port Cities were drawn together through songwriting as independent artists, with every intention of crafting new material, and then going their separate ways. Yet that is not quite how it panned out.
The first thing anyone observes when hearing Port Cities is that this band is tight. Seriously tight. Yet it begs the question; How to go about fusing divergent styles and experiences into such a singular rootsy Americana sound? From MacKinnon's silky jazz-schooled timbre, allied to Guthro's R&B influenced natural tendencies and Stone's acoustic troubadour, the space in between the three is delightfully warm and resonant, yet entirely coherent across the course of their self-titled debut album, due for imminent release in 2018
UK tour dates:
24th March: Newcastle Cluny
25th: Manchester Castle
26th: Glasgow King Tuts
27th: London Slaughtered lamb
29th: Bath Chapel Arts Centre
30th: Hull Kardomah 94
31st: York The Basement
Web links:
Back To The Bottom stream: https://hearthis.at/jonesco/01-back-to-the-bottom-uaa/uAa/ http://www.portcities.ca/
https://www.facebook.com/portcities/
https://twitter.com/port_cities
https://www.instagram.com/port_cities/
https://www.youtube.com/c/PortCities902_