There's no doubt about it, Money frontman and lyricist Jamie Lee is a genius. How good he is as a musician only time will tell.
"I see myself as a writer rather than a musician," he said recently. "It's frustrating to be judged on stuff I'm creating almost as an infant. That's why I need to become a better musician, so I can incorporate the love I have for words into the music in a more transparent way."
This doesn't mean that the Manchester band's first two albums aren't good. In fact, in my opinion, 'The Shadow of Heaven', released in 2013, is an excellent record, while 'Suicide Songs', released last January, is a minor masterpiece, for all its flaws. Not bad for a band that formed just five years ago.
Lee's songs belong in a ballpark that includes Bob Dylan, Leonard Cohen, Van Morrison, and Joy Division's Ian Curtis. They are, that is, the songs of a mystic.
Where these artists are concerned, mysticism is not some airy-fairy spiritual longing, steps on a hippy trail, but a philosophy that seeks reality by puncturing the illusions that make up the human condition. Bob Dylan, for instance, explained his vocation, quoting the writer Henry Miller, as "The role of an artist is to inoculate the world with disillusionment."
This explains the title of Money's new album, 'Suicide Songs', which amounts to one artist's musical log on attempting to consign said-illusions to the grave. But deadly serious as the album's intentions undoubtedly are, Jamie Lee in person could hardly try harder to be a bit of a lad, a tale in itself on the difference between perception and reality.
A recovering alcoholic who recently returned to his native London to escape the temptations of a rock star's residence in his adopted city, he vowed to stay away. "If I decide that I want to drink myself to death then maybe I'll go back," he was quoted.
But come back he did, for this rearranged 'Suicide Songs' promotional gig, at any rate. And the first sight we have of Jamie is of a diminutive, dishevelled figure appearing like a ghost out of the darkness on stage clutching several bottles of beer. Never have I seen anyone who reminded me more of the genial alcoholic poet Dylan Thomas. "Are you smashed, Jamie?" someone shouts as our hero introduces a new song, 'Lonely London Lady', about a drug addict down on her luck.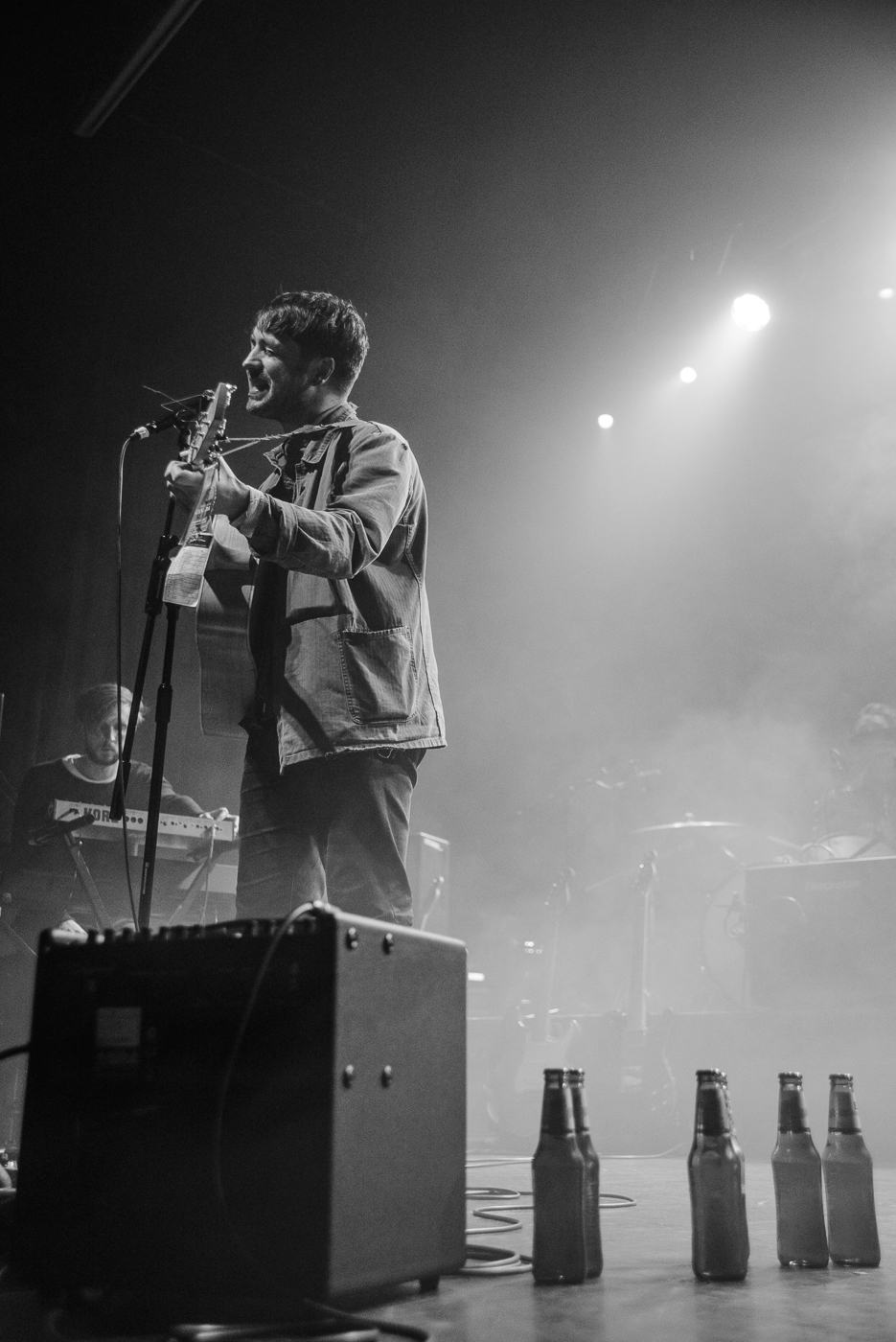 Blimey, it takes some guts to make your comeback solo with nothing but an acoustic guitar and not even any stage lights! But Jamie Lee is some charismatic performer, a beacon in the darkness.
We were given credible proof of that star appeal with the next song, 'You Look Like a Sad Painting on Both Sides of the Sky'. This was with the full band, Charlie Cocksedge on piano and guitar, Billy Byron on drums, new recruit Nick Delap on bass guitar, and a violinist and cellist to provide extra lyricism.
Now we knew what we were in for. Perhaps 'Suicide Songs' doesn't always deliver on its ambitious aims, but not a little of that shortfall can be made up in live performance. Lee might play the fool sometimes, but he is serious about his music.
We were then offered an insight into how he saw his comeback when we were told that the next song up brought back memories of Manchester. This was 'Hopeless World': "Please don't mistake me for someone I am not…"
One of the stand-out tracks from the new album followed. If human illusions or dreams are false lights in relation to the true light of reality, then disillusionment amounts to extinguishing those lights. "Someone take these dreams away/That point me to another day/A duel of personalities/That stretch all true realities," wrote Ian Curtis in Joy Division's Dead Souls. 'I'll Be the Night' is a song that offers to do just that. Pretentious, perhaps, as Lee admits some of his work might be, but this tune is still almightily powerful in performance.
Crowd-favourite 'Bluebell Fields' from Money's first album followed. This blissful song offers a child's view of heaven.
'Night Came' and 'Suicide Song' from the new album came next, both benefitting from being rather more concise than Jamie's wordier statements. "Night came/very fast/as if/it had fallen over/drunk" begins the first. "I know some of us need it/I know some of us need/to turn the light into dark" warns the second.
The outstanding tune from 'Suicide Songs', 'All My Life', also provided the highlight of the show. An ethereal echo of The Beatles' 'A Day in the Life', which also bears comparison with the soaring intensity of Elbow's 'One Day Like This', the lyric is perhaps best compared to Van Morrison's 'Cleaning Windows'. This witty ditty about Van's early days as a window cleaner in Belfast is the man's take on poet William Blake's endlessly-quoted line: "If the doors of perception were cleansed, everything would appear to man as it is, infinite." Van has: "What's my line/I'm happy cleaning windows/Take my time/I'll see you when my love grows."
'In All My Life', Jamie Lee imagines a return to the Garden of Eden with all illusions wiped away: "I will meet you in the garden/that will grow when we are gone."
Conscious of his return to Manchester, Jamie then came down into the audience to be mobbed while singing 'Letter to Yesterday' from Money's first album.
Back on stage, 'A Cocaine Christmas and an Alcoholic's New Year' bottomed out the gig: "bleary eyed and wasted/I wake up to an unlikely dawn."
The main course over, a light encore of 'Goodnight London' from the first album, Jamie Lee on piano with strings accompaniment, brought the show to an end.
Money, who collaborate on much of the music, if not the lyrics, might sometimes be a little rough around the edges, but they are the real thing. I, for one, can hardly wait to see what happens next.