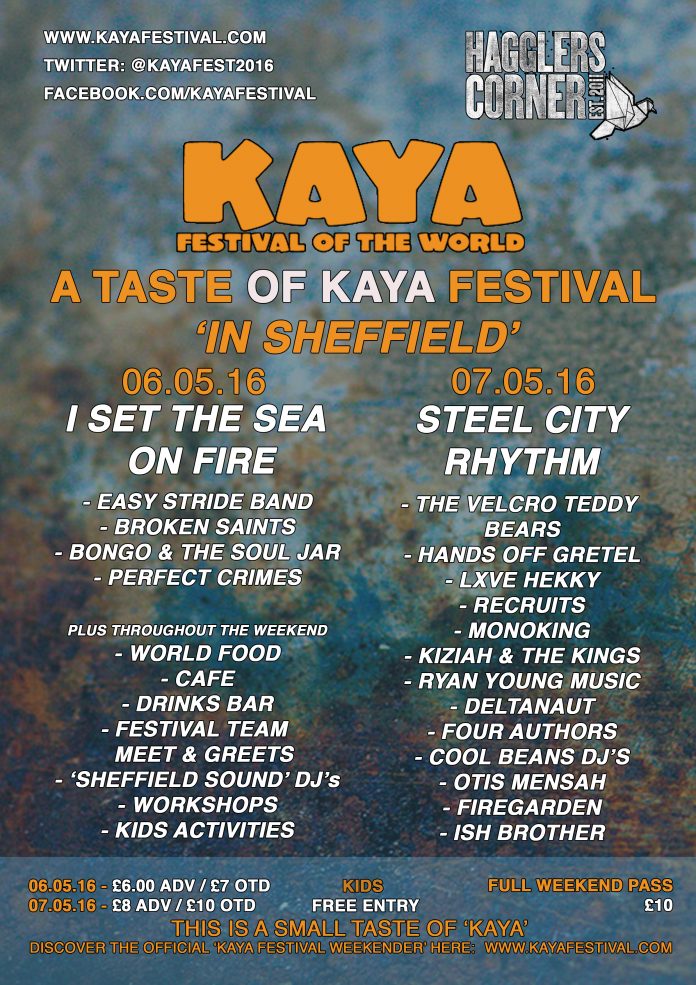 A large scale project has been undertaken by a number of musicians from the Sheffield music scene. The scheme aims to pluck a whopping 14 Sheffield acts and showcase them in South Wales at Kaya Festival Of World Music & Arts (https://www.facebook.com/kayafestival/) 4th to 7th August at Margam Country Park, Neath Port Talbot.
Kaya Festival have already announced that the likes of Craig Charles, Asian Dub Foundation, Judge Jools and Don Letts will be performing which has already started to turn a few heads as people from Sheffield begin to take notice of this amazing festival for the first time.
Of the 14 Sheffield acts who have been confirmed for the festival, so far only 6 have been revealed publicly; These bands are I Set The Sea On Fire, Awooga, The Velcro Teddy Bears, Ryan Young, Back To Verona and Steel City Rhythm. There is currently much speculation as to who the other bands are and some wild rumours flying around. Hotly tipped are the likes of October Drift, Smiling Ivy and Four Authors.
Leading the charge on this project is local musician and promoter Sam Christie ( Formally of Stop Drop Robot) who had this to say; "I think this is a pretty groundbreaking attempt to take some of the best local music Sheffield has to offer and showcase it in another country. It's a massive undertaking but local people are really getting behind the project, me and the team are all really excited"
In the midst of this the organisers dropped a shock announcement that there would also be a mini event in Sheffield entitled 'A Taste Of Kaya Festival In Sheffield' – This event in its own right is not so miniature as it runs 6th/7th May at Hagglers Corner and features performances from an astonishing 19 local acts including the likes of Hands Off Gretel, LXVE HEKKY and Chris Arnold (Cool Beans). Events page here: https://www.facebook.com/events/1042359792492670/
To stay up to date with this project please visit: http://kayafestival.com/
Tickets for both events are available from the band performing and The RS Bar & West Street Live in Sheffield.
Line-up and timings for A Taste of Kaya
Timings subject to change
Friday – May 6th
Sheffield Sound DJS – 11.30 – LATE
I Set The Sea On Fire – 10.50 – 11.30
Easy Stride Band – 9.55 – 10.30
The Broken Saints – 9.05 – 9.35
Perfect Crimes – 8.20 – 8.50
Bongo and the Soul Jar – 7.35 – 8.05
Sheffield Sound – 6.15 – 7.35
Doors 6PM
Saturday – May 7th
Sheffield Sound DJS – 11.30 – LATE
Steel City Rhythm – 10.45 – 11.30
The Velcro Teddy Bears – 9.50 – 10.30
Monoking – 8.45 – 9.15
Hands Off Gretel – 8.00 – 8.30
Kiziah and The Kings – 7.00 – 7.30
Four Authors – 6.10 – 6.40
LXVE HEKKY – 5.30 – 5.55
Otis Mensah – 4.45 – 5.15
Ryan Young Music – 4.10 – 4.40
Cool Beans DJS – 3.10 – 4.10
Deltanaut – 2.40 – 3.10
Firegarden – 1.50 – 2.25
Ish-Brother – 1.00 – 1.30
Sheffield Sound DJS throughout