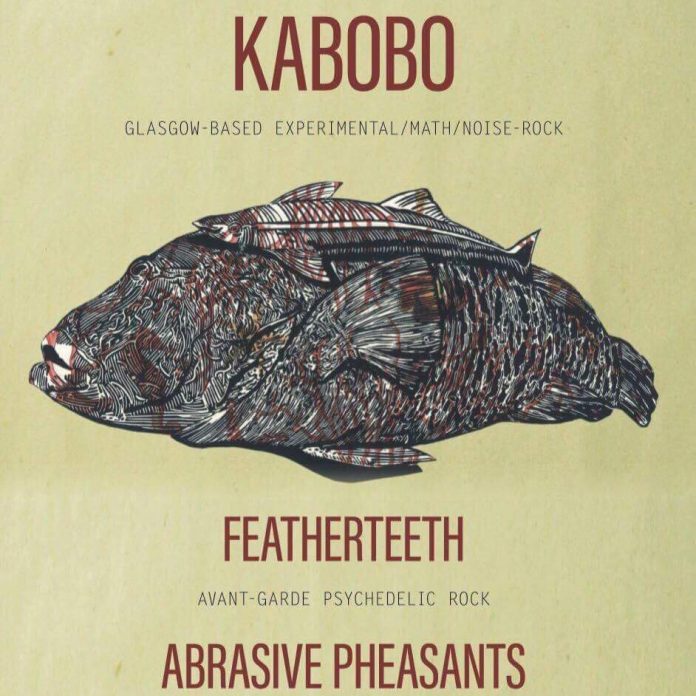 When January is doing its worst to destroy your joie de vivre, and you get that slumpy feeling coming over you, it's easy to want to stay indoors, put on a box set, open the leftover Christmas chocolates and wish the outside world wasn't there. This was largely how I felt before venturing out to this do. However, deep inside I knew this was defeatist and wrong and a phrase popped out of my mouth, namely "What you need is rock 'n roll therapy, boy". So out I trudged in the freezing drizzle. And boy, did I get some, at this excellent night that showcased local talent and some from further afield.
The event was well attended with a good wide range of ages there, always a nice thing in my book. Our evening's entertainment kicked off late after much soundchecking, not surprising given that there were three bands on show, but I suppose a plea to musicians and sound engineers to get their shit together earlier so that their prospective audience can enjoy their output fresh, is like asking Donald Trump to love his fellow man and build a compost toilet in The White House grounds, but there you go.
However, it was all worth the wait and the rigmarole once we were given something to listen to. First up were Abrasive Pheasants, a local five-piece combo, some of whom I'm acquainted with, playing sax, bass, lead guitar, drums and keyboards. They described themselves on the promo material for the event as 'Krautrock, basically, with a load of other stuff thrown in', which is a quirky and self-deprecating description but one that ultimately does them something of a disservice. They specialise in improvised collective modern psycho jazz in my opinion, and though there were strains of Neu! and other Krautrockers in there at times, their collective whole was of an overall different flavour.
Their drummer provides a tight, simple, reiterative Krautrock-style beat over which they splurge their opus, but for me that's where the similarity largely ends. Drummer and bassist, both clean, good players, form the foundation for the genre that is then to predominate in the psycho jazz mix. So we got a bit of dub reggae, some languid rocky stuff, krautrock-style action, new-wave pop, progressive rock and a whole other melange of styles thrown in. They're obviously well -rehearsed and play coherently together but not to the point that they lose their grip on the improvisational thread that is their oeuvre. When you hear one say to the other 'Let's do the one in B', you know they've hashed stuff out before but not to the point of having defined songs so much that there is no magic in their spontaneity.
And bits of magic there were. Keyboard playing also contributed to the jazz-genre melding, particularly around the dub stuff, and then overlaying that were expertly played looped, effects-driven lead guitar that provided atmosphere and the more psychotic element of the mix. Throw in well played, effects-laden jazz saxophony over the top, blending with and counterpointing the lead guitar, and you got pleasurable, interesting, developing, phased noise. Their songs used phasing and iteration to build and grow and change, and kept you listening, interested. To sum them up I'd say imagine The Fall, without Mark E Smith, with longer tracks and less edginess and you get an idea of what they're about. I was entertained and dug them on the whole.
Next up were a local three-piece, Featherteeth, who had garnered lots of local attendees, clearly well into their stuff, and with good reason. They describe themselves as 'avant-garde psychedelic rock' and that's a fair description. To me they evoked the warm and fuzzy melange, tinged with psychedelic threads, of The Cocteau Twins, but playing danceable three-minute tracks that were poppy and rocky in equal measure. There was real depth and warmth in their sound, and a complete and impressive wall of noise for a three-piece. Their tracks had people up and jiving almost immediately and they gave a great account of themselves.
Their drummer played beautiful, intricate, rhythmic, verging on jazz-like beats, but with a strong sense of identity and funkiness. The bass lines overlayed on this were subtle but driving and blended beautifully with the virtuoso stick performance. Laid over this was a haunting, original interwoven mix of what sounded like both lead and rhythm guitar at times. Their guitarist also provided great harmonic, tender and gentle vocals which melded the whole shebang together with artistry and cunning. When it was needed the vocals grew in intensity and bite and crescendos and waves of harmony rolled through the songs with ease.
They definitely appeared original, unusually different to a lot of current indie-rock or psychedelic style guitar-based music that I've heard of late, and had catchy tunes that managed to be danceable, mysterious and occasionally murky and out-there. This is not an easy feat to pull off. Bits of their repertoire reminded me of bygone acts like The Chameleons or even some of the more laid-back bits of late Primal Scream. If there was one thing I thought was lacking it was a bit of crispness and separation of the vocals from the harmonic vibe they deliver, as I wanted to hear what was being sung. However, my ears are getting inefficient with overuse, and it may simply have been a mixing issue. I enjoyed their set for its boldness, originality, energy and accessibility without obviousness. I hope things move on for them.
And so to our headliners, Kabobo, a definitively original and genre defying noise operative who are based in Glasgow and currently on tour. Their promotional material reveals them both to be Italians, although my initial impression of the few bits of speech that they gave us in their performance was that they were Scandinavian. That aside, I can honestly say I've never heard anything like them before. There are two members, one who mans a bank of keyboards,synths, amps and effects gear that looks more like a Doctor Who set than a musician's set-up, and another who plays heavily-miked drums and a few bits of electrical ephemera that provide an array of howls, squelches, siren tones and other high pitched noise registers.
What they deliver, in spades, is ENERGY. There are rolling waves of vigorous drumming that is never predictable but remains beaty, meaty and alive. Throw in the varied synth chords, some very bassy and spacey, squealing effects over the top and you're lost in a funky, dystopian, arresting, gut-wrenching thrill of a ride that I defy anyone not to be impressed by. There are few vocals, but occasional utterances and interjections get in there, particularly in split-second timed breaks in the noise and the howls. They got me off my feet, through some baseline, autonomic impulse to move to what they were doing, so all-encompassing was its energy and drive. They're not easy to dance to so you find yourself twitching like a David Byrnesque puppet in a fairground show, wondering what's coming next and where it will lead you.
Their sound is so unique it's hard to come up with comparisons. The closest I could get was that at times they feel like listening to Led Zeppelin, without those troublesome guitarist types, and after a massive overdose of caffeine and some other undisclosed general cerebral irritant. At other times it's like listening to filthy, unpredictable dance music without wanky DJ's being involved. At all times they play as if they had a gun to their heads and were about to slip over the event horizon of a black hole. I know, that doesn't give you much to go on, but I urge you to check out their latest EP Bulo! online, to see if they are your cup of tea.
They're definitely brave, crazy, different and challenging and I wish them luck. I would have liked to hear a bit more of their vocals at times, as I liked the way that they segued it into their general noise ambience. Perhaps some experimenting with looped utterances or voice sampling might pump up their popularity or accessibility, because ultimately, despite their talent, that pure noise invective and intent may be a barrier for some music lovers. As it was, as the set wore on, despite my initial enthusiasm and amazement, I did become a little bored and found their set too repetitive. I'm sure in time, they'll find ways around this, and maybe I'm just an old fart describing a new thing who has no right to get bored. Who knows? They're definitely worth checking out though if you like my description of them. They are certainly refreshing and exciting.
And so ended a good night of Rock 'n Roll therapy: cheap, effective, heartwarming, rejuvenating and cool as. Todmorden is lucky it gets to have nights like these.