Before I start the review proper I've just got to mention the venue. As well as being the opening night of Tor Ist Das Festival this was also the opening night of Crazy8, the new venue that has opened upstairs at The Golden Lion. Andy has made a lovely job of converting the old function room into a purpose-made venue. The sound was brilliant – not too loud and very clear – something that's not that easy in a small venue. I look forward to seeing more bands there in the future.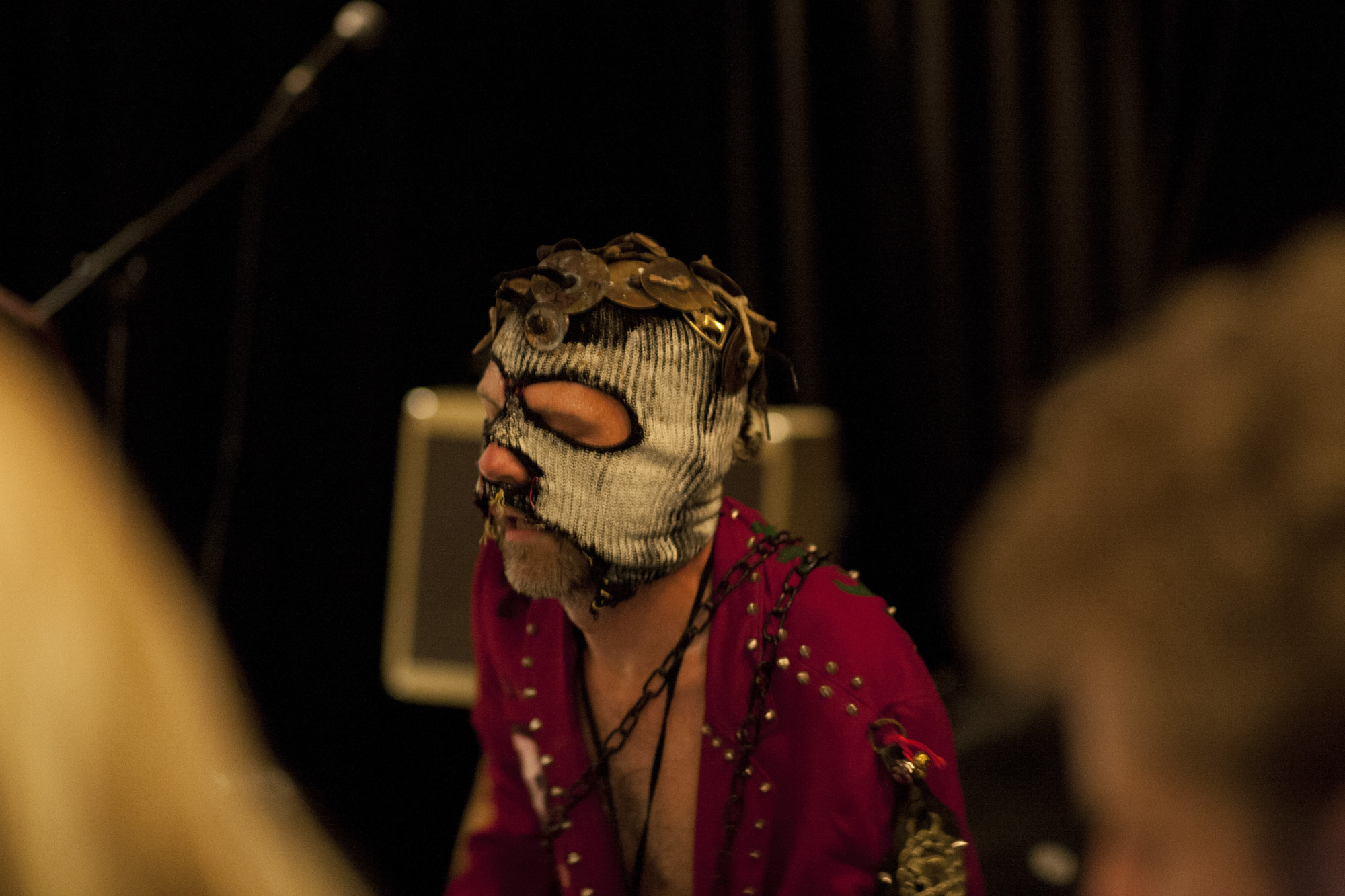 Kicking off The Bongoleeros gave us … well to be honest I'm not entirely sure how to describe what they do. Surreal performance art and warped and twisted songs were part of it but there were also moments that had us laughing out loud.
These were a couple of my highlights. The Magic Shoe section – where we were encouraged to "smell the shoe" and get on board the shoe. And 'Honk My Tonk' a mutant punk song.
Looking at what they do objectively – although this isn't an easy thing to do about three guys who wrap rope around themselves whilst staggering across the floor – there's a whole load of cultural references in there. The painted jackets and Magic Shoe section, in my opinion anyway, hint at the Merry Pranksters and the "on or off the bus" thing. While the music reminded me of Otway and Barratt in places. And I can't help but feel that they share a love of the freeform rapping that is Derek and Clive.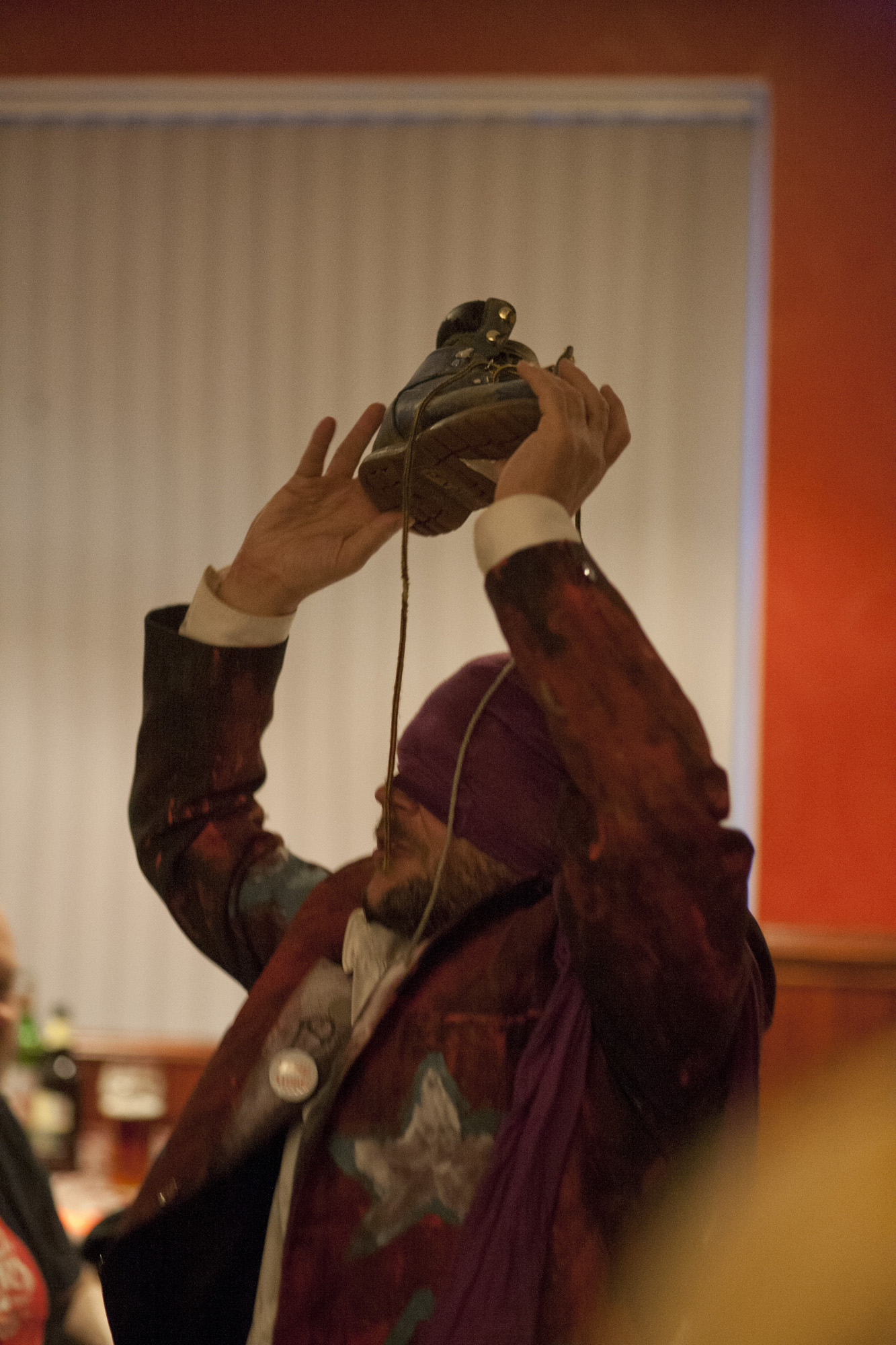 What I can't work out is whether this was an exercise in how far you can go before people say "well isn't that just messing about randomly" or whether some of it is messing about randomly or, possibly, that it's so well put together that it just looks like it's improvised. Your guess is as good as mine and as the performance was filmed you can watch it and make up your own minds. I would say that you had to be there, this is something you had to see in the flesh to be honest, but the video will give you some idea.
https://youtu.be/ky8iC0KQ5Lg
Overall I think I liked The Bongoleeros. I say think because it's difficult to immerse yourself in a performance like that when you're reviewing it and because at times I found them rather scary – there's that edgy feeling of anything could happen in their performance. Am I on board The Magic Shoe? Well not quite, but I'm waiting for it to come round again.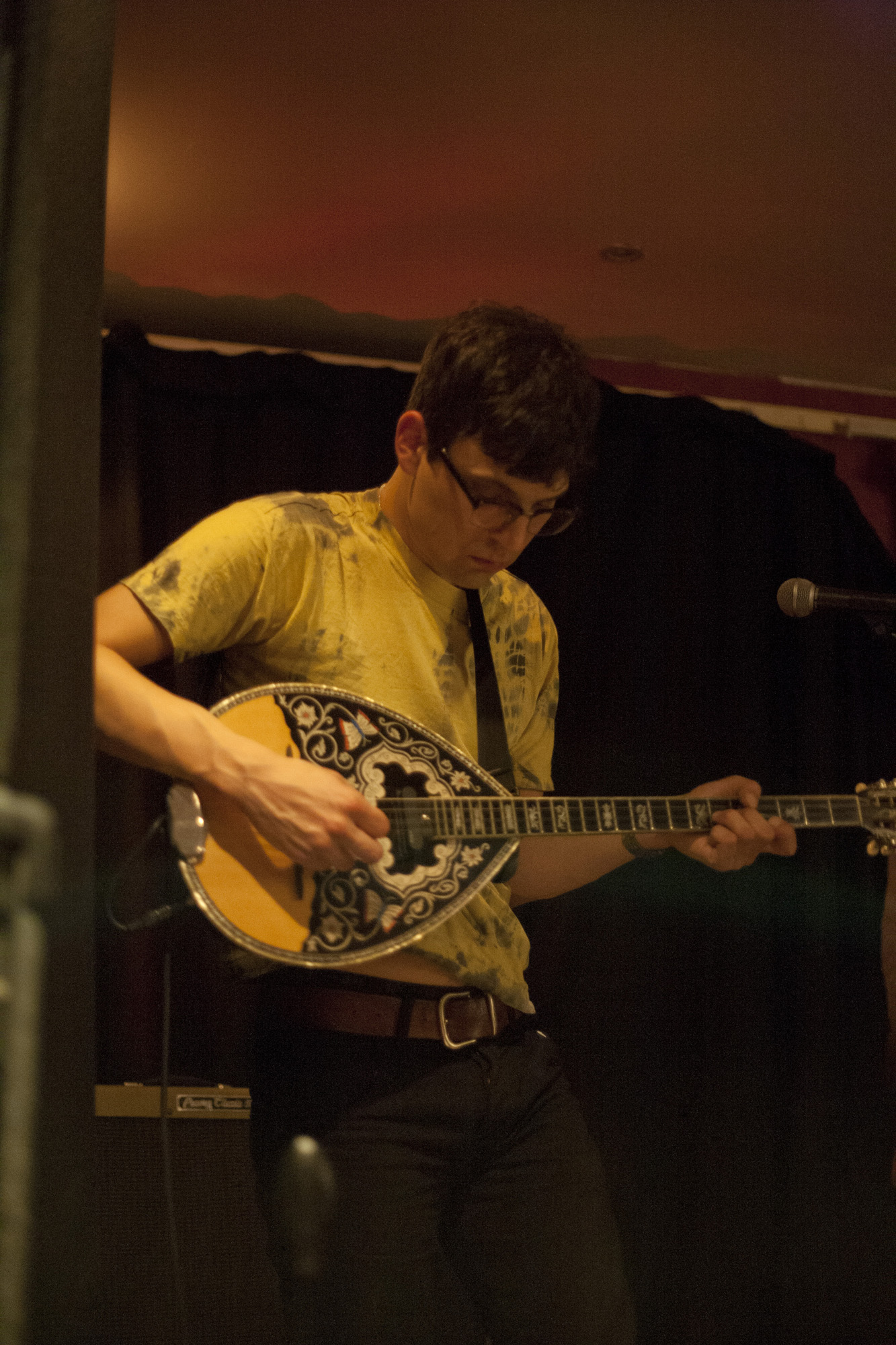 I'd heard of The Family Elan but not heard anything by them before, so I was surprised. They play Anatolian sounding folk-rock that kicks into something like space-rock at times. Although only a three-piece this is a densely layered sound, Krzysztof Hładowski (on Greek bouzouki and elektrosaz) impressed me hugely. Although he uses a lot of effects they don't overwhelm the core sound of the instruments. Nor does he drift into showing off, although there were points where I would have loved to hear him stretch out more.
Not knowing the names of the tracks they played I can only comment on the overall performance. Although most of the tracks "take off", this is music you can dance to or you can choose to sit and listen, and appreciate. Most of the tracks start with something that does sound like Anatolian folk-rock but then works up to something else. While this may sound like I'm saying they all sounded the same they didn't. There was definitely enough variation to keep me, and the audience, listening.
I spoke to a couple of people afterward who'd not seen them before and they thought "they were brilliant" and wondered "why didn't they play a far longer set?". I couldn't find anything to disagree with in that.