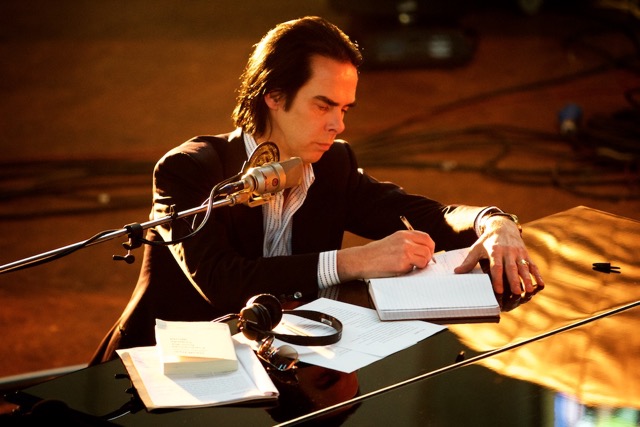 The first opportunity anyone will have to hear any of the songs from the new Nick Cave & the Bad Seeds album, 'Skeleton Tree', will be to watch the feature film One More Time With Feeling, directed by Andrew Dominik (Chopper, The Assassination of Jesse James by the Coward Robert Ford, Killing Them Softly).
The film will be shown in 150 cinemas across the UK and Ireland (check listings below for your nearest participating cinemas) and more than 650 cinemas worldwide on 8th September 2016, immediately prior to the release of 'Skeleton Tree' the following day.
Originally a performance based concept, One More Time With Feeling evolved into something much more significant as Dominik delved into the tragic backdrop of the writing and recording of the album. Interwoven throughout the Bad Seeds' filmed performance of the new album are interviews and footage shot by Dominik, accompanied by Cave's intermittent narration and improvised rumination.
Filmed in black-and-white and colour, in both 3D and 2D, the result is stark, fragile and raw.
Director Andrew Dominik (Chopper, The Assassination Of Jesse James), has issued the very first public statement about working with Nick Cave & The Bad Seeds on new 3D black-and-white feature film One More Time With Feeling:
When Nick approached me about making a film around the recording and performing of the new Bad Seeds album, I'd been seeing quite a lot of him as we rallied around him and his family at the time of his son's death. My immediate response was "Why do you want to do this?" Nick told me that he had some things he needed to say, but he didn't know who to say them to. The idea of a traditional interview, he said, was simply unfeasible but that he felt a need to let the people who cared about his music understand the basic state of things. It seemed to me that he was trapped somewhere and just needed to do something – anything – to at least give the impression of forward movement.
I took the record away and listened to it trying to work out a way into the whole thing. In the end I agreed to do it if I could shoot it in black-and-white and 3D. Nick's response was, "I fucking hate 3D" or something like that. I showed him old black and white photos viewed through a stereopticon from the 50s. I told him I wanted to make a film where these sorts of photos came slowly to life. I felt that the stark black-and-white and the haunted drama of these 3D images perfectly addressed the disembodied sound of the record and the weird sense of paralysis that Nick seemed to exist in at the time.
To achieve this effect we built a special camera, a massive, lumbering piece of equipment that's almost comic lack of mobility added to the eerie drift of the film itself. No one has ever seen a 3D black-and-white non-animated feature film in modern times – for as far as I know, no such thing exists. It is both modern and from a distant age – much like the Nick Cave & the Bad Seeds' new record, Skeleton Tree, actually.
Nick came to Los Angeles and watched the film. His response "to make sure they see it in 3D". — Andrew Dominik was obviously conflicted. How could it not be? In the end he said, "leave it as it is" – which we did. He said that it was obviously "made with love" – which it was and finally,
Nick Cave & the Bad Seeds' sixteenth studio album, Skeleton Tree, will be released globally on vinyl, CD and across all digital platforms on 9th September 2016. The album began its journey in late 2014 at Retreat Studios, Brighton, with further sessions at La Frette Studios, France in autumn 2015. The album was mixed at AIR Studios, London in early 2016.
Buy tickets and find your nearest cinema here – cinemas include those across our area.
http://www.onemoretimewithfeeling.film
Pre-order the album now on CD, vinyl and download.
Watch the film trailer here:
http://www.nickcave.com
Album pre-orders and cinema tickets:
http://www.nickcave.com