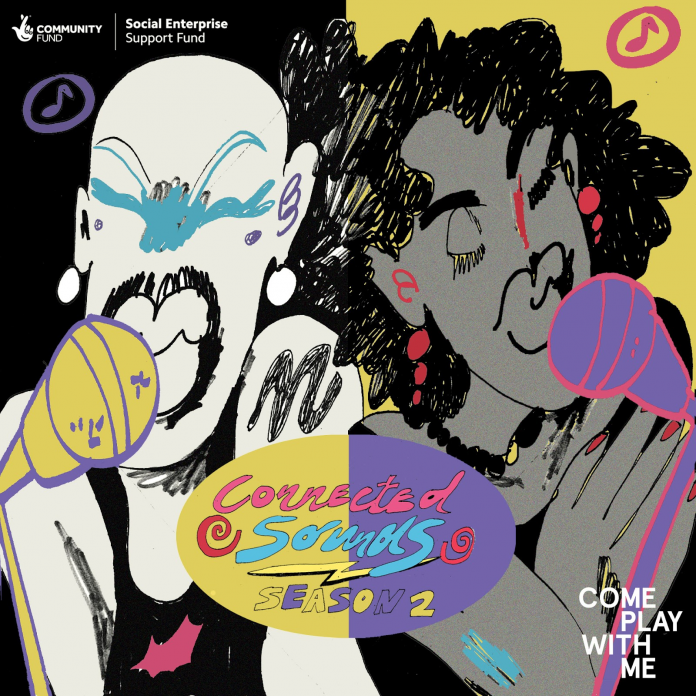 Award-winning Leeds non-profit Come Play With Me have announced a second series of their 'Connected Sounds' podcast will launch to coincide with this year's Pride month. Focussing on conversations with queer musicians and music industry professionals, the first series of Connected Sounds featured Self Esteem, Kindness and producer Tom Aspaul (Kylie, The Sugababes) with guests announced for series two including Shamir, Crawlers, Bored At My Grandmas House and more.
Presented by Drag artist, journalist and radio presenter Alex Gibbon, soundtracked by Leeds DIY stalwart Katie Harkin (HARKIN, Sky Larkin, Sleater Kinney) and with visuals by Luci Pina, the second series of CPWM's Connected Sounds will take place across seven episodes featuring informal conversations with forteen guests, delving into the intersectionality of queer identity across a wide-range of topics.
Last year Come Play With Me were honoured with the Company Award for Diversity in the Workplace at Music Week's Women In Music Awards, making history as the first northern recipient of the award since its inception.
With new board appointments including The Brudenell Social Clubs Nathan Clark, acclaimed music journalist Jenessa Wiliams and Grammy winning chair of Leeds Conservatoire Aaron Casserly-Stuart, the team at Come Play With Me intend to build on the work they've done to become an industry leader in providing opportunities for under-represented groups in the music industry.
Whilst still providing their award-winning grassroots support, now including LGBTQ+/Trans Inclusion training sessions, Come Play With Me hope to work with marginalised artists in the long term as a commercial label too, using their well-earned seat at the table to legitimise their position within the music industry as advocates for progressive, lasting change.
Matilde Mirotti, CPWM explains "We wanted Connected Sounds to be a space to explore queerness and music in a versatile way. Alex has an incredible talent to put people at ease and guide the conversation to the funniest, saddest, and most interesting places. The coolest aspect of this project for me was learning something new with each episode – whether it's bits of queer nightlife history, tips for independent artists or what it takes to build safe spaces in a rural village. This project feels so fresh and we're excited to see it take its own course when it's out in the world."
Season 2 guests:
Shamir
Holly Minto (Crawlers)
Bored At My Grandmas House
Suzy Mason (SpeedQueen)
Fuzz Chaudhrey (BBC Introducing)
Safi Bugel (Narr Radio / journalist)
Will Druid
Andy Walker
Sammy Paul
Martha Da'ro
Mix-stress
Esme Trax
and more.
'Connected Sounds' is supported by the National Lottery Fund.