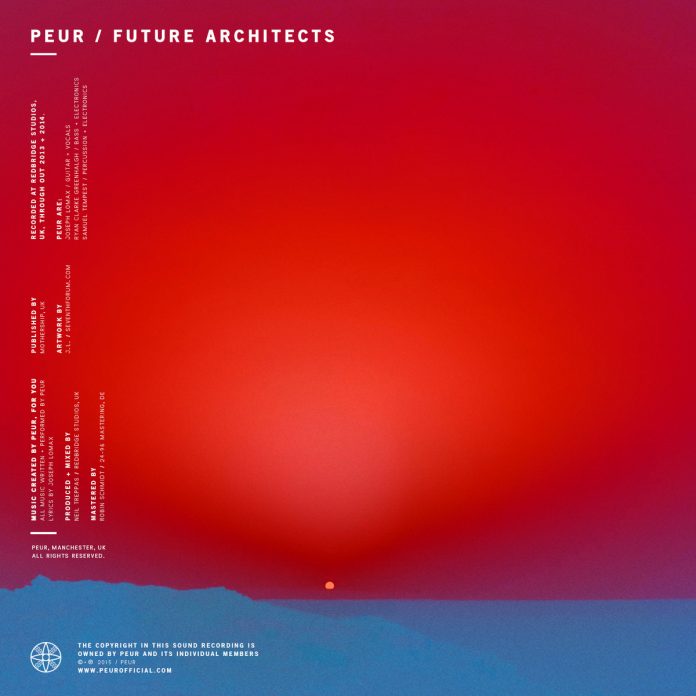 I'm going to put this out there right at the start, Peur are the first band I've been this excited about for ages. So this isn't going to be just the average EP review, I'm going to be looking at some of their other tracks and making some recommendations as a way into Peur.
Let's get the formalities out of the way. The band are from Manchester and formed in 2013, They are Joe Lomax (guitar/vocals), Ryan Greenhalgh (bass) and Sam Tempest (percussion). Peur is the French word for fear – in case you're interested.
So the band say their influences are as wide ranging as Biffy Clyro, Muse, 30 Seconds to Mars and Placebo, the extremes of Industrial legends Nine Inch Nails, and include Post Rock bands such as 65daysofstatic and This Will Destroy You. Well yes, but let's throw some other stuff into the mix – blues rock, Hawkwind, synth pop, possibly 80s' rock bands like Y&T and… Prog.
Yes, I said Prog. When I first did that 'do I want to review this?' listen my first thought was this sounds a bit like the rockier end of The New Wave of British Prog – specifically 80s period IQ – and New Prog – including (now that they have 'come out' as a Prog band) Muse. I don't want you to think this means that Peur's music is self-indulgent, it isn't. I want you to think of Peur as progressive music – in other words music that is new and inventive. They've taken a lot of ingredients and produced something that is uniquely their own sound.
The band are tighter than a tight thing and when they lock into a riff it's awesome. Think Foofighters if you really need a touchstone. But when they are not riffing the music is incredibly dynamic, complex and, I can think of no other way of saying this, 'crafted and arranged'. But I hear you say 'this all sounds a bit cold and emotionless', but let me assure you, it's most definitely not. There's an epic brooding darkness in Peur's music.
So first the 'Future Architects' EP. The band describe it as a 'collection of sounds' and even provide a seamless stream of the five 'sections' (hmm sounds a little prog-ish don't you think?).
The absolute stand-out track (or section if you're listening to the full stream) is 'Hollow Skies'. This is introduced by a menacing drone and then gives way to a chiming riff. And then there's the frankly terrifying open lines –
'Show me your scars
So I can see the blood
You're not fooling anyone, my dear'
There's an audible pain in Joe's voice that just grabs you. There's a darkness in this song, a brooding menace. This piece of music has more ideas than some bands have in a whole album – it has riffs, it has stand-out guitar and brilliant vocals. The intake of breath at the end just left me wanting more.
The other must-mention is 'Explosions'. Riff heavy, with an absolutely brilliant vocal – it simply soars. Again there's that darkness in the lyrics. I have to say that I have no idea what this song is about – there's a woman who seems to be key, 'she looks so innocent, so innocent, she shines with explosions' and there's a 'broken man' and 'we're praying for another outcome' – but quite how these fit together I can't work out. Does this matter? Not a bloody bit. Play loud and on repeat.
The other tracks are just as good, the only reason I've not going to cover them in detail is that I want you to discover them for yourself.
The EP can be purchased from Bandcamp and SoundCloud, as can their other music.
So now let's take a trip to the band's SoundCloud site (the link is below). Having spent quite some time here myself, and probably bored those close to me with 'just listen to this…it's wonderful', can I recommend you go straight to 'Grey Blood' (from the band's first EP 'We Can Build Astronauts'). This is built round an intro that sounds quite a lot like a blues-rock thing and builds into a full on rock thing and then what the bloody hell, that's a harmonica. And that's a 70s' guitar freak out. It shouldn't work but it does, because it's just… oh just listen to it yourself.
You may have noticed that's there a live cover of 'House of the Rising Sun', and you're probably thinking that's quite a risk for a band that describe themselves as alternative rock. Well yes, but here is the most inventive cover of this song I've heard in years. Joe gives us a blues holler over something that is, well it's difficult to describe really… There's a basis in blues but at times it goes into something that's frankly fuzz-laden noise.
'Pursued by Bears' uses that 'tuning a radio intro' before hitting us full and hard in the face. This is a guitar heavy and heavy track musically, but the vocals at times remind me of Depeche Mode. Not early Depeche Mode, but the later dark Depeche Mode. Again it's the 'this shouldn't work but it does' element at work here.
We're in Hawkwind territory with a strange spoken section in 'Empires' – a song which appears to be about a relationship at the start but turns into something else completely. As far as I can work out the spoken section appears to have a green message so I'm guessing the song is about our relationship with the earth. But I may be way off. All that aside, this is the just the most glorious thing, even if it's difficult to work out what's it's about.
For a band that only formed at the beginning of 2013 what Peur are doing now is something that is just so impressive that it leaves you wondering where they can go in the future. I, for one, will be looking forward to that.
Peur on Bandcamp: https://peurofficial.bandcamp.com/music
Peur's website: http://www.peurofficial.com/#futurearchitects
Peur on Facebook: https://www.facebook.com/PeurOfficial