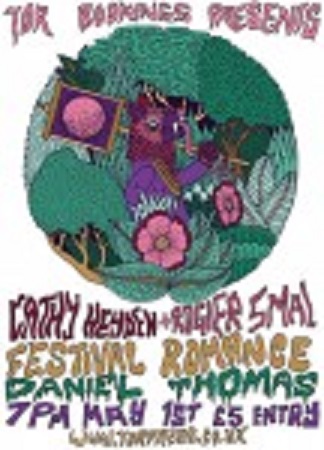 Cathy Heyden: Autodidact sax improviser enjoys encounters with other musicians, dancers , comedians, poets and performers from all over the world such as Faust, Geoff Leigh, Jac Berrocal, Lost woman, Morihide Sawada.
Rogier Smal: A drummer who experiments with free percussion sounds. Besides playing in art collective Dagora he plays with different musicians and solo. Lately Rogier has been lucky enough to have been making sonic waves of liberty with gems like: Jaap Blonk, Marshall Allen, Dylan Carlson, Eugene Chadbourne, Geoff Leigh, Ludo Mich, City Hands, Sunburned hand of the man, Mik Quantius, Daevid Allen, and many more.
Festival Romance: New duo of Jorge Boehringer and Eleanor Cully
Daniel Thomas: Solo performance from Daniel who is half of 'Hagman' and runs the Sheepscar Light Industrial label.
Facebook Event Page: https://www.facebook.com/events/353756701497013/