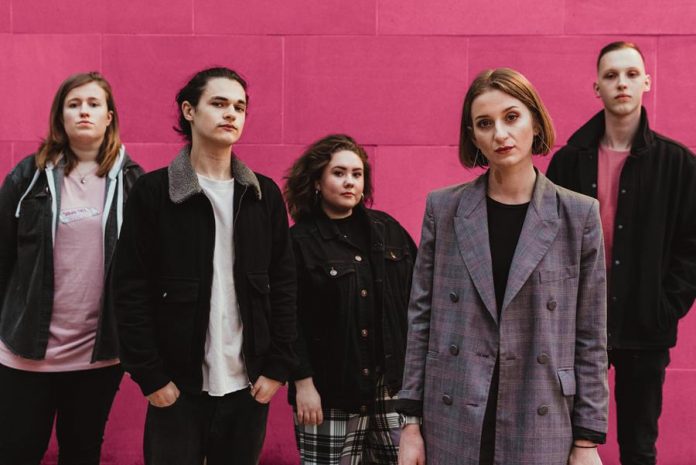 Originally formed by 3 passionate female Leeds based producers, Luna Pines showcase modern electronica and refined dream pop and mix it with ambient, almost post-rock echoes. Influences ranging from Explosions In The Sky to Beach House can be felt across their debut EP 'The House We Lived In' that is due June 1st. Today, the band have released their new single taken from it, 'Spring'.
Luna Pines' sound travels through landscapes of 80's synth-wave & eccentric beats, to post-rock inspired, soundtrack–esque atmospheres. A deeply sensitive tone is felt in new single 'Spring' that serves as a spacious, indulgent moment that explores painful issues such as death and loss in a mask of Cocteau Twins inspired melodies. The track is taken from their upcoming EP that is due out June 1st of this year.
Having played sold out local shows at prestigious venues like Belgrave in Leeds last year, the five piece take influence from acts like Daughter, The Japanese House, and James Blake, creating a nostalgic air of ambience, with soaring synths and heavy bass lines, reminding listeners of soundtracks similar to the brilliant 'Drive' score by Cliff Martinez. The band produces and mixes all their own material, making them even more of a force to be reckoned with inside of the brilliant and eclectic Leeds music scene. Having gained attention from various publications and BBC Introducing with their last two singles, they are gearing up to play venues across the UK and use this solid foundation to take their music to new heights this year.
Dusty Pop Entertainment Presents:
Luna Pines – 3rd June – Oporto, Leeds
Support from Laminate Pet Animal, In The Morning Lights & Denton Thrift.
TICKETS AVAILABLE HERE
Luna Pines is:
Holly Matthews – Vocals
Ryan Hawkins – Guitar/Vocals
Lotte van de Berg – Keys/Pads/Sampling
Ellie Flynn – Violin/Keys
Rob Oates – Drums