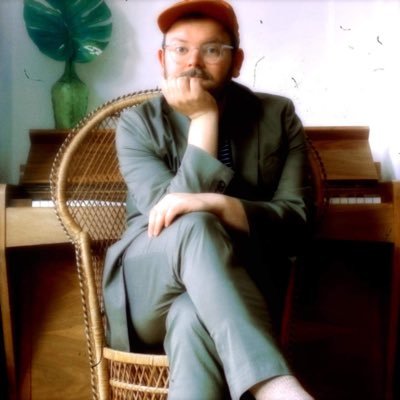 'Spielmann', the new project from Leeds mainstay Ben Lewis, has shared second single 'The Right Track'. The songwriter & producers first musical offering of 2023, Spielmann has crafted a timeless pop song.
Despite only unveiling Spielmann in December and with only a handful of shows under his belt (His third found him opening for Yard Act at a sold-out Leeds O2 Academy – 'Pure nepotism' according to him, having spent time in various projects with 3 quarters of the band), Lewis has been around the block; as a songwriter, producer, band member, DJ and promoter over the years. After a decade or so playing with acts like Ruthie, Menace Beach and Bruising, it's time for Spielmann to take centre stage on his own.
This first brace of singles show his lofty aspirations – Like Jack Antonoff producing The War On Drugs, or Phoenix if they'd grown up on heartland Americana, Spielmann's take on modern pop and how it aligns with alternative music, is studied, honed and purposeful. Expansive yet intimate, with a tongue firmly planted in its cheek and toting stadium-ready choruses that will stick in your head for days, telling stories that are arguably autobiographical, as he explains; "Some of it's me, I'm in it somewhere…But I'm really not that interesting".
"It's pop music, but for people who don't want to admit they like pop music… for people who listen to "proper" music but really just want to sing along to a big chorus"
Stream/Download: https://kycker.ffm.to/therighttrack
One single and a handful of much discussed hometown shows in, Spielmann has already found himself booked for a busy summer with performances at Green Man, Long Division and more planned.
Live Dates:
FEB 11 – Westgarth Social Club, Middlesbrough w/ Phil Madeley
APR 1 – FairPlay Fest, Manchester
MAY 6 – Are You Listening?, Reading
MAY 14 – In Colour, Brudenell Social Club, Leeds
MAY 20 – Get Together, Sheffield
JUN 10 – Long Division, Wakefield
AUG 17 – 20 – Green Man, Brecon Beacons