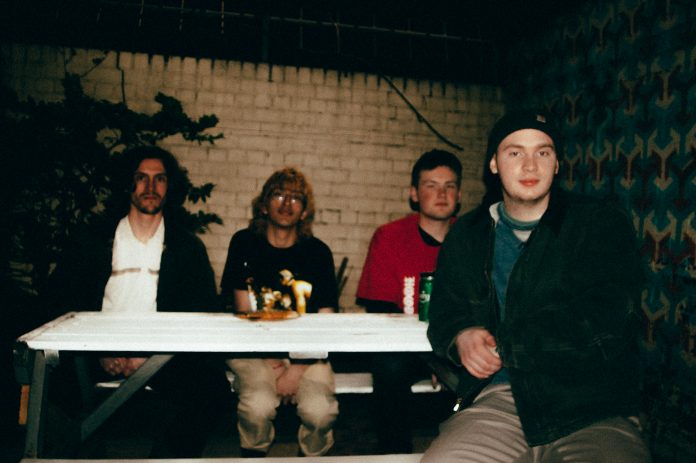 Fuzz Lightyear's latest single is Come Play With Me's final release of their singles club that has showcased incredible emerging talent from the West Yorkshire region over the years.
Evolved from dingy basement rehearsals and raucous house shows, four-piece Fuzz Lightyear have been buzzing around the city and noted for their riotous live sets. Pulling from grunge, post-punk, and sludgy noise-rock, the band, initially a three-piece, self-released their first single and EP before working with Alex Greaves (bdrmm, Pulled Apart By Horse, Working Men's Club) on 'Berlin 1885', a track denouncing xenophobia.
Fuzz Lightyear emerged from the notorious Leeds DIY scene, bringing with them a torrent of self described 'noise-grunge' and leading them onto line-ups at iconic Leeds' venues including Belgrave Music Hall and Brudenell Social Club. With tenacious focus on their live show, Fuzz Lightyear have merged into a unrelenting, noisier beast.
The self-produced single 'Dense Worship' see's vocalist Ben Parry unleash a roar of captivating anguish, questioning mental health and wading through the complexities of trauma – each thought passionately conveyed with trademark yelling vocal expression.
Ben Parry (vocals, guitar) on 'Dense Worship' "I wrote the lyrics as I recorded the vocals in my living room and snow was falling outside. It was a particularly bleak day. I kept going until it was dark, stopping only to smoke, drink coffee, and listen to THANK's debut. Dense Worship is about picking apart the parts of yourself and trying to sort the good from the bad and the damaged from the healthy. Trauma affects your mind in horrific ways and causes you to be someone you know you aren't. You cope with it in different ways and try to cover it up, but that never works out healthily. You must confront yourself to grow."
With this the quartet continue to transcend away from their natural grunge state, further exploring the sounds they're capable of conjuring together.
Grab a digital download or vinyl 7" from: https://cpwm.bandcamp.com/album/cpwm022-fuzz-josephine-sillars
Live Dates:
NOV 19 – Brudenell Social Club, Leeds w/ JOHN
DEC 9 – Hyde Park Book Club, Leeds w/ Come Play With Me