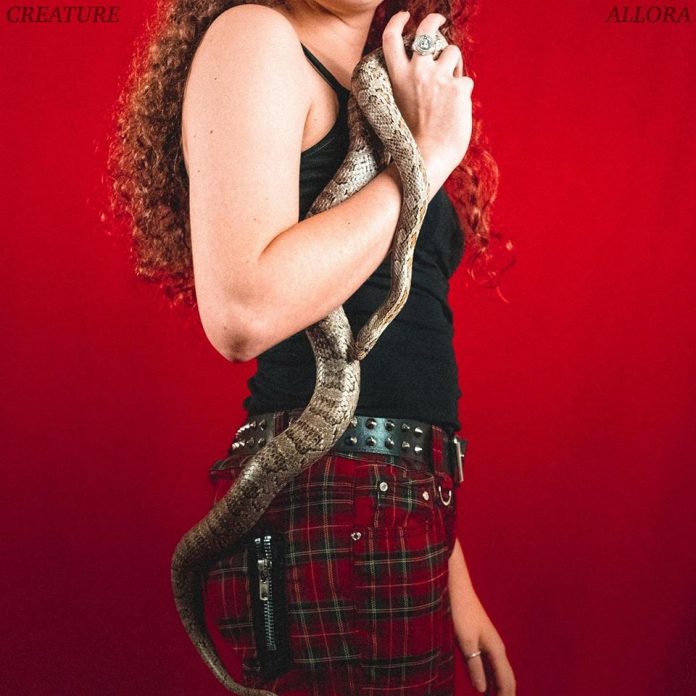 I adore Allora, seeing them play live is always a thrilling and yet deeply calming experience. Those of you who have read any of my reviews of them playing live will know that I am driven to gush about them in what one of our readers who contacted us described as 'an overblown and extravagant way'; some of which the band use on their press website. Frankly I think the band deserves that level of gushiness, and I'm not about to stop.
'Creature' comes in two versions – a 'radio friendly' version and a longer version which includes a prelude to the 'radio friendly' version. I'll return to the longer version later, but first the 'radio' version.
For those of you that don't know Allora, they play a kind of alternative rock (which the band describe as dark pop), but it's alternative with many influences. You are likely to hear hints of folk, soul, Laurel Canyon singer/songwriter, what I can only describe as psychedelic rock, 70s' AOR in places. Their music is deceptively simple and yet complex and richly layered. And the thing that I really love about Allora is the vocals, the vocals are the key.
The song opens with what I'm going to describe as mutant surf or even western movie sounding guitar. They crash in. And then you get a quieter section, and the vocals come in. The experience of Allora's vocals is something you have to hear to understand. For Maisie (Powell – Guitars), Caty (Labbett – Bass) and Shira (Colombick – Guitar) all sing. Sometimes it's just one of them, sometimes it's all three of them in harmony, and sometimes their vocal lines intertwine.
The vocals in this song are powerful, scarily powerful. The opening vocals – and I may be wrong but they sound like Maisie to me – are strangely 70s' rock, and then another voice takes over – I think Shira – that's soulful and impassioned. And then the vocals gradually layer up and up until they take over your head.
My helpful friend described the band as 'what Crosby, Stills, Nash and Young would sound like if they played alternative rock and had three female singers'. The point here is that the vocals are not just vocals they are part of the music, they add layers and layers of sound that gives the band's music, and this single, a depth and richness that is amazing.
I described the vocals as powerful but this is how I would describe the song – powerful and hypnotic.
And that is made all the more intense when you listen to the longer version (you'll be able to do this with the streamed release by allowing it to go from the prelude to the 'main song' automatically).
The prelude opens with dark and brooding almost goth bass and drums, adds in guitar, and then the vocals in harmony come in.It's hypnotic, it's the calm before the storm. The power of the song crashing in after that is intensified.
This song is powerful, emotional and beautiful. This is a song that reaches down into your soul and tears your heart out. It leaves you drained and wanting that feeling all over again.