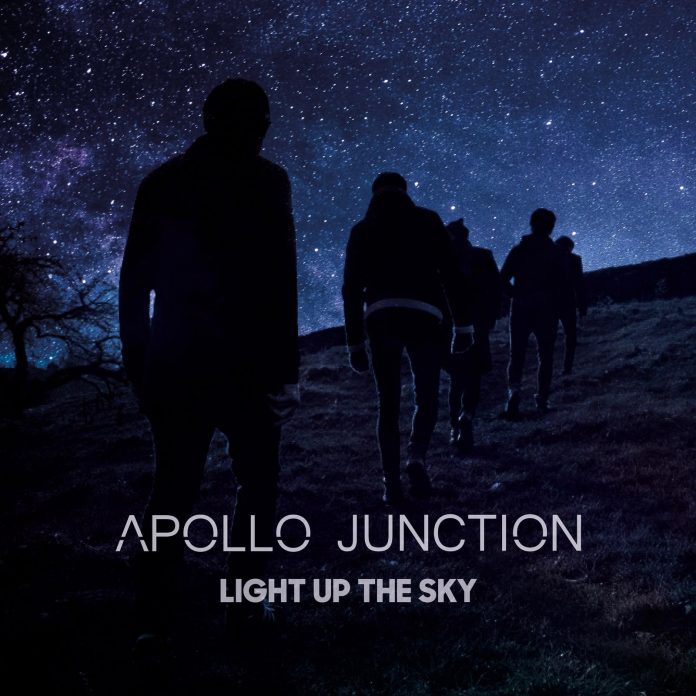 Apollo Junction make big music, big soaring glorious music. Their last release was a big soaring electro-rock track but with this – 'Light Up the Sky' – we are back in big guitar music territory.
Let's put that more precisely; we're back in mainly big guitar music territory because there's more to this track than guitar. Whether you'd describe this as indie-rock – which I think the band would generally be called by the listening public – is debatable. It's kind of a guitar heavy electro-rock with added extras kind of thing.
It's strutting with a beast of throbbing bassline, fuzzy guitar, swirling organ, thrilling synths, a stomping beat and a vocal that is a call to action.
"'Light Up The Sky' is an anthem about the need for togetherness in darker times. It's the song that we have aimed to write since the day we formed Apollo Junction and is a great representation of the big sound of our second album."
So as seems the band have developed and changed (and this is something to be celebrated) perhaps it's time to stop calling them an indie rock band. My first stab – a dance electro-rock band; awkward I know and pretty vague. This is something to think about.
Look let's just stick with great music. Cos that's what this – and the last release 'On The Ropes' too – is. Brilliant shining soaring music. Inventive, thrilling, full of musical ideas, wonderfully put together.
The thing I have learned about Apollo Junction is that they are never satisfied with the basic; their music always comes with added thrill. Here, the track would be great if it just did that stomping beat for the whole song but it doesn't. It has spooky synth sections, a huge drop out right at the beginning of the track. It's all about building the excitement, about doing the unexpected, about throwing your expectations and assumptions out of the window.
This is bloody fantastic, can't wait for the album.
The info
Upcoming gigs to date
23rd July – Carfest North
7th August – Bingley Weekender
27th August – Carfest South
11th/12th September – Halifax Piece Hall w/ Kaiser Chiefs
18th September – Isle Of Wight Festival
20th November – Bangor Blue Sky Cafe
26th November – Preston Ferret
27th November – Leeds Warehouse