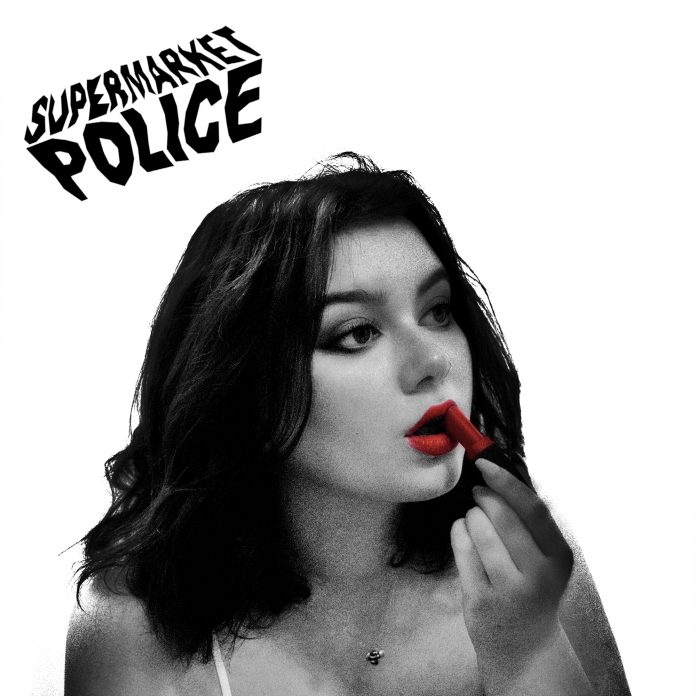 I saw Supermarket Police play way back in October 2019; the first of three bands supporting Purple Thread at The Lending Room. I really liked them almost immediately – seconds into their first song, they're that immediate. Being told that they had a single coming reminded me that I wished I'd seen them since then. This is a band that are thrilling live.
They play a kind of high energy punk tinged indie rock; what the hell let's throw somewhat garage-y at times.
If Supermarket Police are new to you then this – 'Lipstick' – is a great introducer. Raw, raucous guitar played at sometimes breakneck speeds. The kind of stuff that makes you wish for a heaving sweaty gig. Words that make you smile, words with humour and wit; sung in what I can only describe as a gloriously casual way. And this is right, so right.
And this comes with exactly the right sort of production and feel you need for music like this – it sounds live. It's not been smoothed out and polished. It has that 'hey let's record this right now during rehearsal' feel that music like this should have.
This is fab, it's a blast of lovely lovely noisy raucous punky indie that is equally as good to throw yourself around to, as it is to sit down and listen to it. Play loud and on repeat.
The info
Supermarket Police blend energetic garage rock and elements of punk into their music. The band assembled in 2018 after studying together at Leeds College of Music, taking influence from other northern bands such as Arctic Monkeys and The Blinders. Since then, they have built up a valued reputation in the Leeds music scene, drawing crowds at venues most notably including Leeds O2 Academy, The Key Club and The Lending Room.
This song was written during the COVID-19 pandemic and carries nostalgic undertones, evocative of life before lockdown. 'Lipstick' is an upbeat, energetic indie rock track which tells the tales of the ups, downs, and fake love of a night out in town. The enticing intro pulls listeners into a simplistic yet catchy riff-driven song, recorded at Eiger Studios in Leeds – hosts of artists such as Damon Albarn and Morrissey, and home to multi-platinum selling producer Will Jackson.