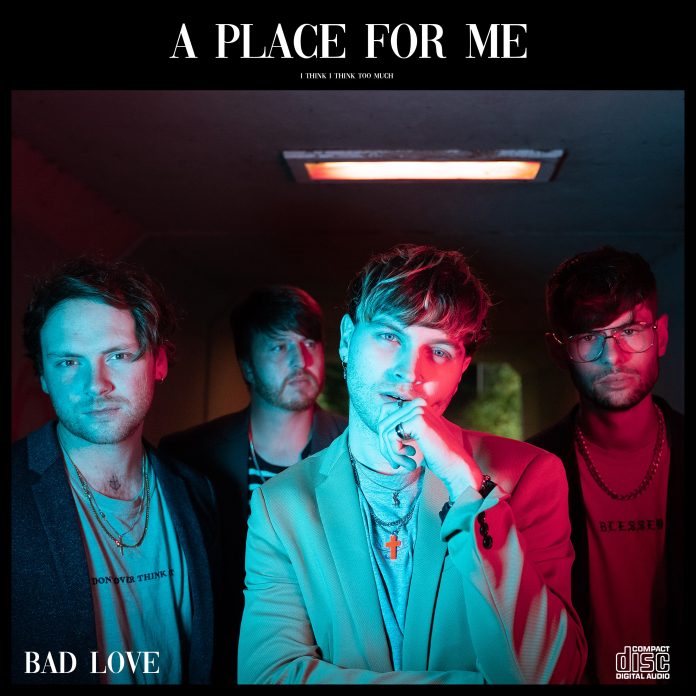 Bad Love do indie-pop the way I like it – great tune, interestingly put together. It takes something special to get me hooked into this sort of stuff. Like indie-rock it's not really my sort of thing, but sometimes something comes along that breaks through that barrier. This release from Bad Love does that.
'A Place For Me' is one of these somewhat anthem-like indie-pop songs – you know the sort of thing, keyboards that sparkle and soar, a beat that makes you want to throw shapes, But it has more than this. It has great vocals, really great vocals. It's put together really well – there's all sorts of stuff going on, but crucially this doesn't detract from the song, it makes it better.
The other interesting and appealing thing is while it's soaring and sparkling, it comes with a tinge of sadness in the feel. And this makes it stand out. And the words are great. The band explain "'A Place For Me' is a story about finding a new love with someone with trust and commitment issues after having their heart broken. It explores the idea that whilst new love can be intoxicating and seductive; heartbreaks of the past can put walls up between people".
Frontman Andy Gannon adds "Everyone has been hurt, love is often tragedy and heartbreak isn't like the movies. This song is about trying to move on and not carry your past with you. I've been on both sides, I've pushed people away and messed it all up because I wasn't in the right place and I've been on the receiving end of someone else's wrongs. Sometimes it's about just not wanting to be seen through the lens of a previous love".
I mentioned that the interesting musical stuff doesn't detract from the song, and this is yet another thing that I really like about this song. You could strip it all down – as far as voice and acoustic or voice and a simple keyboard – and the song would still shine. Maybe this is just me, but you can add layers and layers of sounds to a track but if the song at the core of it isn't good then they don't make it any better.
Look when it comes down to it, it's simple really, 'A Place For Me' is a great song – a song you can sit and listen to, and a song you can throw some shapes to. It's great pop music, and sometimes that's all we need.
The info
Bad Love make Sad-Boy Pop. Forming in 2019 near the rainy city of Manchester, they combine the cinematic allure of new-romantic icons like The Cure and Tears For Fears, with the heartfelt and anthemic pop-hooks of artists like LANY, MUNA and The 1975. For frontman Andy Gannon, Bad Love is about wearing your heart on your sleeve, and making art with sincerity in a digital age where it is scarce.
Facebook: https://www.facebook.com/BadLoveForReal/
Instagram: https://www.instagram.com/BadLoveForReal/
Twitter: https://www.twitter.com/BadLoveForReal/