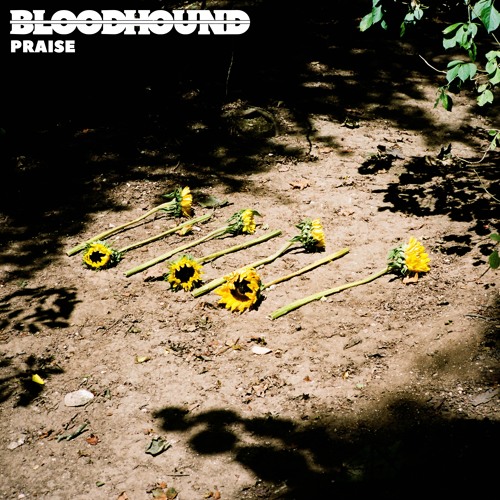 It seems like no time has passed since Bloodhound released their last single, and checking, it is barely a month since the release of their previous single 'Again' (read our review). This track – 'Praise' – is the second of a series of singles leading up to the release of the band's debut album in early 2020.
It's a Bloodhound song, so you'd expect it to be loud, bloody loud, and it is. You'd expect it to have riffs to die for, and yep, it has that. You'd expect a hint of grunge in there, and again it has that. But what you might not expect is something with a sense of space-rock, and it has that. It's also a dark moody atmospheric thing, and maybe you wouldn't expect that either. And perhaps you wouldn't expect, I did but previous experience has shown me this, vocals that are quite so fab.
This song has a tune that drives itself into your head with all the finesse of a drill. It just sets out to embed itself in your head, and you're barely halfway into the track and it's there, sitting there ready to ambush you unexpectedly. It also has great words, words you should really take the time to listen to properly.
I played this to one of my helpful friends, a friend who likes grunge-y rock, and he, with his usual and sometimes baffling thought process, said 'It sounds a bit like a really heavy False Advertising (who we both share a huge liking for), only a bit, but it's there'. I don't entirely agree but I get what he's saying there, it is really heavy grunge at it's heart.
'Praise' is really horribly addictive, it just sits there saying 'play me again, you know you want to, you want that rush don't you', and then you just have to give in, turn it up loud, and just let it batter you.
If this, and for that matter the previous single release, point the way towards the sounds on the album, we are in for a treat when that comes out.
If Bloodhound are new to you, then this is great introduction to them, play this and then go find their other music. This is incredible and amazing stuff.
The info
Speaking about the new track, the band explained: "Praise was the first song where we departed from our old classic rock driven sound and started to explore the more ethereal and atmospheric areas of our writing. It's effectively about people sucking up to you purely for the benefit of themselves".
BLOODHOUND have also announced they will play a headline show at THE SESH @ HULL POLAR BEAR on TUESDAY 19 NOVEMBER, and that their highly anticipated debut album will be called FRAGILE SKELETON.