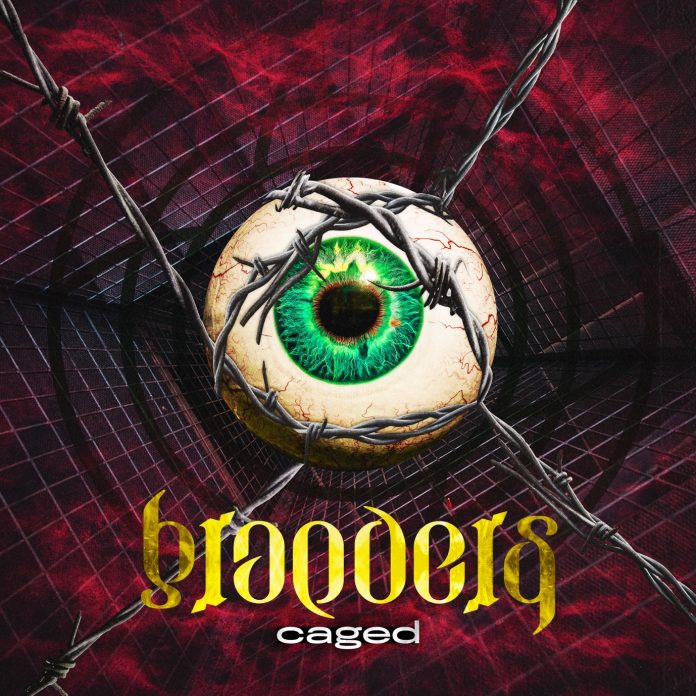 This is a brutal thing, a brutal fucking thing. A brilliantly brutal thing. The guitars on it are like hammers in your head. It beats and beats and beats at your head until you are gloriously wonderfully spent. I'd hate to think what it'd do to you if it was longer than the 2 ½ minutes it lasts.
But there's more to this than that. This riff heavy, bass heavy track is sprinkled with the fairy dust of psychedelic sound – wonderful harmony vocals and, somewhere in there, a tune. But these just add to the power of the track.
It's oppressive and introverted in feel musically which reflects the subject of the song. And the words, as you listen again and again start to come through, and they are so good, well worth the time spent getting them. You can feel the fear. And that fear is scary, incredibly scary. It's almost a relief when it ends, except that you immediately want to feel that power, that feeling, again.
Brooders' recent releases have been so good, but this song takes a step up. It is fucking incredible. Go experience it now.
'Caged' is released with support from HELP MUSICIANS UK as part of their Do It Differently fund. You can find out more about them on their socials:
FACEBOOK: https://www.facebook.com/HelpMusiciansUK
TWITTER: https://twitter.com/HelpMusiciansUK
WEBSITE: https://www.helpmusicians.org.uk/about-us
The info
Personified in the lyric of the song ("what feeds us kills us") Adam Bairstow speaks honestly and from the heart about the song: "It's something real, it's something harsh and it's a bleak outlook on reality. It's a song that's wrapped in self-doubt and a fear of what awaits outside the walls of security and stability."
Adam talks further about the lifestyle of routine and how damaging it was for him on a personal level: "I worked in awful bar jobs for years to fund the music aspirations that I lived and breathed for. I figured after a while it was going to be the job or the music that had to go. It was the job that got put on the chopping block. Stepping out of the realms of a comfortable and stable income, and into a terrifying new world of uncertainty gave a perspective like no other. It was truly liberating to discover that outside of a mundane life of pouring pints was a whole world of possibilities that otherwise would have been locked off by that life of routine. I learned to break the bonds of normality and step into something bigger than myself; and discovered it's worth the risk while you still can."
FACEBOOK: https://www.facebook.com/BroodersOfficial/
TWITTER: https://twitter.com/BroodersBand
INSTAGRAM: https://www.instagram.com/broodzbandz/
SPOTIFY: https://spoti.fi/2MefuAr
The band recently announced that their self-curated one-day festival RIFFFEST #2 will take place at LEEDS BELGRAVE MUSIC HALL on SATURDAY 25 JANUARY 2020 featuring an incredible line-up of CROWS, STRANGE BONES, BROODERS, CALVA LOUISE, DEAD NAKED HIPPIES, DENSE and 99% COBRA.
Tickets available here: https://dice.fm/event/98m87-rifffest-2-25th-jan-belgrave-music-hall-leeds-tickets