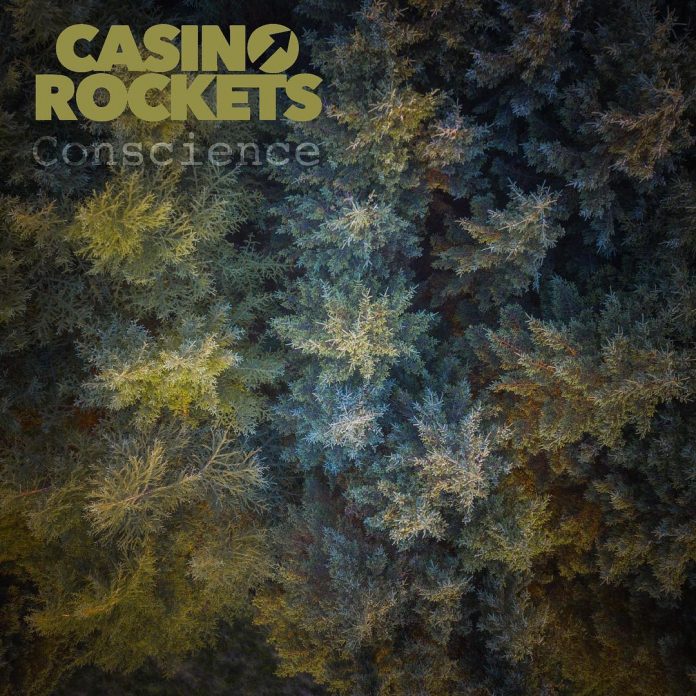 I was hugely impressed with the last track I reviewed from Halifax's Casino Rockets 'River'. This time the band have treated us to a single with both an A side and a B side (let's just quietly ignore my firm statement in a past review that a single is just that – one single track – and go with the band here, it's a single with an A and B 'side').
Although, and surprisingly to me, 'Conscience' is quite a strident rocky thing, it still bears some of the trademarks of 'River'. Namely the rather nice way the instruments all seem to weave around each other. It hovers musically somewhere around the indie/alternative rock sort of place. It doesn't rock out in a screaming sort of guitar way but it just drives along, it's seriously infectious.
Actually it was the vocals on this that first grabbed me, I rather like the lead vocal but it's the backing vocals that really stood out. And then the guitar which while definitely a rock guitar is actually quite understated. This track is really much more than the sum of it's parts, the full effect is everything as a whole not the individual parts.
After this the opening bars of 'Torque' had me somewhat slightly completely confused, for it's a funky thing with a great bass line and choppy guitar. It's funk with a punk edge. That and a vocal line which reminded me of Tom Robinson, it's the delivery people. Closer listening joined the dots for this again is something that is more than the sum of it's parts. Closer listening again gave me an opportunity to actually start to figure out the words, and although I've yet to entirely get them, they are distinctly good.
It's actually rather a wonderful thing that I like more than the A side, but then again I'm rather known for liking singles for B sides rather than the A sides. Look I actually got The Goodies' 'Funky Gibbon' for the B side 'Sick Man Blues' (it's a cool blues track with a rather nauseating lyric, probably worth a Google search. And while you're there check out their cover of 'Wild Thing' it's a bloody riot). Sorry I got a little sidetracked there.
It's not that I didn't like 'Conscience' I did, I did a lot but 'Torque' had me more grabbed. As a whole the single is really great, and I might even suggest that they'd released it as double A sided single, I can see that some people will be more grabbed by 'Conscience' than 'Torque' and others the other way around, the choice people is yours.
If I'm honest the variety in the three tracks I've heard from the band have me somewhat pleasantly surprised, there's variety but it's variety that comes with great playing and really well put together sounds. And I like a band that just does their own thing, fantastic stuff.
Unfortunately 'Torque' is not yet available for download or streaming (except for Soundcloud) – here's a message from the band "'Casino Rockets would like to apologise for the fact that the B Side 'Torque' is not yet available on Spotify, Deezer, Amazon etc due to an admin error, it will be out next week on the 27th December, gladly we can offer the track to you on Soundcloud'
The info
Casino Rockets are an electro rock band from Halifax, West Yorkshire. The band have released 2 singles so far 'Black & Red' and 'Fired Up' which can be found on all major streaming and download services.
Casino Rockets are
Tiv
Rick
Dan
Chris
https://www.facebook.com/casinorocketsuk/
https://www.instagram.com/casinorockets/