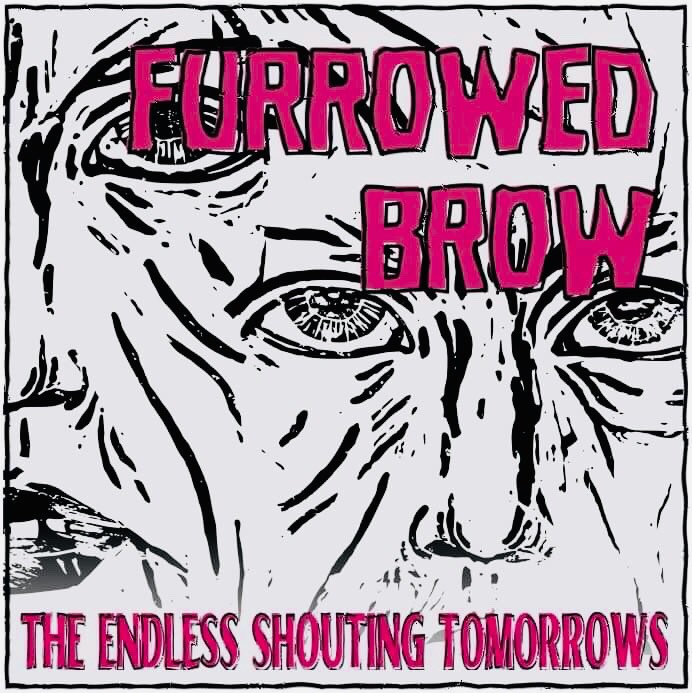 Furrowed Brow often, and I hope you forgive me for this, leave me with a furrowed brow and a deep need, or rather yearning, to know what exactly motivates them to make the music they make. They intrigue me, deeply.
In contrast to the previous tracks I've reviewed from the band 'The Endless Shouting Tomorrows' is a cross between a space based 70s TV show theme and bleak 80s dark or post-punk electronica. It comes, as I'd expect with that edge of out-thereness, that air of the madcap.
Part of that is the words, which even though I have them in front of me I have not the slightest idea what they are about. By which I mean that beyond a certain implication of despair in the here and now; the detail eludes me. I will offer you what the band say about the track;
'Swooping down from the rain-soaked nether regions of Dracula's underpants The Endless Shouting Tomorrows drops a huge uncanny effluence over the dead-eyed inanity of modern living: a wailing, flaunting groan of a song with Post Punk, Glam and Dark Wave convulsions. Primal rhythms, lurching synths, swirling guitars, desolate lyrics and a resolutely DIY aesthetic threaten all pre-packaged platitudes of the present
'A slice of horrible reality… a breathe (sic) of fresh air!!'
There is, as you can see, a lot to unpack there. I hope that assists. And I've included the words below for your study.
The words combined with the swirl of the space age synths, the hard repetition rhythm, the B-52s crossed with early Human League vocals – both dead-pan and out-there – evoke a feel that is of the past, the now and the future, that is dark and gritty.
'The Endless Shouting Tomorrows' is bleak, dark and beautiful. Compelling, addictive and intriguing. Inventive, yet strangely familiar. Dangerous with dark humour. Both elegant in feel and bursting with a DIY ethos. A tour de force.
The info
WHO??
Formed in Manchester 2019. Authentic, uncompromising, droll, subversive
Furrowed Brow – 'because that's what happens to your face when you first hear us'
Richey – Vocals (he/him)
Alex – Synth / vocals (she/her)
Evie – Bass / vocals (they/them)
Meg – Guitar (she/her)
Criostoir – Drums (he/him)
Influences: Magazine, Damned, Smiths, Velvet Underground, Fall, Denim, Pulp, Divine Comedy, Julian Cope, Magnetic Fields, Violent Femmes, Adverts, Mansun, Modern Lovers, Half Man Half Biscuit, Bowie, Iggy Pop
WHAT??
Post Punk / New Wave / Glam Rock. Up-tempo and punky with wry lyrics that ridicule the hypocrisy, greed and vanity of contemporary society. Tedious love songs are dismissed with scoffing contempt – only irresponsibly catchy and thought-provoking weirdness will do
WHERE??
The Peer Hat, Manchester – Saturday 6th November (SINGLE LAUNCH PARTY)
The Bread Shed, Manchester – Thursday 11th November (Headline show)
Fuel, Manchester – Wednesday 24th November (To Be Announced)
The Salty Dog, Northwich – Friday 10th December (To Be Announced)
Night and Day, Manchester – Thursday 16th December (Main support)
WHY???
In this era of cynical professionalism where artistic output routinely plays second fiddle to 'brand identity', wilful integrity and artistic pig-headedness are rare and beautiful virtues – and Furrowed Brow have both in spades. They're not afraid to make fun of themselves, each other and you, and each of their releases is peculiar to itself.
The band exude gothic archness and a nihilistic impertinence; this in turn prompts reckless creative hedonism –playfulness and frivolity, experimentation, pretension, contradiction, humour, extravagance and glamour
Banality lurks around every corner… the world needs bands like Furrowed Brow!!
'The Endless Shouting Tomorrows'
I'm on an art trip I'm on a guilt trip I'm despised
515 beards coming at me through the skies
They have to kill to prove themselves
I have the will to do it myself
Spite's the only thing keeping me alive
​Disgusted I'm crushed in I'm on my knees
If the boredom doesn't kill me it'll be the corporate greed
Priests pervert all the good we have
Marketing executives are just as bad
Scorn it all for the library
The endless shouting tomorrows
​Baby talk social laws sensationalist lives
Wherever there's a glimmer of hope we'll soon see idiot eyes
Phoniness I can't deal with it
"Love and Light" it's so counterfeit
The endless shouting tomorrows