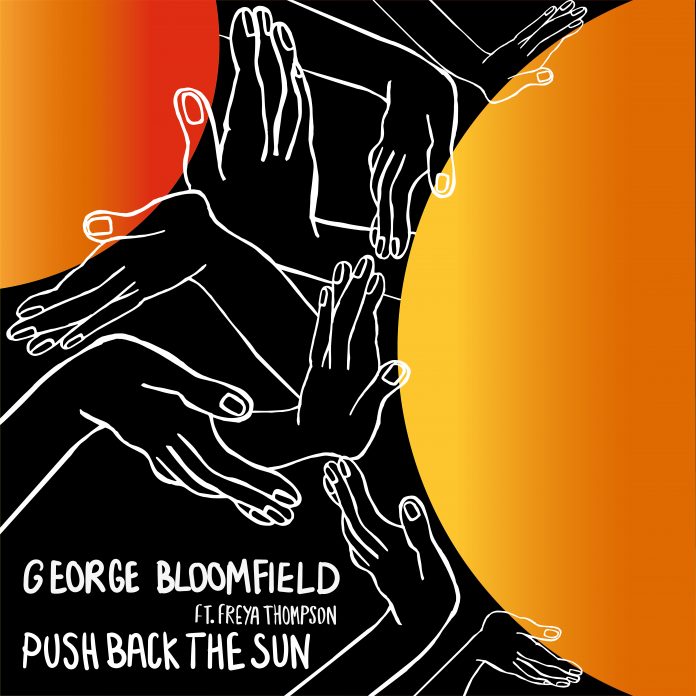 First a little bit of background. As well as being a solo artist, George is also the guitarist from Mondo Bizarre – who's release I reviewed late last year. I reviewed that single because Mondo's drummer – Sam – is also in DENSE, a band I adore. I met George briefly, along with other members of Mondo Bizarre, at DENSE's gig at Hyde Park Book Club. And just to tie everything up Freya is also in Mondo Bizarre. So that's how I got here, reviewing this release from George.
I guess I'd describe this as a spacey, slightly psychedelic, slightly jazzy, slightly soul-y sound. It kinda floats in that area of Jazz/Nu Soul sound that, as I said in a previous review, seems to be gently sweeping across Leeds. But as I said this is spacey and psychedelic – there are odd analog sounding keyboards that float in reverb and echo. But it has more to it than this, there are odd bits that have something of a Portishead sound. It's kinda timeless, people.
And it has, as you'd probably expect, some rather tasty guitar. This is gentle, somewhat jazzy, guitar. But this isn't jarring, it's part of the track, this no excuse to show off his guitar skills.
Look I could go on forever telling you how good musically this is, the sheer wonderfulness of the way this is put together. But I'm not, I want you to discover for yourselves quite how beautiful, mesmerising and compelling it is.
And over this wonderful lush soundscape Freya sings gently, quiet words that she says describes the "wanting a moment to stand still without time moving on – originally about sharing a night with someone and not wanting it to end".
This song is just the most fantastic moment of calm, you can't help but float off, leaving all of your worries and anxieties behind. It's lovely, can't say anything else.
The info
In the words of Babystep magazine, George Bloomfield "burst onto Leeds scene" with his first release, 'Twelfth'. This is the follow up single.
Its got a chilled and relaxed vibe, that has a vintage and at times psychedelic feel due to the alternative mixing methods used, such as use of a Leslie rotary speaker and tape delay. This provides a lushous soundscape of vibrato and reverb, pierced with an emotive rising guitar line, and melodic bass.