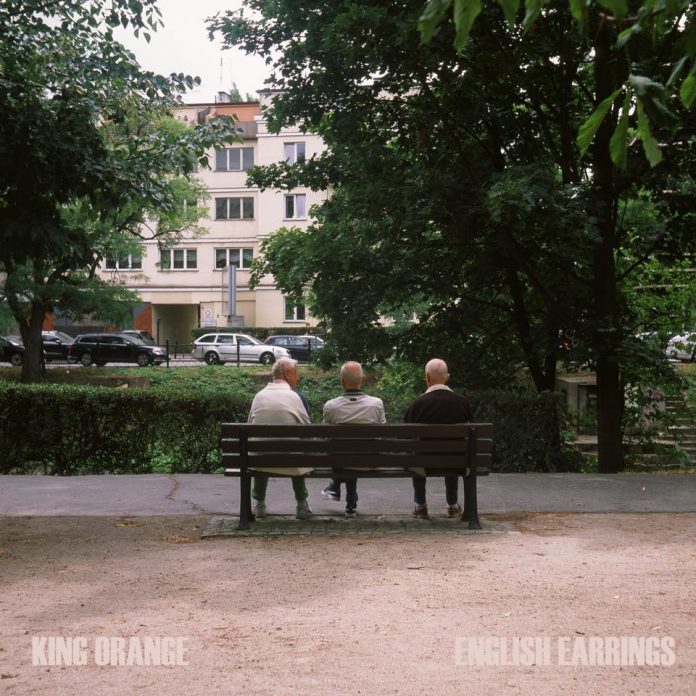 I saw King Orange a while ago – supporting DENSE (read our review) – and was impressed, very impressed. So news of a single release was something I greeted with a certain amount of glee.
When I saw them play I got that they were post-punk – all kinds of post-punk – but that there are loads of other things going on. Stuff like vocals that somewhat had me in mind of The Associates, and then again Joy Division. The single is the same.
It has a bass line that in places is somewhat Cure like, it has that sharp, sharp guitar that is classic post-punk, it had me thinking of Siouxsie and Banshees, it has sections that are somewhat kind of arty post-punk – that vocal tone is the signpost here. But the thing is that this song suddenly explodes into something else. Something that sounds like one of those post-punk DIY bands that I went through a phase of liking so long ago. Something almost Goth-like in places.
While I could carry on saying this bit reminds of that, and that bit reminds me of that – and I'm quite capable of doing that. I'm going to stop because what this band does is to mix all of those things, and more shall we say more recent stuff, into something that is very much their own.
So while this song has those sections where it explodes into bombastic pounding music, it has sections where it has an arch beauty. In fact the song as a whole has a beauty that is hard to define and explain. I find it extremely moving, although again I can't say exactly why. It connects with me in a way that I find joyfully unexplainable. I love music that I love from the very first play and can't explain why.
It is compelling and addictive. It's inventive and clever. It's fantastically well played.
In fact as I write this I'm listening to it on repeat, and each time I find another reason to love this song – currently it's the line in the song where the singer says 'Push me down the stairs, push me down the stairs'. And each time I listen I come up with another meaning, I'm settling on that It appears to be about a relationship break-up but I may be completely wrong.
This song is beautiful, in a way which is very much of its own. It's incredible, I can't say anything else, it's that simple to sum up.
The info
King Orange are a Hull post-punk three piece, whose gothic sound gains frequent comparisons to the likes of Joy Division and early Cure, as well as contemporaries including Protomartyr and Interpol. This release is their 4th single.