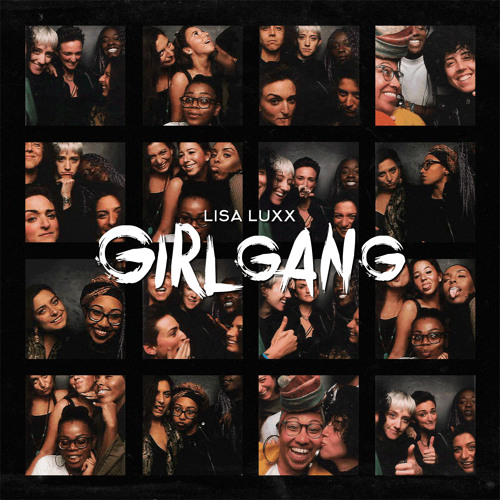 'Girl Gang' is the debut single from British-Syrian feminist poet Lisa Luxx. Released on International Women's Day the track is a celebration of women and their girl gangs.
I've got to admit I'm probably not the best LSF person to be reviewing this single but right now LSF doesn't have any female writers (Something we'd like to change, if there are any women out there who'd like to write for LSF, please do get in contact – Ed) so I can only tell you how I reacted to the track's lyrics. What I get from the – entirely unsurprisingly – well written words is a sense of community, strength and unity. They make you listen. Their message is clear and strong. They're completely compelling and important.
While I'm not a big fan of spoken word, the music that Lisa 'speaks' – although it's might more a kind of rap really -over is fantastic. It's a groovy thing that will have you getting up and getting down in seconds. It has hints of soul and R'n'B, hints of jazz, hints of funk. It has the grooviest bass line I've heard in a long time. I've developed a particular liking for this sparse piano that crops up now and then, but that's me. And there is a particular luscious flute like sound – that might actually be a flute, I don't particularly care right now – that is so sweeeet. This is cool, it's way cool.
For a debut single this is incredibly impressive and compelling. If you're putting together a playlist for IWD this is a must, an absolute must.
'Girl Gang' is released by Saving Grace http://www.saving-grace.co.uk
The info
Lisa Luxx is an award-winning British-Syrian feminist poet, celebrated by Dazed magazine as "sensitive and revolutionary". After putting a call-out on her social media for women to submit videos with their girl gangs she received an overwhelming response. Videos were sent in from Senegal to Canada via California and Beirut. Among the videos received was an all star cast including the likes of tattooist Grace Neutral, broadcaster and novelist Yasmin Abdel-Magied, Instagram poet Salma el Wardany, life coach and film director Alexandra Roxo, cult feminist punk band Dream Nails, presenter Poppy Jaime, sex writer Stephanie Theobald and Hollywood actress, musician and model Suki Waterhouse plus key members of the European Network of Migrant Women.
The call-out began creating an offline sense of sisterhood as women reported they were making a bigger effort to define who their girl gang was and spend time with them. Girl Gang was executively produced by a fellow queer Arab and former Buzzfeed presenter, Tania Safi
Lisa says: "During one of the Women's March's I blasted big tunes like Beyoncé's Formation through a moving sound system. We've been through a lot, and women are working so hard on building a better world, so the least we deserve is to dance through the uprising. The oomph of energy and the joy it brought to resistance during that protest is what inspired me to write this song."
Lisa recently featured on label mate Savvy aka Asaviour's groundbreaking new album "The Battle For Hearts & Minds" performing spoken word verses as the narrator for the album as a whole.
Lisa Luxx on Facebook: https://www.facebook.com/lisa.m.luxx