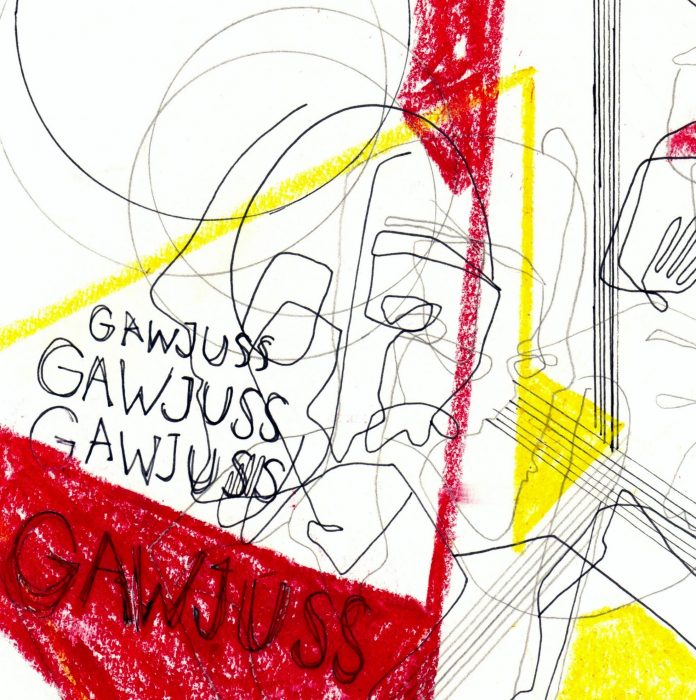 'Gawjuss' is the debt EP from Gawjuss (AKA Kieran Wade Clarke from Forever Cult). 'Drive' has already been released as a single – and there's a rather fab video for that – but this isn't Gawjuss' first appearance, back in January 2018 a track – 'Ghost' – appeared in a Clue Club release – paired with Pepe Sylvia's 'Hannibal' (see my review).
I was kinda expecting something akin to 'Ghost' in the sound of the tracks on the EP but no, although there's something of the same feel in there, these are something quite different. They have a sound that is difficult to sum up in any useful way but there's something of a garage-y alternative rock-y sometimes Americana thing going on (Look I'm open to suggestions on quite how the sound might be described OK). There's this twangy thing going on in places.
The EP opener – 'No Reset' – sets the scene sound wise. It's sort of slow and stalky sparse alternative rock with this edge of Americana. The vocals are right up front and Kieran employs a kind of punky tone in his voice which fits right in. The thing that makes this track is that while some of it might sound garage-y (that guitar is as raw as hell) there's this lovely smooth thing going on – the backing vocals on this are way cool. It's the contrast which had me. What also had me was that this thing draws you in, you get deeper and deeper, it does that taking over your head thing.
'Drive' adds keyboards into the sound. It retains that sparse stalky thing but it's edgier, more strident. Under the instruments sit the vocals – which seem to be doubled but who knows it may be something else – which are just ethereal. Guitars stab out in the most wonderful raw way. Again it's that contrast that does it for me. But there's also something else, the track seems to be on the edge of becoming this layered rich sounding song but it never happens – keyboards start something that normally you'd expect to swell but they don't. It refuses to do that, and I love that. I love something that rips at what you expect it to do.
'Young Losers' has something that my useful friend (the friend who I play things to when I just don't know what it sounds like) described as being 'part New Wave, part Brit-pop with a punky edge', although just to confuse me they added that 'this could almost be a pop track – it's the synth parts – if it wasn't for the guitar'. I sort of agree. It sounds as though it shouldn't work but it does. What I love about this track is the jerkiness of it.
EP closer 'Pressure' is a different thing altogether, it's closer in sound to the sound of 'Ghost' although it's slower, way slower. There's that strident guitar, but there's this synth part that appears at times that is just menacing. It does that almost becoming something else – there's a point where it could take off in something alt-rock but it doesn't, it just sits there.
As a whole this EP is impressive, incredibly impressive. The songs are well put together – they do sparse really well, even though there's lots going on, there's space in them. I love that every track has a something that you just don't expect. And the guitar is just fantastic – the way it suddenly just hits you with a raw sounding blast of sound but without being so strident it takes away from the feel is just clever. In fact clever is a word I'd use to describe how the tracks are put together, you get the care and attention that's been put into them. But what isn't lost is the feel, these songs take you places.
I wasn't really expecting what I heard on this EP, and that's a great thing. It's a fantastic thing. This has joined my rotating playlist (the one I listen to when I'm not doing LSF work) but I find myself going back to the songs again and again. It's brilliant, just brilliant.
The EP is released by Clue Records
The info
Too many nights without sleep in front of Garageband led Kieran Wade Clarke (AKA Gawjuss) to empty his head & create his debut EP. Clarke is a serial writer, endlessly throwing ideas out, crafting away, rejecting as much as he approves. His band Forever Cult are a fully formed, alt-rock outfit where Clarke takes songs to be moulded to fit the band. With Gawjuss there's a purity in it all coming from him, unfiltered.
Kieran grew up the North-East but is a serial wanderer, finding home in several different areas of Yorkshire over the last few years. He has recorded, produced & created everything you hear on the EP. It was mastered by Alex Greaves at Nave Studios (Maximo Park, Bloc Party, Pulled Apart By Horses, Yowl).
Gawjuss on Facebook: https://www.facebook.com/gawjussband/