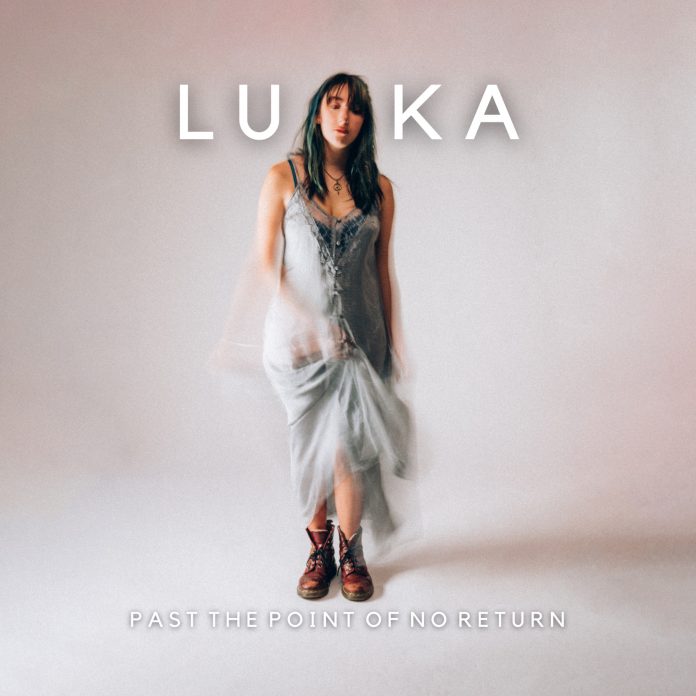 There are times when it's difficult to review a release; either because musically or lyrically it's so wonderful or beautiful, or because I relate to a song so personally that listening to it is painful or difficult let alone writing about it, or because it's fantastic or 'it rocks' but I just can't think of how to say that beyond just saying that. But I feel compelled, I have, to review it because I want you, the reader, to know about it. Although really I want you to do something more that just know about, I want you to actually listen to it, I'd like you to like it or even love it.
In the case of Luka's second release (and I'm not counting the covers EP she's released recently here, and there's a reason for that which will become obvious) it's because musically and lyrically it's so beautiful, and because I relate to it so personally I actually find it difficult to listen to. This is not just about this song but also her first release – Play Thing' (read our review) – as well. The reason for this is that in these two songs she's encapsulated a large part of my life, the reason for how I am now. In a way I consider these two songs as part one and two of something (which is why I'm not counting the covers EP, hope you understand that).
In 'Play Thing', as Luka explains, 'the song is about allowing somebody to have too much control over you and your emotions, and deciding it needs to change. This is a theme that I can relate to. Too often we are unkind to ourselves, allowing people to treat us badly in what we like to call love'.
Luka says about 'Past The Point Of No Return' that it is a 'song about general mental health struggles. It explores experiences with anxiety and depression and trying to get past them in order to live life to the fullest. Also like existential fear of wanting your life to be important and to mean something. Fighting against your brain basically'.
I'm reading that, and the lyrics, as being about a number of things including lack of self-esteem and self-confidence (and I may be wrong, I admit that). And I have those, amongst other mental health issues, as a result of the things that 'Play Thing' is about. So for me these two songs are powerful, they are painful to hear, but in all that personal pain, up-lifting.
I realise this is a long introduction to a review but it was important to say why this song is so important to me.
The lyrics of 'Past The Point Of No Return' will mean something to anyone who has experienced anxiety and depression but also are universally understandable. If you've never experienced that you'll still understand it; and more, you'll have a better understanding. Luka has a way with the words of her songs that is very special.
She sings these beautiful words quietly, intimately, calmly, as though talking to a friend, directly to the listener. And the music reflects that calmness – washes of sound, simple keyboards layered into something that compliments the words perfectly. And there is hope in the song, the song says there is hope, it will get better if you just let it. And musically there is a kind of a swell of hope in the music. Something that tells you it can get better. And there is something extra in her vocals. At the start of the song she sounds small, there is uncertainty, but it gains confidence as the song goes on, as hope comes in.
This is a song that tackles a difficult subject, a subject that is painful to many people. But it does that in a way that I can only describe as 'just right'; a way that gives hope for those experiencing it, and a way that will help you to understand it if you've not experienced it. It does that by being intensely personal, by not holding back. It does this with words and music that work together perfectly.
As with 'Play Thing' my reaction to this song is intensely emotional – to the point of tears, something that hasn't changed however much I listen to it. I get that I might have that reaction because I'm living it, but even if you're not, if you listen to this song properly, it's going to affect you on an emotional level.
This is a beautiful, an intensely beautiful, song. Words, music, her voice all combine into something magical, something where it's so much more than the sum of its parts. A song that is beautiful and is about something important, something difficult and painful. And that makes it extraordinarily special.