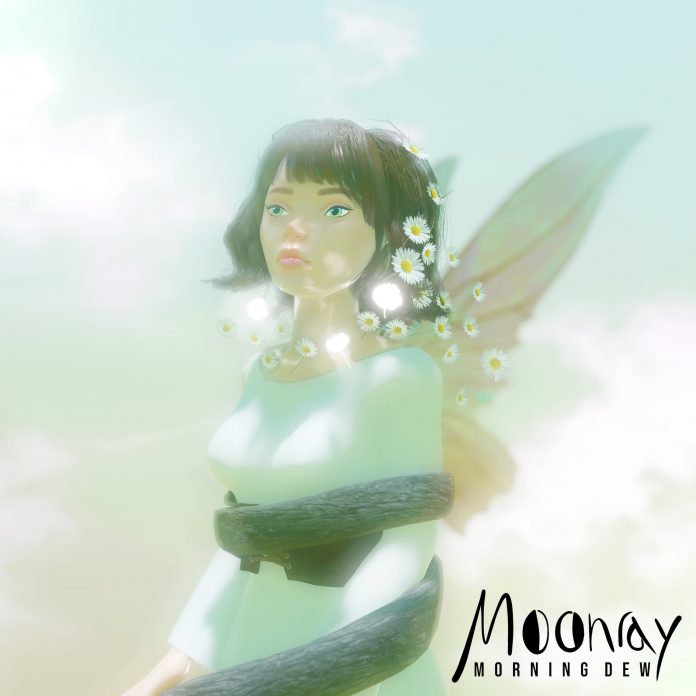 'Morning Dew' is Moonray's first release on Monomyth Records. The track is taken from a wider body of work made as part of a commission by Brighter Sound in Manchester. An EP – 'Veritas' – will follow on 20th May. So consider this a teaser for that.
It falls somewhere in the realm of experimental electronica and ambient electronic music. I say somewhere because it's difficult to pin down. It has, to my admittedly somewhat older ears, hints of The Cocteau Twins – in that there are vocals but these can really be considered to be another layer of sound rather than a traditional vocal even though there are words. But, perhaps strangely you might think (you'd be wrong) it also has hints of music you might hear in a (Christian) church and of something you might hear if you're the sort of person who enjoys a 'sound bath'.
It is, as you might have guessed from the above, spiritual and meditative. It is music to submerge yourself in. Listening to it you can't help but feel calmed, wrapped in gorgeous sound that washes over you and around you in beautiful waves. And, because it is so wonderfully layered and complex it takes the whole of your mind to get the most from it; you are transported away from the cares of the everyday and stresses of life.
The way this is put together and produced is just so right. The waves of sound mesh perfectly. The wonderful vocals – by Victoria Murray – are haunting and evocative; slowly becoming louder and quieter as the track progresses. Vocal lines are intertwined.
Sit yourself down, dim the lights and listen to this on repeat; it is the most beautiful experience. Can't wait for the EP.
The info
'Morning Dew' is Moonray's debut track on Monomyth and is taken from a wider body of work commissioned by Brighter Sound in Manchester. The upcoming experimental ambient EP 'Viriditas' deals with inner growth and spirituality. The global pandemic has prompted a great deal of soul searching and an abundance of downtime, time to pause, study and participate in rituals connecting with nature and the cycles that many of us have disconnected from within the hectic paced lives we had led previously.
Moonray has read a great deal and connected with history, religion, spirituality and philosophy. She says 'I have read a lot about the goddess and connected with my routes and ancestors. This piece represents that growth and finalises the EP on a high note. Meaning that from any dark place, you will always emerge much stronger and back into the light'.