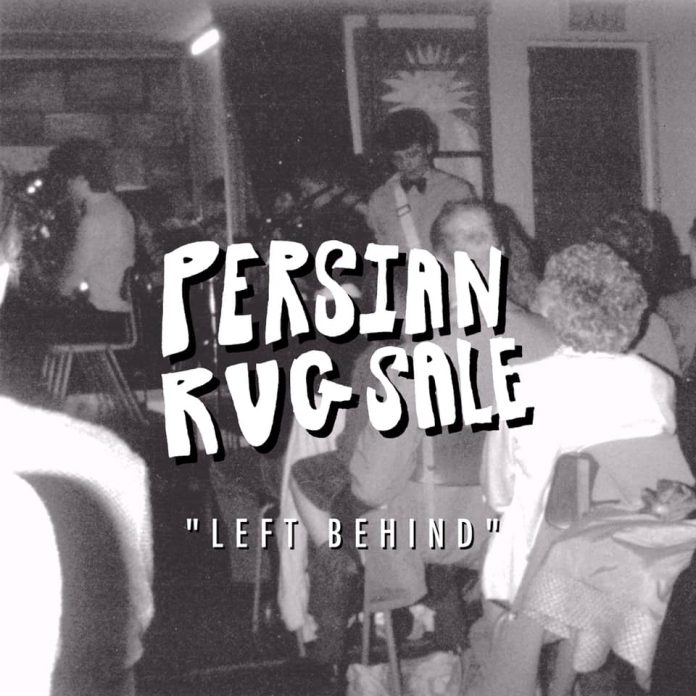 I'll get into the review soon I promise but first a story. There was a band – a band who I rather liked – called Dead Fairy, I reviewed their EP 'Image' – I loved that EP, I loved it with a passion. That band – after a line-up reshuffle – changed their name to Persian Rug Sale. Got that, good, so we're on the same page.
'Left Behind' bears some resemblance sound-wise to Dead Fairy (as least as far as the 'Image' EP sounds), this is mainly down to their singer Jack who has what we might describe as a rather distinctive vocal style – he's does this punkish almost rappy thing in places and then does this kinda punky snarl thing. Musically it's much punkier, it has almost random tempo changes, It is rather – for those of us old enough to remember it – an almost punk pathetique thing. It's a blast people.
And, before we go any further, you should be warned this song contains swearing. However it's difficult, it's virtually impossible to be offended because this is such a joy filled blast of out there 'just doing what we want to do, and fuck you if you don't like what we do'. And I have to say I love that. It also contains some lyrics that had me laughing out loud, it's that sort of thing. I'm assuming that Jack writes the words, he just comes across, in person, as the sort of person who'd write lyrics like this. Listen closely because there is a story in the words.
'Left Behind' is great, it's just the sort of thing you might want to throw yourself around to in a chaotic sort of way in your venue of choice. It's just what it is, it's just great musically and lyrically. It sounds like a band who just throw stuff together except it's actually really musically accomplished. And you gotta love a band who describe themselves as Huddersfield Punk haven't you.
The info
https://www.facebook.com/persianrugsale/
Upcoming dates
Persian Rug Sale
Tuesday, 23 April 2019 from 19:00-22:30
Northern Quarter
28 – 30 Wood Street, HD1 1DU Huddersfield