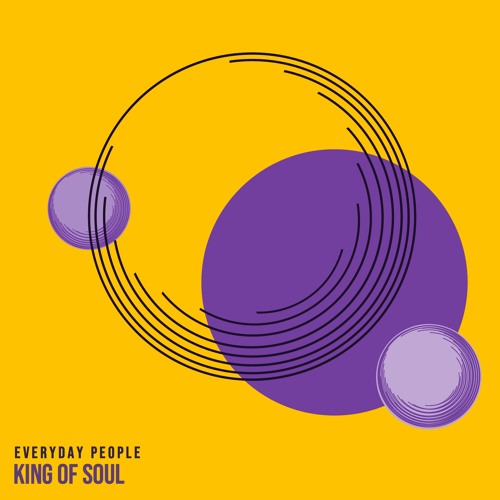 I was hugely impressed by the last two singles from Everyday People – 'New Beginnings' and 'Princess Blues' – so news that they were releasing something new was greeted by happiness. Happiness that was tinged by an edge of apprehension. Apprehension that it wouldn't be a good as their last single – 'Princess Blues', I needn't have worried for 'King Of Soul' is a groove filled thing of joy.
So some background, the band say ''King of Soul' describes the speculation around the death of Sam Cooke. Sadly he was taken from the world far too soon, just two weeks before his monumental song about the Civil Rights Movement in the 1960s, 'A Change Is Gonna Come'. A few of the lines in the song give direct reference to this poignant classic as we try our best to pay tribute to this inspirational man'.
Got that, good. So let's get into this. The track opens with a walking bassline and guitar before it takes off into this funky groove filled thing that just insists you get off your butt and onto the floor. The addition of sax into their sound just adds to the groove. Add to that a particularly strong vocal from Maeve, boy can she sing, and it's a killer.
And yes, Everyday People inject something of a retro sound into this track but it's right, it fits the subject but it's not a retro fest, they have their own bang up to date sound that fuses that into something new.
It's boring I know but reviewers are kind of obliged to do this – the playing on this is fantastic. The bass in particular is great but I have also developed a particular thing about the keys on the track. For future Everyday People reviews let's just take it as read that this band can play incredibly well shall we?
If you're not hip to Everyday People, now is the time to get hip. What they do is way way cool. It's a cool and groovy thing.
The info
Facebook: @everydaypeopleleeds – https://www.facebook.com/EverydayPeopleLeeds/
Instagram: @everydaypeopleleeds – https://www.instagram.com/everydaypeopleleeds/
Twitter: @EverydayPplBand – https://www.twitter.com/EverydayPplBand/
Spotify Artist Page: Everyday People – https://open.spotify.com/artist/7oyYaS2rL9meFiQZOeRvl7?si=DOiaO73pRguxtPUpUCGDIw
All their music is available on: iTunes , Youtube, Apple Music, Google Play, Tidal, Deezer, Napster, Amazon Music, Pandora, iHeartRadio, ClaroMusica, Saavn, Anghami, KKBox, Shazam.