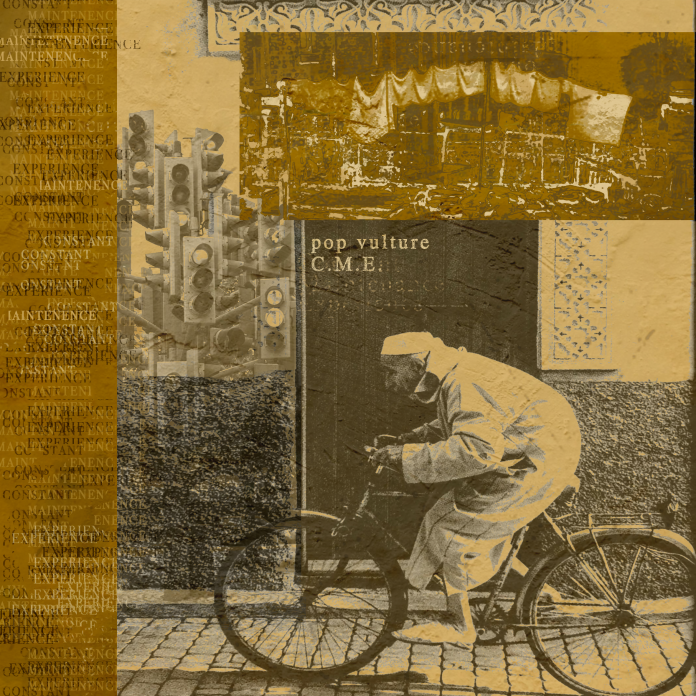 Pop Vulture are taking a wandering musical path through all kinds of good things – kraut rock, new wave, noise rock, post-punk – and with 'C.M.E.' have rested for a time on that New York post-punk vibe, you know that No Wave thing. I know that's a little vague, so to be more precise it's a Talking Heads at least you may get that initially but there's something – a big something – of a James Chance and The Contortions feel going on here; without the saxophone but with the funk and groove.
So yes, this is a track you can dance to, and for me to dance in a way I haven't for quite some time. This seems to be what the band had in mind – Luc Gibbons (Drums and Vox) says 'Put on your dancing shoes and two-step away the mundanity of modern living, the pressure to succeed and the people who say it's easy to'.
This is all stabbing guitar over a bass line that thrills, sparse drums, and a vocal that is declared rather than sung. Bursts of percussion punctuate the track. It's a driven urgent sound that's going to excite you and cause compulsive dancing.
The song is a meditation on success and a satire on self help. The lyrics come with a feel of interprovisation that matches the music.
Look Pop Vulture get better and better with each release, and you never quite know where they are going musically. But this is all part of the thrill. This release ticks all the right boxes – topic that's of now, musically it's an absolute joy, and it's just what we need right nowm something you can dance to. This is a must listen.
'C.M.E.' is the first single from 'Pop Vulture 2019-2022', a collection of works, past and present, spanning the rock, the roll and everything in between. It's a physical representation of Pop Vulture's journey so far.
Pop Vulture 2019 – 2022 will be available on limited edition green glittery tape from October 14th 2022 via Come Play With Me in collaboration with Chalkpit Cassette Club. Available for pre-order now.