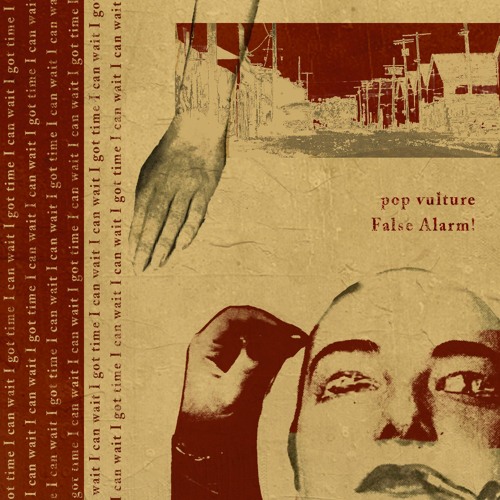 Leeds' post-punk band Pop Vulture debut single 'False Alarm!' isn't exactly what you might expect from seeing the phrase post-punk. It again demonstrates that post-punk is a genre of many colours. Hey I feel an aside coming on.
Aside: What is post-punk?
You may have an idea of what post-punk is. I think, and I may be wrong, that most people will mention such bands as late period Siouxsie and The Banshees, the avant-garde angular funk of The Gang of Four, Joy Division, and music types like Goth and early electronica.
However I think we need to take a wider view – post-punk by its very meaning means music that came after punk. It may take its sound from an extension and development from punk or, and crucially, it may take the DIY ethos, the lack of respect for conventional musical forms or the plain we're just going to do what we feel like doing.
So it will include such bands as The Raincoats, The Aupairs, Swell Maps, early Scritti Politti, Delta 5, Girls At Our Best. And extend to include bands on the Postcard label – like ORange Juice, the genre Twee, bands like The Pop Group, The Slits and Rip, Rig and Panic.
In the US, after New Wave which you could describe as pop friendly punk, came No Wave, bands such as The B52s, The Cramps and so on.
So post-punk is a wide church.
I can recommend Rip It Up and Start Again: Postpunk 1978–1984; a book by Simon Reynolds on the post-punk musical genre and era, if you want to delve into this.
And we are back
Pop Vulture's 'False Alarm!' has a very much No Wave sound. I might compare it to 'King Heroin' by James Chance & The Contortions; an NY No Wave band. 'King Heroin' has an interesting history of which more below. It also has something in common with early Scritti Politti and Lou Reed.
The sound is halting, off-kilter, twisted. The vocals are spoken, dead-pan. The feel is bleak. That is until it bursts unexpectedly into sweet pop; the grooviest drumming, tuneful keys with the sound of jazz. This is but a brief respite.
The sound and feel reflects what the song is about – formed over a lonely, intense lockdown, the track emerged as a response to the isolation that adulthood presents, as well as the dependencies that arise in life. As singer and drummer Luc Gibbons puts it, the song is about 'a resilience to things that will help you out of a rut and a naive feeling of not knowing where to turn'.
This reviewer has difficulty deciding what's more important; the words or the music. Is the music a backdrop to what are words that are very much worth listening to, or are the words a decoration to the mood set by the music. I think I put that badly; what I meant was what actually catches my attention. I've found it varies depending on what I'm doing while it's on or the mood I'm in.
The impression I may have given is that this song is so much like the things I've mentioned that it's copy-ist. This is in no way true, the band may be taking these as a sort of starting seed but they take it to a place that is of their own and of now. To the point where we could consider a new genre name.
This is an intriguing and compelling debut release that marks Pop Vulture out as a band to watch. This is absolutely brilliant.
The info
The band are
Ben Udin – Percussion and Guitar
Jacob Tresidder – Guitar
Luc Gibbons – Drums and Vox
Sam Curwen – Bass and Vox
'King Heroin'
The anti-drug song was originally recorded by James Brown and was written by him, David Matthews, Manny Rosen and Charles Bobbit. Brown recorded this poem set to music at a studio in New York with session musicians in January 1972 and released it as a single in March.
James Chance also recorded this with another band James White and The Blacks. This version is a lot more soul-y.