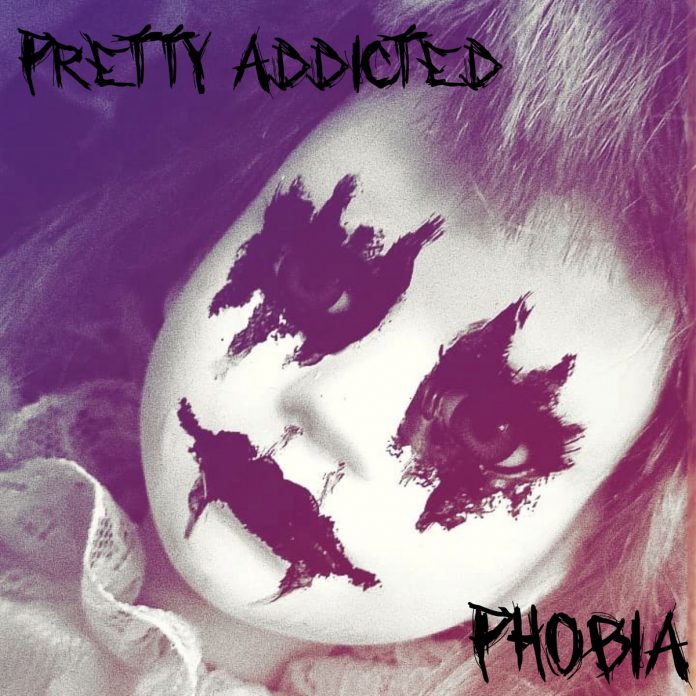 The first – and sadly the last – time I saw Pretty Addicted play I was left speechless, amazed and grinning inanely. It was, as you may have realised, an incredible experience.
They do… well that's actually quite difficult to pin down to be honest. I could try dance-punk, possibly an unholy mix of Marilyn Manson and hard rave, or at a push electro dance goth. Whatever it is it's dark, stomping beats and scary in places. It's fabulousssss!
'Phobia' could be considered, either intentionally or not, a kind of extended mix; it's long, there are over 5½ minutes of wonderfulness. It kind of has stops and starts; there are pauses in the madness, the stomping compulsive beat, when you are given the chance to recover, to ready yourself for the next manic dance inducing section.
And over this compulsive beat, the sounds that make your body twitch and jerk, Vicious Precious chants out, sings out, screams out, words. Words that are scary and dark.
This is an experience, a whole body, mind and heart experience. For full effect you need to crank it up way way loud, put it on repeat, and just let yourself go. Each play merges into the next until you have no idea where you are in the track. Musical oblivion, beautiful musical oblivion.
Watch the video here https://youtu.be/Q5jHnNykmOs (this is age restricted and you'll need to be signed to watch it.