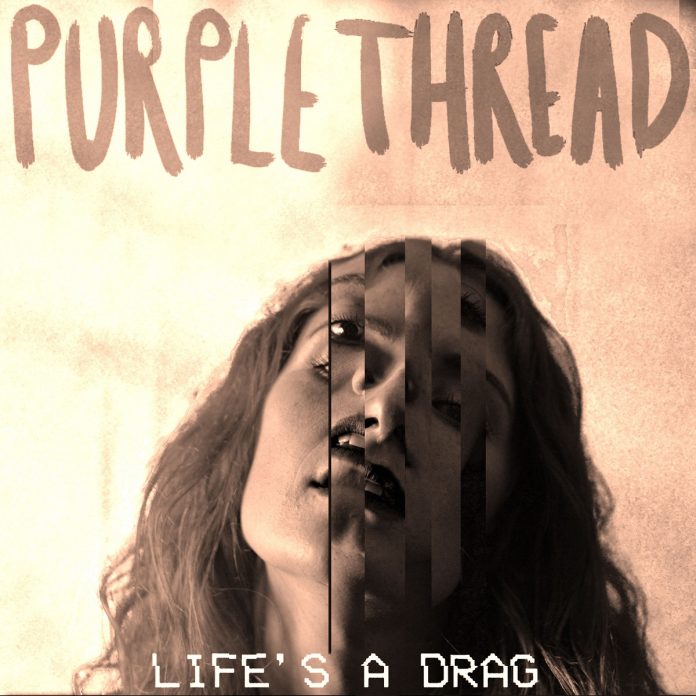 There seems right now, and this may only be because I've suddenly started noticing, to be a whole load of bands who seemingly take influences from a random selection of musical styles, mix them together, and just come up with music that just makes your jaw drop and at the time sit there scratching your head wondering 'just how do they make that work?' And, by the way, I really like a band that do that. Purple Thread do that, they do that in spades.
The ingredients here are punk (UK and New York variants), pop, funk, and dirty dirty grungey rock. The result is like nothing I've heard before. I'm reminded (only slightly) of the pop sensibilities of early Blondie, the rush of say X-Ray Spex, odd bits of 80s pop – at one stage I found myself thinking 'hey that sounds a bit like King', and then, rather bizarrely, of Vice Squad. Look that may just be me. A more up to date thing it reminded me of in some ways is The Real INK (formerly known as INK. I can only assume they've changed their name because of that upstart band touring under the name Ink, I mean honestly do these people think they can chose any band name they want without checking whether there's somebody who's taken it already. Sorry got a little ranty there).
Describing this track is virtually impossible, one moment it's all punky, the next there's just this rumbling funky bass thing going on. Then there is something that sounds almost sort of – to my admittedly rather strange ears – Rip, Rig & Panic-ish, and then bizarrely there is this pure pop section that's all smooth and cool. And then there are these bits where all of that just comes together and rocks out. It sounds, even as I write this, that it just shouldn't work, but, and this is key, it does.
So what, I hear you saying as you sit there shaking your head and wondering if Frank has lost it completely now, makes this thing work? The answer is that the band have a sense of musical arrangement, of how to take these elements and mash them into something that is one coherent whole. They keep this dirty funky thing going through the track and hang the other stuff off it, there's a structure to this. The other thing is that this is loose, it's so loose it almost sounds as though it may fall over at times, But there's a tightness in there too. The rushy punky bits almost go too fast, almost falling apart but then it all comes back together, it's a joy.
The band can play, that almost goes without saying, there's no way it would work without that. But they can more than just play, they play really really well. And one of the other things that holds this thing together is the vocals, Liz's vocals just rock people. One moment she's all punk, the next she drawls like she's a New York native, Then she's all pop, all pure and soaring.
This thing, people, is as dirty funky rocky as hell. It's funk as played by a 70s' New York punk band. It's a raging maelstrom of sound. It is, and I mean this most sincerely, fucking incredible.
'Life's a Drag' is available on all major digital platforms including Spotify, iTunes, Amazon and Google Play.
The info
Purple Thread are a Leeds based band known for their eclectic style of rock, tinged with a hint of pop, funk and punk.
Liz Mann – Vocals and Guitar
Jack Tildsley – Guitar
James Foreman – Bass
Ryan Bailey – Drums
https://www.facebook.com/purplethreadband/
https://www.youtube.com/channel/UCnDFjingmDZwz-n1Gx6pJEA